Do your part and hang a heart
Every 73 seconds, an American is sexually assaulted. Although conversations about sexual violence at school are minimal, that does not mean it is not present in the SPA community. One out of three women and one out of four men have experienced sexual violence at least once. To recognize the prevalence of sexual violence, April is Sexual Assault Awareness Month. Freshmen Elzie Bieganek and Violet Pitcher decided to take a stand against sexual violence and raise awareness in the SPA community. With this in mind, the pair introduced the Clothesline Project.
The Clothesline Project is set up in the English Commons. If a person is a victim or knows a victim of sexual assault, they are invited to pin a heart or a piece of paper on the clothesline. The visual highlights the number of people affected by sexual assault, not to call individuals out: "We don't want people to feel targeted. This is just to show the numbers," Bieganek explained.
Pitcher and Bieganek acknowledged the anonymity students might want when adding to the clothesline. They created a Google form students can fill out if they want a heart to be hung up by either Pitcher or Bieganek if they feel uncomfortable doing it themselves.
The Clothesline Project was presented to the administration with the support of Dr. Gokhberg. The project reflects what the duo hopes to bring to the SPA community's attention: "The impact of this project is so we can see how prevalent it is in the SPA community," Bieganek said.
While the Clothesline Project highlights the number of individuals affected, it also shows them they are not alone. "We want people to know that it is a safe space and they are not alone," Bieganek said. Pitcher added her hopes for the clothesline after it is taken down: "We hope to set up and frame the Clothesline Project so it can be a reminder to people who are feeling alone, that you are not alone. You can see that."
Pitcher sees the Clothesline Project as an opportunity for change: "We hope the number of hearts goes down because all of them up is crushing for us. But it's important to show people how this is a serious topic and how it's affecting people," Pitcher clarified.
The clothesline will be taken down on May 12.
Leave a Comment
About the Contributor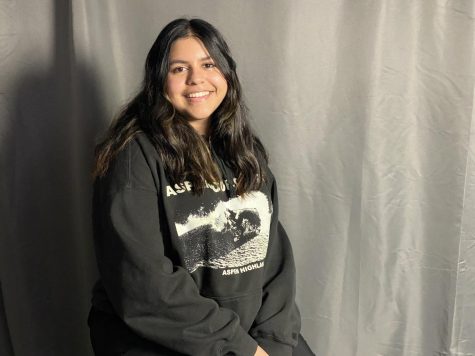 Mariam Malik, Opinions Editor
Hey! I'm Mariam Malik, a co-editor for the Opinions section of Rubiconline. This is my second year on staff. I previously worked as a Staff Writer. I am...