A love for Columbia and language
Lizbeth Sierra concedes that Columbia may not have a very positive reputation in the eyes of international observers. But one of her greatest goals during her time at St. Paul Academy and Summit School is to change that perception.
"I know that the only thing that people know about Colombia is drugs, guerillas, maybe Shakira or Sofia Vergara, but I want to teach other things about my country," she said.
As a teachers' assistant in the Upper and Middle schools, Sierra hopes to educate students about Colombia's redeeming qualities.
"We have beautiful landscapes, and people are very kind in Colombia, especially with foreigners who go there," she said. "I also think that our Spanish is better than the Spanish from Argentina or Mexico."
She also fondly remembers her hometown of Cucuta, on the border with Venezuela, a city known as "The Gem of the North" and "City Forest" for its lush surroundings.
"We really like to dance and to go out. I think it happens mainly because of the weather; we have many opportunities to be outside," she said of her social life in Colombia. However, Cucuta has a greater draw for Sierra than its landscape.
"What I like the most about Cucuta is that all my family is there; that's why I go there every vacation, for Holy Week, Summer, and Christmas," she said.
Sierra applied to an amity program in the United States in order to improve her command of the English language, although she is already a fluent speaker due to her studies at Universidad Nacional, a prestigious Colombian university with a mere 10% acceptance rate.
Upon finishing her major, Sierra became a teacher's assistant there. She views her school as one of Colombia's greatest features.
"Its campus is the biggest in the country and it's very nice to see how much diversity you can find there; people from every corner in the country and the world, too. There are many people who go there to learn Spanish, of different religions, colors, races," she said.
Sierra's first response came from SPA, an ideal situation because she had friends in Minnesota. She is staying with the family of sophomore Evan Leduc.
The transition from Colombia to Minnesota proved manageable for Sierra, although it took some adjustment. One of the greatest differences she noticed lay in driving etiquette.
"You really respect pedestrians; that doesn't happen in Colombia," she said. On the other hand, Sierra did not find Minnesotan food to be an improvement, deploring the quality of the soups served in the SPA lunchroom.
Ultimately, Sierra plans to teach English as a second language at her university in Colombia. She hopes to reach a level of fluency that allows her to teach Spanish to English speakers or English to Spanish speakers.
"My main purpose is to be a really good English speaker," she said.
Above all, Sierra has noticed the quality of education at SPA.
"I like to see all the extra-curricular activities that you do here. It's been very surprising for me that you guys, besides being very, very good students,  play different sports, play an instrument, sing, dance, act, write, are artists, etc. I really wish we had all the same opportunities in Colombia."
Q & A with Lizbeth Sierra
Q: What was your home town in Colombia like?
A: My home town is Cucuta, a city in the border with Venezuela. …
Cucuta has different nicknames, such as "City Without Borders," "Gem of the North," and "City Forest"…. As it is located in the border with Venezuela, Cucuta is a very important center in Colombia. I like my city because people are very nice and happy. … Another thing that I really like about Cucuta is its food. My favorite ones are empanadas and tamales.
Q: Did you go to Universidad Nacional? If not, where did you study in Colombia?
A: Yes, I studied at the Universidad Nacional. This is a public university and it's considered one of the best universities in my country.
I have always felt very proud of having studied there, because it's very difficult to get into this university. You have to take an exam that evaluates math, reading comprehension, history and social studies, and abstract reasoning.
Q: What was your best experience in Minnesota so far?
A: In Minnesota my best experience has been to go to the Target Center to see a basketball game of the Timberwolves vs. LA Clippers. It was very nice for me because, although I am not a basketball player, I love to see this sport.
Besides, that was [something] very American or "gringo" to see the cheerleaders, the presenters of FOX Sports, the sounds, all the contests and the activities that are between each period of the game.
And my best experience in the U.S. was to go to New York. My family and I went there to see my host brother [sophomore Evan Leduc] at Carnegie Hall. I was very happy there.
My dream before coming to the U.S. was to visit New York,  walk in Times Square,  visit Broadway, see all those famous, amazing skyscrapers. To be there and to see that my dream came true was just awesome.
Leave a Comment
About the Contributor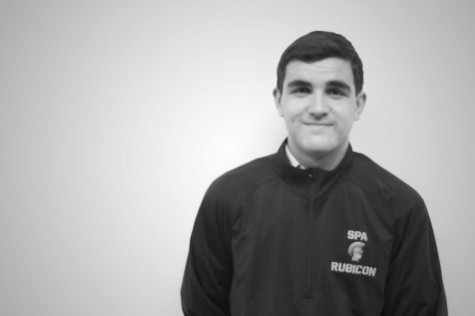 Thomas Toghramadjian, Columns Editor
Thomas Toghramadjian is a senior at St. Paul Academy and Summit School. He is currently in his fourth year on The Rubicon's staff, in the position of Columns...