The Rubicon editor wins Journalist of the Year
Her position might be less visible than an Upper School Council or Student Activities Committee presidency, and her face isn't frequently seen in assembly, but the work of Aditi Kulkarni has deeply permeated St. Paul Academy and Summit School. As Editor-In-Chief of The Rubicon, Kulkarni has presided over and signed off on every edition of the paper this year.
Kulkarni received some well-deserved recognition for her efforts after being selected by the Journalism Education Association  as the Journalist Of the Year for the entire state of Minnesota. "[Journalism Advisor] Ms. Campbell told me about journalistic scholarship opportunities, and I decided that I would [apply]. I thought that it would be a good way to set up a portfolio and get my work out," Kulkarni said.
Her portfolio will next be reviewed by a panel of judges who will determine the winner for the entire country, as well as several runner-ups. "I'm not really expecting anything from nationals, but it's an honor knowing my portfolio will be judged on that level," she said.
The award constitutes not only a prestigious accomplishment for Kulkarni, but also the culmination of her three years in journalism at SPA. She entered Writing for Publication in her sophomore year, hoping to do some sports writing for the paper, not knowing how far her career would eventually go.
Despite the broad curriculum of the class, Kulkarni wanted to continue her focus on sports reporting.  She got her chance, becoming editor of the sports section in her junior year.
As an editor, Kulkarni developed her skills in photography, becoming a presence at sporting events year round. Improbable action shots became a hallmark of her tenure as sports editor.
"My photography gave me opportunities I wouldn't have had otherwise, like riding the bus with the boys soccer team to their games at the Dome," Kulkarni said.
As Editor-in-Chief, Kulkarni's primary goal was to foster dialogue and mutual understanding between members of The Rubicon staff."I wanted people to get their drafts in on time, but also make sure that I was able to listen," she said.
"I want to leave a legacy of making sure that journalists here are trained in all aspects of their work. I came in wanting to do sports writing and I found that I loved a lot of different things that I never would have discovered otherwise," Kulkarni said.
Leave a Comment
About the Contributor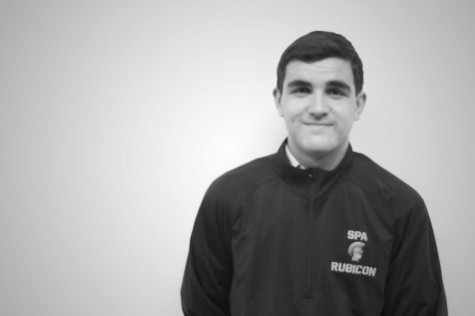 Thomas Toghramadjian, Columns Editor
Thomas Toghramadjian is a senior at St. Paul Academy and Summit School. He is currently in his fourth year on The Rubicon's staff, in the position of Columns...