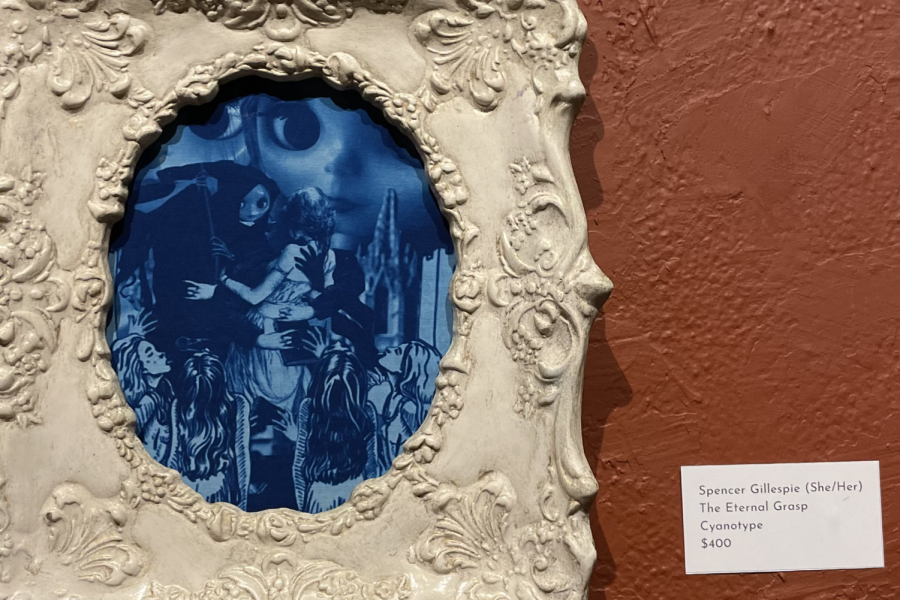 Art teacher Legendre-Gillespie featured in Rogue Buddha exhibit
October 19, 2022
The Rogue Buddha gallery, founded by artist Nicholas Harper in 1999, is a unique contemporary art gallery that has been recognized as one of the top twenty essential galleries internationally. Located on 13th Ave NE, Minneapolis, Rogue Buddha features both world-famous artists' work and locally-inspired creators. The gallery exhibits many Gothic-themed artworks, exploring the charm within dark and enchanting visual projects.
For the first time since the start of pandemic, the Rogue Buddha gallery was finally able to host an open-call art show that offered submission opportunities to talented individuals within the Twin Cities. "They always do support the Twin City artists but like I said it's usually just a rotating pool of specific artists," US art teacher Spencer Legendre-Gillespie said, who is featured in the show.
"
They always do support the Twin City artists but like I said it's usually just a rotating pool of specific artists"
— Legendre-Gillespie
With mixtures of both bright and dark red walls imitating blood, the decorated venue hung candles, chandeliers and other Victorian-style mirrors that contributed to the overall theme of the September gallery, Camilla — a vampire novel. The prompt was open for interpretation and was filled with creativity. Artists could submit any type of artwork within the framed size of 30'-by-30'. With approximately three-hundred submissions, only ninety-nine were honored to be presented in the show, and Legendre-Gillespie's project was one of them.
"I was introduced to them by an artist named Alex Kuno (my upstairs neighbor) a month ahead of time. He's represented by them. We decided, 'oh, vampire theme, that could be fun'. It's a little bit outside of our wheelhouse. But we just wanted to kind of make something that was enjoyable," Legendre-Gillespie said. "And so the piece that I made for it wasn't even exactly a medium that I'm familiar with. Normally I do more mixed media stuff. [But for this project,] I did cyanotype but I was in Photoshop. Actually, I even used Adobe Premiere to mash together different images. Then from that printed transparency, I used cyanotype mixture, printed it, and then framed it really nicely. So, it's just a lot of process-based stuff." Legendre-Gillespie explained the process of producing her masterpiece, which, at the same time, involved a lot of fidgeting and risk-taking.
As a selected candidate, the show displayed Legendre-Gillespie's work and helped sell her work throughout the gallery. Getting to know every artist's style, the show sets an approximate price for the collectors and visitors of the gallery. Earning fifty percent back, the other fifty percent was then transferred to Rogue Buddah as gallery fees.
The entrance to the gallery was free, but there were also intriguing events like the Vampire Ball after the gallery that involved payments of around forty dollars. With invited bands playing, the addition of the Vampire Ball at Rogue Buddah reveals a particular aspect and appreciation of art. "They had a giant mirror called the 'selfie mirror'. Vampires can't see themselves in the mirror, so when you do take a selfie and if you could see yourself, you weren't the vampire. But you were at a vampire show. So a bunch of people dressed up as vampires and things and it's just a fun event," Legendre-Gillespie said.
While it is interesting to appreciate the artworks done by famous artists hundreds of years ago, it is also important for students to go out into the city, look at contemporary artworks, and celebrate the artists still living today.
"Each gallery kind of has its own little wheelhouse that people gravitate towards. I think that we can learn from the techniques and methods [these contemporary artists] use to make art. Also, these are people we can have conversations with. Getting out and seeing the art is always going to be different than the way you're looking at it on a screen. Paint, for instance, is actually a reductive color mixing, where on your computer screen, everything's additive with the light being layered on top. So to see something like that in person is a totally different experience," she said.
"Not only that," she added, "the gallery itself sets up a whole atmosphere and creates an environment that the lighting is specifically lit for each individual piece. You've got the walls are painted a certain color to match the theme of the show. You have an opportunity to not only talk with the artists but other people around you and learn from them. So it's kind of like going to a horror movie but you decided to go to a vampire gallery show."
The Twin Cities is full of history and art for people to see and opportunities to create. Through Springboard for the Arts, Legendre-Gillespie has obtained many great resources for open-gallery submissions that she has also suggested for students. You can be the next Legendre-Gillespie.