Sanders rally energizes Minnesota voters ahead of Super Tuesday
March 4, 2020
Hours before Super Tuesday, presidential hopeful Senator Bernie Sanders (D-VT) rallied Minnesotans in a "Get Out the Vote" concert at Roy Wilkins Auditorium in St. Paul.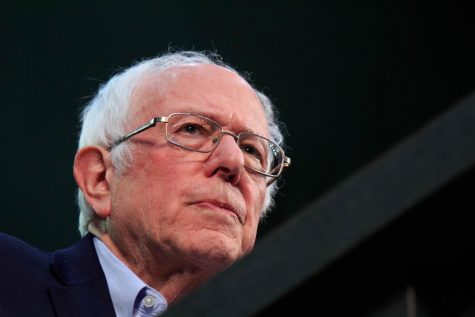 After former South Bend Mayor Pete Buttigieg (D-IN) suspended his presidential campaign on March 1, and Senator Amy Klobuchar (D-MN) suspended hers earlier Monday, Sanders invited their supporters to his campaign: "To all of Amy and Pete's millions of supporters: the door is open," he said. "Come on in."
Though the doors were open, voters didn't seem to come. Former Vice President Joe Biden won ten of the fourteen states that held primaries on Super Tuesday, including Minnesota, while Sanders won four. Biden clearly swept the day, but Sanders celebrated his California win.
The crowd booed at the mere mention of Biden's name, but Sanders rebuked: "Joe is a friend of mine. He's a decent guy," he said, "He's just wrong on the issues. He's wrong on his vision for the future."
After noting Biden's billionaire donors, Sanders said that only he has the track record to beat President Donald Trump in November. Key to his campaign, he said, is that "the [grassroots] nature of our campaign is different." Sanders was also met by roars of support in response to his hallmark campaign promises of the Green New Deal, Medicare for All, restoring union rights, and canceling student loan debt.
He also noted that he would legalize marijuana via Executive Order.
Representative Ilhan Omar (D-MN), who endorsed the senator months ago, introduced Sanders. St. Paul City Councilmember Nelsie Yang, other local politicians, and union members also spoke. Minnesota-born musical artist Maria Isa and Denver-based R&B band Nathaniel Rateliff & the Night Sweats warmed up the 6,000+ attendees.
After coming in second to Biden, the Sanders campaign needs to mobilize the diverse array voters they claim to have, but who didn't seem to vote. To win the nomination, Biden will need to keep the momentum he built last week. Though Biden and Sanders emerged as clear front runners on Super Tuesday, Elizabeth Warren (D-MA) and Tulsi Gabbard (D-HI) are still fighting. Mike Bloomberg (D-NY) is revisiting his campaign after spending more than half a billion dollars to win approximately 31 of the 1,357 delegates up for grabs on Super Tuesday.
President Trump appears to have no threatening competition for the Republican nomination.
[UPDATE]: Bloomberg dropped from the race on Wednesday; he endorsed Biden. Warren dropped from the race on Thursday; she has not yet endorsed anyone.