[OSCAR REVIEW] Animated films celebrated with nominations at 95th Academy Awards
March 12, 2023
The nominees in the category ANIMATED FEATURE FILM include:
GUILLERMO DEL TORO'S PINOCCHIO
Guillermo del Toro, Mark Gustafson, Gary Ungar and Alex Bulkley
MARCEL THE SHELL WITH SHOES ON
Dean Fleischer Camp, Elisabeth Holm, Andrew Goldman, Caroline Kaplan and Paul Mezey
PUSS IN BOOTS: THE LAST WISH
Joel Crawford and Mark Swift
THE SEA BEAST
Chris Williams and Jed Schlanger
TURNING RED
Domee Shi and Lindsey Collins
[OSCAR REVIEW] Puss in Boots captures the hearts of audiences
With his charming wit and undeniable charisma, Puss in Boots has captured the hearts of audiences for years. But in his latest adventure, Puss in Boots: The Last Wish, the beloved feline hero faces his toughest challenge yet. As we watch him navigate the treacherous waters of love and betrayal, we can't help but wonder – can Puss overcome the odds and save the day once again? Puss in Boots: The Last Wish is a gratifying animated adventure film that appeals to both children and adults alike. It is a spin-off from the Shrek franchise and follows the adventures of the swashbuckling feline hero Puss in Boots, voiced by the talented Antonio Banderas. However, while the film has its many strengths, it also has its weaknesses.
The film was recently nominated for an Oscara Oscar in best animated feature film and rightfully so. The animation is generally well received and visually impressive for all audiences.
The story revolves around Puss in Boots' search for the legendary "last wish" that can grant any wish to its owner. Along the way, he reunites with old friends including his love interest Kitty Softpaws (voiced by Salma Hayek), and faces off against new foes, including the villainous Big Bad Wolf (voiced by Wagner Moura).
The animation in the film is excellent, with vivid colorful visuals that bring the world of Puss in Boots to life. The characters are also well-designed and animated, with Puss in Boots' signature moves and expressions being captured perfectly.
The film's pacing is brisk and captivating, with plenty of exciting action scenes such as the thrilling train chase and sword fights that keep the audience on the edge of their seats. The humor is top-notch with clever and witty banter between Puss in Boots and his sidekick, Kitty Softpaws, as well as amusing visual gags, such as Puss attempting to sneak past a sleeping guard while wearing a loud, clunky suit of armor. Moreover, the movie features many heartwarming moments, including Puss reconnecting with his old friend and a touching relationship between Puss and Kitty Softpaws, as they support each other throughout their journey. The voice acting is superb, with Antonio Banderas bringing his trademark charm and wit to the role of Puss in Boots, and Salma Hayek providing a strong and confident voice for Kitty Softpaws.
However, where the film falls short is in the plot and storytelling. While the film has its moments of humor and action, the plot is somewhat predictable and formulaic and while this can create for a more streamlined and efficient storytelling experience and build a sense of familiarity to the audience it can also feel predictable and make you feel a lack in creativity. Moreover, some of the new characters introduced in the film are underdeveloped, which prevents the audience from fully investing in their stories. Although the film has its merits, the lack of originality in the plot and underdeveloped characters prevent it from truly standing out.
"
While the animation and voice acting are strong, the storytelling and character development leave something to be desired."
Furthermore, while the romantic subplot between Puss in Boots and Kitty Softpaws is charming, it feels tacked on and underdeveloped, because it lacks the necessary buildup, emotional depth, and screen time to make it convincing. While there are moments of chemistry and filtration between the two characters, the progression of their relationship feels rushed and sudden. Moreover the screen time devoted to their relationship is also limited compared to the rest of the film's plot, making the romance feel like an afterthought rather than an integral part of the story.
Overall, Puss in Boots: The Last Wish is an enjoyable but flawed addition to the Shrek franchise. While the animation and voice acting are strong, the storytelling and character development leave something to be desired. Fans of the franchises will likely enjoy the film, but those looking for a more original and impactful animated film may be disappointed.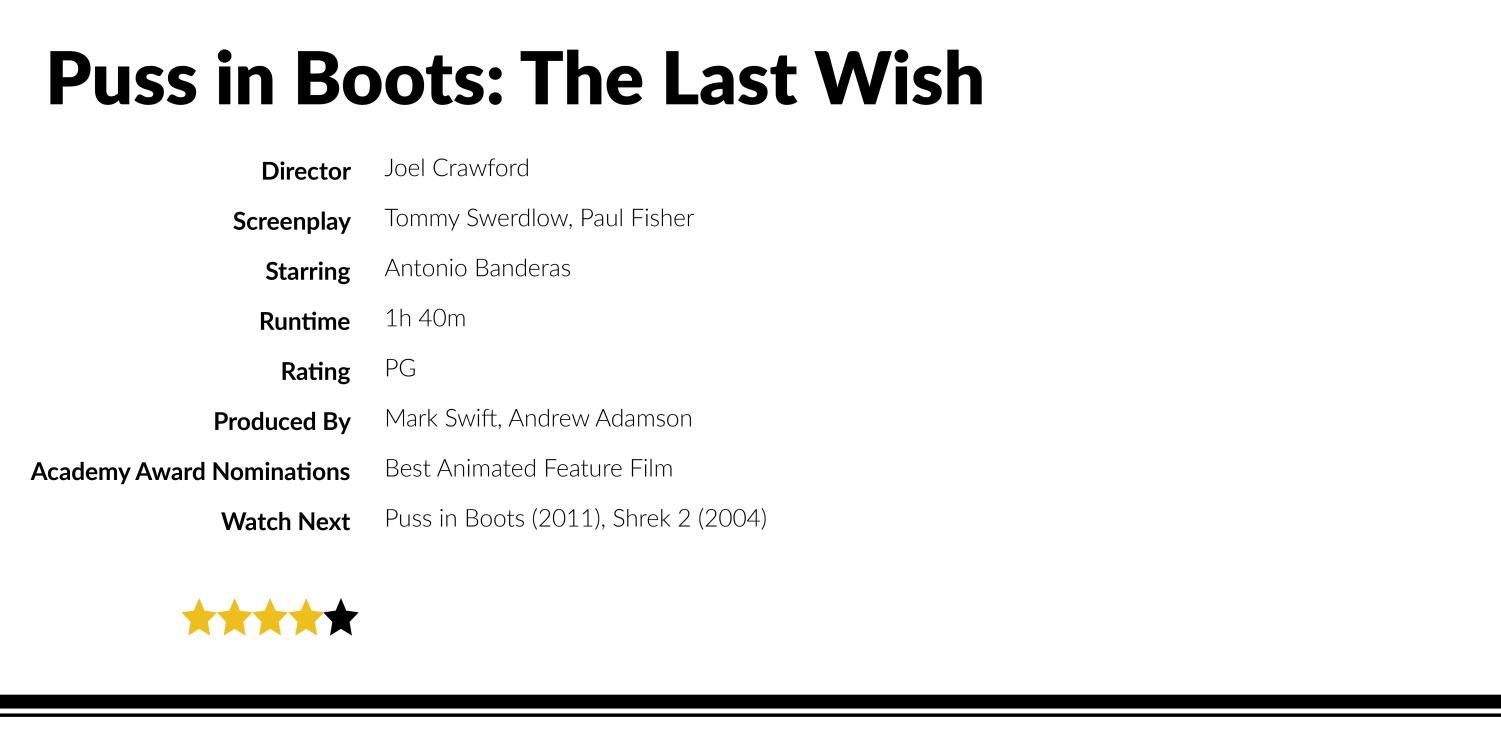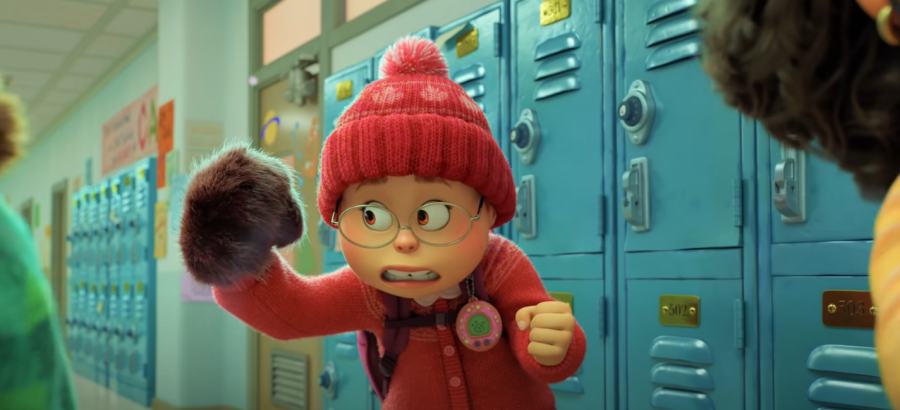 Screen capture from Turning Red Official Trailor by Pixar on Youtube
[OSCAR REVIEW] Turning Red bombards viewers with Chinese culture, nostalgia and stereotypes
Pixar's 25th feature film, Turning Red, was released on Disney+ on Mar. 1, 2022 and pleased viewers with its nostalgic animation of life in the early 21st century through a Chinese family's perspective. The film was nominated for an Oscar. However, did Disney go too far and raise stereotypes of Chinese family dynamics?
Turning Red is set in Toronto, Canada in 2002. The main character, Meilin "Mei" Lee (Rosalie Chiang, is a 13-year-old Chinese-Canadian girl who is a perfect student and daughter. Mei and her parents, Ming (Sandra Oh) and Jin (Orion Lee), own a temple that honors their ancestors. Their most revered ancestor, Sun Yee, was particularly fond of red pandas and could turn into one. One day, Mei wakes up as a gigantic red panda. She later learns that the women in her family turn into red pandas as they come of age. Startled by this fact, she fights against unleashing her red panda and does this by showing as little emotion by possible. The only way to banish the red panda spirit is to undergo a ritual. However, under Mei's rotten luck, the ritual cuts close to 4*Town, Mei and her friends' favorite band's, concert. Over time, Mei learns to appreciate her red panda and uses it to make money for the 4*Town concert with her friends, Miriam (Ava Morse), Priya (Maitreyi Ramakrishnan), and Abby (Hyein Park). Ultimately, Mei makes the choice to either undergo the ritual and honor her family or disobey them and go to the concert with her friends.
Rosalie Chiang and Sandra Oh did a great job portraying their characters' conflicting and relatable mother-daughter relationship and creating moments of tension, vulnerability and laughter. On the other hand, their characters were bland and stereotypical. What's more stereotypical than a Chinese daughter who honors her "tiger mom," gets straight A's, and ditches her friends to help out at her family-owned temple? Even worse, Ming is the perfect example of a "tiger mom" with her manipulative, demanding, and unsupportive behavior. These characters that Disney created in hopes of boosting diversity didn't work out in their favor. Instead, the company boosted Chinese stereotypes.
"
Rosalie Chiang and Sandra Oh did a great job portraying their characters' conflicting and relatable mother-daughter relationship and creating moments of tension, vulnerability, and laughter."
Aside from the stereotypical family dynamics, the animation of the film was authentic and reminiscent of China, especially its food. The detail put into a cooking scene at the start of the film of dumplings, pork and lettuce stir-fry, and other Chinese dishes was impeccable, as well as other scenes that had food such as Ming's congee decorated with fried eggs, a mushroom, and green onions to depict a red panda's face. Turning Red intentionally used these small details to make viewers feel more at home.
The underlying message of the film is to be yourself. Even though it's a cheesy message, it was pretty well-represented by Mei choosing what makes her happy in life for once, not just what makes Ming happy. Moments of tension, cringe, and laughter were packed into the film, like all PG-rated and Disney films. While there were underlying stereotypes and flaws in the film, it's still a lighthearted movie to watch on a movie night. It's also perfect for viewers hoping to unleash their inner red panda.