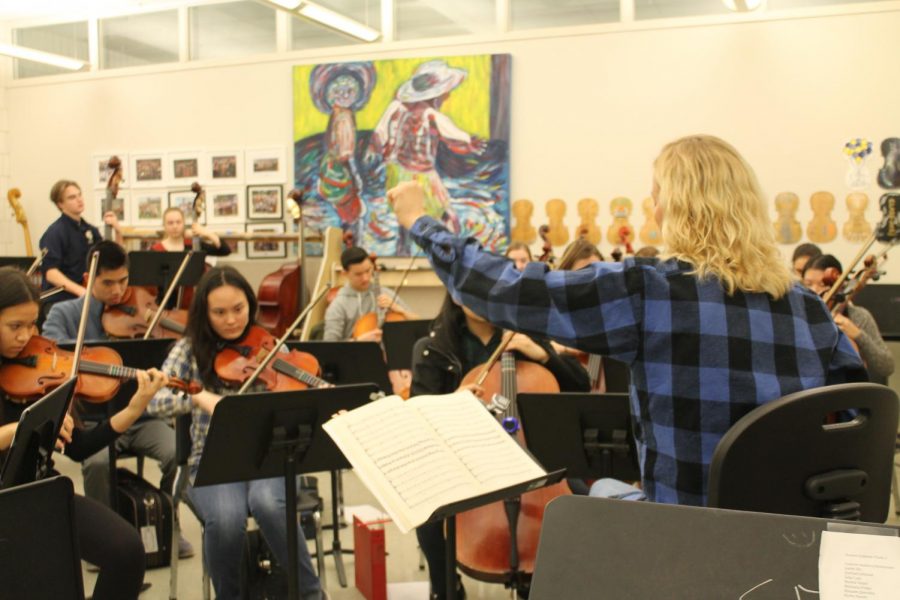 28 years of music: rise of the orchestra
January 15, 2019
The Upper School orchestra program is thriving, with over 100 dedicated members. But this has not always been the case. When Orchestra Director Almut Engelhardt started working at SPA in 1991, the orchestra didn't boast such a high amount of members.
"When I started, there were eight people in the high school orchestra," Engelhardt said. "And they were not nicely sorted out, they were pretty random. There was a baritone, a flute, a bassoon, and three violins, or something like that. It wasn't really an orchestra. It was an assortment of people."
In her time here, Engelhardt has seen the orchestra improve and gain many more members along the way.
"The orchestra has gotten better, and bigger in the process. We can do a bigger range of things now because we have a smaller group with Honors Sinfonia and a larger group so we can do a lot of music, all kinds, which is terrific," Engelhardt said.
This change in size is likely due to the success of the orchestra. Alongside this, Engelhardt's dedication to the program changed the way the orchestra functioned.
"There was a consistency that wasn't there before, because when I came I was the third teacher in one year… and I came in the middle of the semester. I came 10 days before the winter concert… there was a lot of turnover so once [it was] stabilized and it was the same person, [we could] build something," Engelhardt said.
"
We're back to putting ourselves out there again."
— Almut Engelhardt
Engelhardt has guided orchestra students through highs and lows and has seen how the orchestra changes as a whole for 28 years. Recently she has been noticing more bravery from orchestra students.
"People used to be more daring, they used to be more willing to take on pieces that were too hard or put themselves out there more. And then people got more careful and more calculating as to what risks they wanted to take. And now we're back to putting ourselves out there again, so I'm really happy about that," Engelhardt said.
"One way that shows is that we have so many people now who are composing for the orchestra," she added. "That used to be the case, and then there were about 10 years or so when nobody wanted to do that. And now suddenly we have people every year who are composing for the orchestra… I'm really happy about that and I'm proud of those who put themselves out there for that because that's scary, and a ton of work."
Engelhardt understands composing for the orchestra is hard, but she also knows it is rewarding.
"[It's] a unique experience, because how often in your life will you have a chance to try to compose something and have a full orchestra play it?" Engelhardt said.
"
We've had huge support where it matters most."
— Almut Engelhardt
Though she has seen more student composers, she hopes to have more gender diversity within those composing.
"I'd like more women composers because most of our composers right now are boys. I would like for more women to step up and compose," Engelhardt said. "There's not a history of that so I realize that's a process but I think we're past that. Just because it used to be all men doesn't mean [women] can't do it now."
Throughout the changes within the orchestra, one thing has remained crucial for its success: the support of the SPA community.
"We've had huge support, where it matters most, from administration and from parents and from students," Engelhardt said. "I think that of all the things has made the biggest difference."