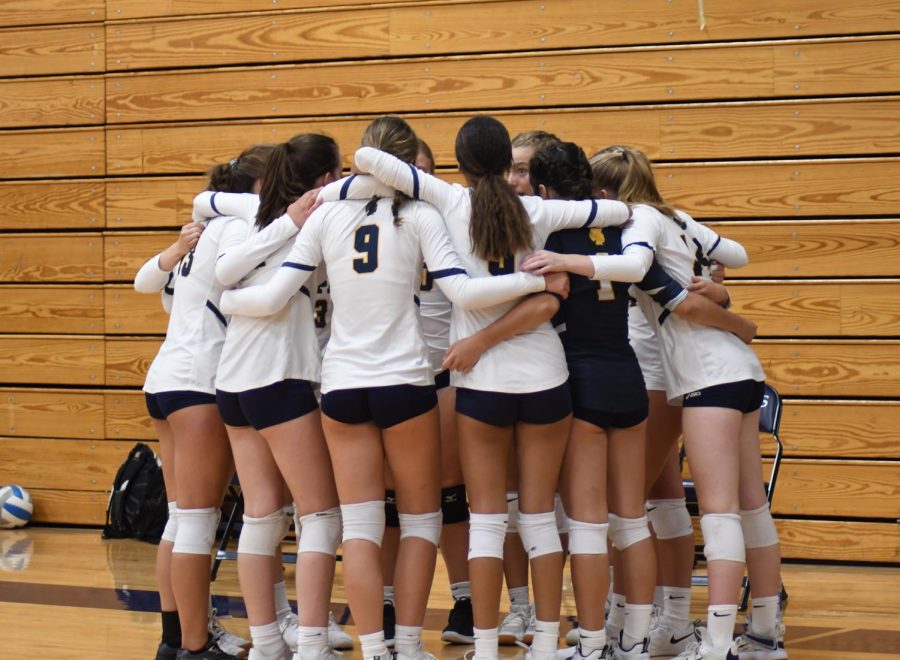 Volleyball team's family-like bond strengthens start to the season
Shoes squeak on the court. Players call to each other to set and spike. There's a loud wail from the clock running out. The crowd screams and claps as the last play is made. This has been a fantasy since the pandemic began, but with life almost back to normal, the pipe dream of the perfect volleyball game is more than a dream.
Captains Riley Erben, Solvej Eversol, Nina Starchook and Head Coach Mary Engstrom will work to turn around a season that has started with only one win.
"Last season with COVID was definitely rough but we persisted and were able to stay the strong program we always have been," senior Katherine Bragg said, "I think in some ways it made us appreciate all the little things we love about volleyball."
Senior Esther Allen agrees, "If anything COVID has made the team a lot closer. We went through a lot together [like] having to be quarantined… and we definitely make it a priority to make up for the good ties lost while still being cautious of illness."
Before practice at 4:30 p.m., the volleyball team hangs out. They eat food and do homework. When practice starts, they start with a few warm-ups and then move on to practice skills. And, of course, the volleyball team plays a lot of volleyball.
"The season has been really fun," said Allen. Already, she added, "The girls on the team have made this year the best year of volleyball in my career."
The bonds made between teammates can be described by anyone who's played high school sports: unbreakable.
"I've met a lot of good people and some of my best friends are on the team with me. I definitely look forward to practice," said Allen.
Bragg said, "For me, my team is like a second family. I love talking with the younger girls and connecting with others who aren't necessarily my best friends or people I hang out with everyday. I enjoy playing a sport I love with such a supportive group of girls."
The Spartans play Sept. 30, at home vs. Kaleidoscope Charter.