The Winter One Acts captivate with the hilarious but strange
February 1, 2019
In a mix of absurdist comedy and gripping drama, the Winter One Acts took place on Friday, Jan. 25 on the Huss stage.
"Chamber Music," directed by US Theater Director Eric Severson, opened to a roundtable of notable female figures in history — including Constanze Mozart (sophomore Grace Krasny), Osa Johnson (junior Sydney Therien), and Gertrude Stein (senior Chloe Morse) among others. Though it becomes evident that the meeting took place in an insane asylum, the women are committed to their fictional selves — Joan of Arc (Isobel Am) carries a full-size cross, while Amelia Earhart (junior Ananya Narayan) believes her plane crashed just outside the window. However, the meeting, moderated by Susan B. Anthony (senior Isabel Saavedra-Weis) soon loses order: they believe, delusionally, that the men's ward is planning to attack them — and thus, they must attack them first.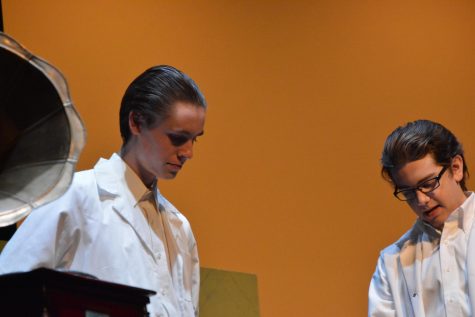 "English Made Simple," directed by seniors Gemma Yoo and Abby Lanz, played on the idea of the awkward encounter at a party, with a loudspeaker (freshman Ellie Murphy) narrating the what the conversation was really about. Jackie, played by freshman Annika Brelsford, meets Jill, played by senior Adelia Bergner, who enact the familiar rituals of conversation: the hellos, displays of affection, the sharing of arbitrary information. But, the conversation takes an esoteric turn: the couple contemplates "the infinite smorgasbord that lies before us," while sitting on the edge of the stage. It turns out, a three-minute conversation can determine a relationship for the rest of eternity.
"
It turns out, a three-minute conversation can determine a relationship for the rest of eternity."
"This is a Test," directed by senior Nitya Thakkar, reenacted the worst-case scenario of a test, in nightmarish detail. Allie, played by junior Nina Smetana, stayed up all night procrastinates studying for a test, only to discover her peers are vastly more prepared. Her day took a turn for the worse when the teacher, played by freshman Ellie Dawson-Moore, reminded the class that the 60-minute test would determine your "future," and acceptance into college. The unfairness of the class is put onto comedic hyperbole when a carefree hockey-playing student, named Evan (junior Peter Findell), walks in late and tells the teacher the answers he "would have" put: he gets 100 percent. Allie, preoccupied on acceptance into the fictional "Magestica University," reaches a stressed exacerbation when she discovers the "opinion essay" section of the test is written in Chinese. Unfortunately, the teacher informed, the only class Allie missed was the day where they learned Chinese.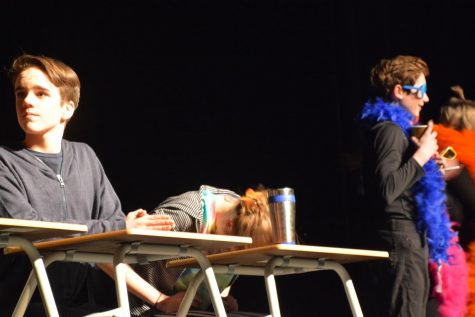 "Variations on the Death of Trotsky," directed by seniors Joey Bluhm and Zoe Hermer-Cisek, featured sophomore Michael Moran playing Trotsky, who discovered of his death through an encyclopedia entry read by Mrs. Trotsky, played by junior Savita Avasthi-Yopp. Although Trotsky has a mountain-climbers ax stuck in his head — he is unaware, and instead worries about protecting himself from ice picks. When Trotsky asks his gardener, Ramon (played by freshman Jayden Jones), about the ax, Ramon informs he "smashed, not buried" the ax into his head. In the final variation of Trotsky's death, he reminisces about his life in a philosophical tone: he is in his "last room" of life.
"Jimmy the Antichrist," directed by seniors Nora Povejsil and Rachael Johnson, opens to a classic Thanksgiving meal, but the plot soon twists when Jimmy, the first-year college student played by senior Ben Atmore, returns home to his family. Jimmy's appearance is unremarkable, although his parents note his new earrings with a disapproving tone. He is joined by a friend named Colin (9th grader Per Johnson), who energetically greets and hugs each member of Jimmy's family. At the dinner table, Aunt Kathy (sophomore Evelyn Lillemoe) asks Jimmy if he is seeing anyone — and Jimmy acts as if he has an embarrassing secret: he is … the Antichrist. The signs were all there: the "666" birthmark on Jimmy's chest, the sudden thunderstorms when he is angry, and his "allergy" to walking over hallowed ground. As family tensions rise, Aunt Kathy moves to leave the room, but collapses, not breathing. However, Jimmy works his demonic magic, and brings Aunt Kathy back to life — yet she, unfortunately, turns into a devil when trying to eat, spewing food all over the stage in an absurd, fantastical conclusion.