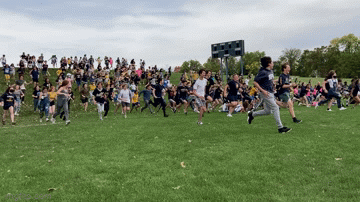 US, MS and LS students come together to storm the field
At precisely 4:03 p.m. today, SPA students of all ages ran down the hill on the Upper School campus. Roughly 150 people from the US, Middle School and Lower School stormed the hill as part of a spirit week tradition that has been around for years at SPA. Students sprinted down the hill as fast as they could all the way to the bleachers. A few, unfortunately, fell down during the storm but no one was injured.
Senior Divya Bhargava after being asked where she would rank the storming of the field with sprint week events said, "Pretty high, third, after the Pep Fest and the photo button."
Sophomore Halle Cowgill, when asked how she avoided getting trampled, said, "I jumped over people.."
Sophomore William Richardson said, "It was a crazy experience, I didn't yell because I wanted to save my breath but then everyone else was yelling and three ninth graders fell right in front of me."
The storming of the field is critical of spirit week. It reminds the students of the community and to get hyped for the Homecoming game. This year, the Homecoming game was Girls Varsity Soccer against Lakes International Language Academy.