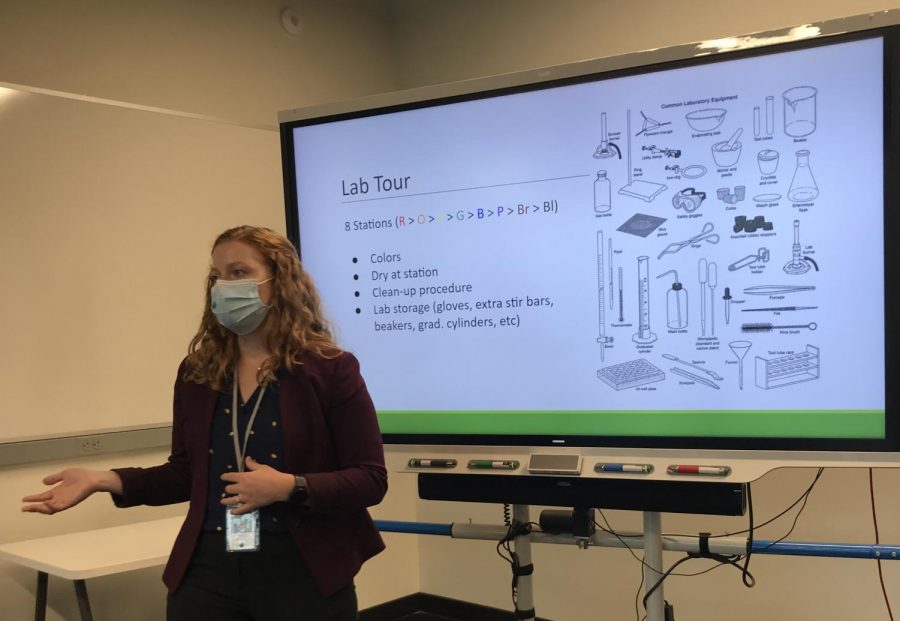 Julianna (Rosie) Rushing has an organic aptitude for Chemistry
Rosie Rushing is a new Honors Chemistry and Neuroscience teacher at SPA who hopes to encourage and help students with finding their passions.
Julianna (Rosie) Rushing grew up in Aspen, Colorado, where she was surrounded by nature throughout her daily life. She was born in a long line of chemists, one of which was her grandfather who she took inspiration from. She originally wanted to become an English teacher, but she found her love for science while researching environmental public health and analytical chemistry in college.
Rushing realized how important the environment was, how it affected humans, and how she needed to preserve it. She incorporated her mission of protecting and researching nature into her life by deciding to teach, as she said, "The opportunity to teach it was also an opportunity for me to learn more about it." Rushing also worked in the environmentalist group MN350 and enjoys interacting with nature by mountain biking with her family.
Although Rushing is new to teaching, she has experience with instructing first-year college students. She says the most rewarding part of teaching students is "proving to people that they are capable" and working to change their mindsets to embrace new topics.
This is her first official teaching experience and she intends to show that everyone can learn and enjoy chemistry as well as neuroscience if they can engage with it. Rushing wants her classroom to be a place for people to find their passion, just like she found hers, and communicate what they learn to the world around them.
Along with chemistry and neuroscience, Rushing says the most significant thing she wants to teach her students is to be kind and compassionate. She believes seeming successful to the people around you is nothing without the value of being kind. Being gracious and loving will not only help us as humans but also the planet. Rushing explains that making a difference is important as it allows people to discover, create, and invent. She looks forward to being a part of the science classes at SPA and hopes that she leaves her students with the mindsets to make a positive impact on the world.