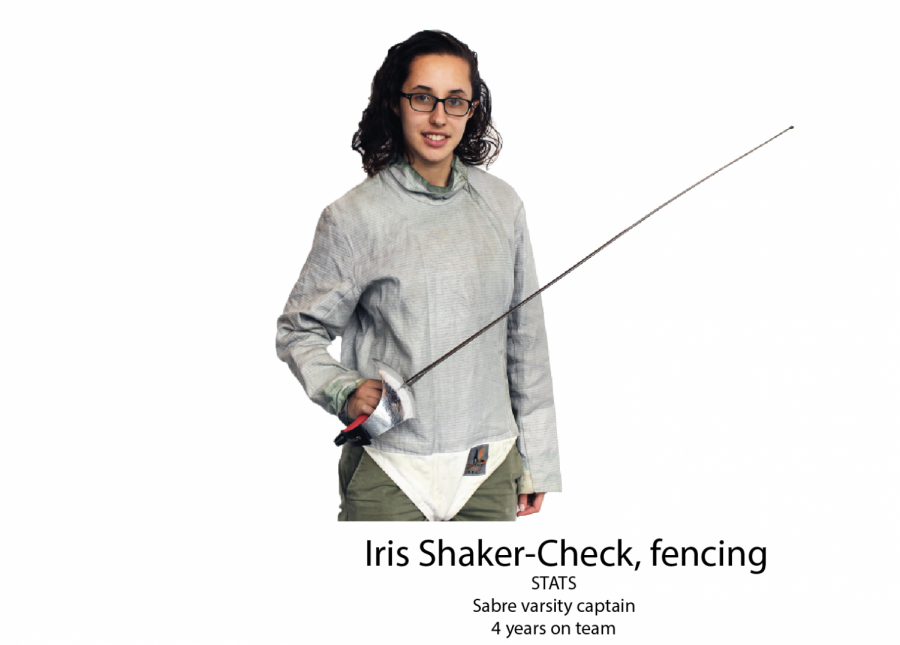 Iris Shaker-Check: Fencing
Although fencing is much more complex than just lunging and stabbing players with swords, as many spectators may think, this is what inspired senior Iris Shaker-Check to join the team in 8th grade.
Shaker-Check has competed in the sabre section ever since she joined the team and is now the sabre captain. Being a captain on the fencing team means running warm-ups, chaperoning rides and making sure to encourage each of the team members.
"I do sabre, which obviously in my very biased opinion is the best. We all kind of argue a bit that our [section] is the best, but of course, we're all still one team. I'm the sabre captain out of the three sections: sabre, foil and épée. Each one has its own captain," Check said.
One of Check's favourite elements about the sport involves the fact that it combines the experiences of two very different types of a sport: individual and team focused.
"I've always loved swords, but I also kind of like that it's both a team sport and an individual sport. You get the team support and growth, and you can also compete in team relays. But also some stuff is just you, so if you make a mistake, it affects you. If you do well, it's on you. So it's kind of the best of both worlds," Check said.
For her last season on the team, Check hopes to lead the players with a positive and supportive mindset before focusing on just winning matches.
"My biggest goal is to just to have a community where everyone on the fencing team supports each other. I think we already do have that community, and I would like to continue that as a captain. I also just want everyone to try their hardest. Of course, winning would be great and we've had a lot of successes in the past, but I don't think that's all we want to focus on," Check said.
As a fencer, Check is very intentional about the strategies she uses. Being aggressive important, but the dynamic edge that sets her apart is found in her ability to carefully trick her opponents.