Girls basketball swing players form new community
January 21, 2022
What do you do when you have too many people for one team, but not enough for two?
The girls basketball team has an influx of swing players (meaning they play for both varsity and junior varsity) who joined this season that can answer that question.
The large amount of swing players participating in basketball this year is different from amounts in the past. Junior Catherine Hooley wasn't used to the unusual amount of players on both teams, but the community that formed was well worth the change. "It's been an interesting adjustment, but I feel that the team is a real community because it's not just the ones who have been on the team for a while, the ninth graders are really included and are really into the team spirit," Hooley said.
In past years, two separate communities surrounding either the varsity or JV teams happened naturally, but now that the teams are connected through swing players, there's only one.
Point guard Ivy Raya has experienced the separation of the teams and now the new connection: "The basketball team has always been a close-knit community, and now with people swinging a lot, I think it will close a distance between JV and varsity teams," Raya said. Captain Naomi Straub enjoys the new connection as well: "I really like the team aspect of it [basketball], it's usually a small team and then there is a really long season, so we get to know each other really well," she said.
Straub had to adjust to the structure of the team as well as the coach, both of which are new. The team set-up means that everyone practices together: "it's very different because we only have three people that are fully on varsity…everyone else plays both JV and varsity so that makes practices less split up," Straub said.
The many coaches of the girl's basketball team brought the community closer together as well, having helped to not only manage the team but also serve as role models for the team. There are two head coaches: Willie Taylor, known as coach Taylor and coach Alicia Ekegren.
Taylor emphasizes community and is part of the reason the team worked on the community in the first palace, "Our coach really emphasizes saying hello to your teammates in the hallways and to have good connections with the people you play with because it really transfers over to the game," Raya said.
Taylor doesn't push the community just for wins, but because he cares about the team and its players. For example, a new tradition that doubles as a community builder is connecting with teammates outside of practice and games. "He wants us to be genuinely good people, and I think our coach really worked hard to look out for our well-being which builds a community within the basketball team too," Raya said.
Another tradition the girls basketball team has is eating dinner with both varsity and JV players, their parents, and the teams' coaches. To close the gap between the two teams, team dinners are strictly enforced. The dinners grow the girls basketball community, incorporating parents and coaches. "You sign up for a meal and bring it, then we all eat together before the game," Raya said. "They [JV players] have the same expectations that the varsity players have to show up to the games."
The way the girls basketball team bridged the gap between its varsity players and swing players is something only possible with teamwork from all corners of the court. From the parents and coaches, to the freshmen just trying out—everyone played a part in building and connecting a community that truly represents what a team should be.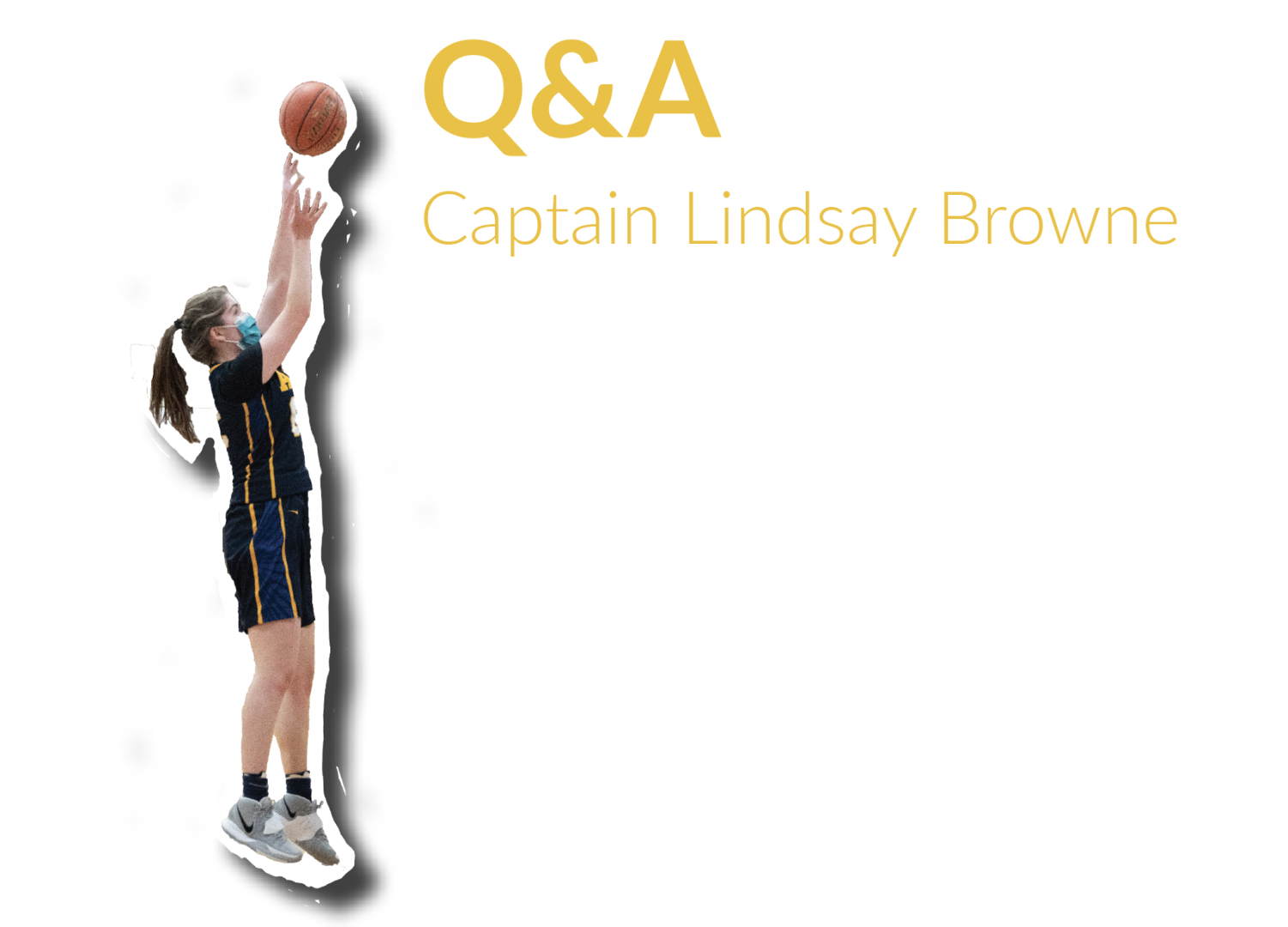 Q&A with captain Lindsay Browne
Q: How would you say you take on that leadership role that comes with being a captain? Is there specific ways that you do so?
A: "I think I try to always keep it positive and keep cheering people on. I think it's a really big part [of being captain] and making sure that players don't get down on themselves. Whether it's telling someone where they go [on the court] or if someone misses a shot saying "oh, keep shooting!"; just trying to make sure everyone stays positive and keeps the energy up."
Q: How would you say being a captain has been different from being a regular team player?
A: "As a captain, it's a lot different in terms of how much communication you have with the coaches. We have more insight into the team and can give them information about adjusting how we practice."
Q: How do you hype yourself up or get ready for games?
A: "I like listening to really energetic music. We have a warm-up playlist that we always listen to. I think it's always been hyped up for me, having to watch the JV game before my game gets me in the mindset."