First of four Head of School candidates arrives today
September 7, 2021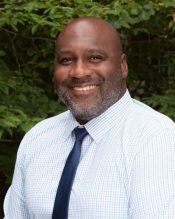 The Board of Trustees announced four candidate visits to campus in September, with family forums set for each. The first of these candidates arrived at the upper school this morning. In the release from Tim Welsh, co-chair of the search committee and Board President, he wrote:
[Jarret Young] currently serves as the Director of Middle School at Whitfield School, an independent, coeducational college preparatory day school for grades 6-12 located in suburban St. Louis. He works closely with students and families on academics and student development, partners with faculty on curriculum development and professional growth, and leads institutional efforts in diversity, admissions practices, and community outreach. Prior to his role at Whitfield, he served as a Grade Dean at the Blake School in Minneapolis, as Assistant Dean of Student Affairs at Bowdoin College (ME), and as Assistant Director of Student Life at St. Edward's University (TX). Mr. Young holds a bachelor's degree from Bowdoin College and a master's degree in education from Harvard University.
A group of MS and US students will meet with Young at lunch today as part of the two-day interview.