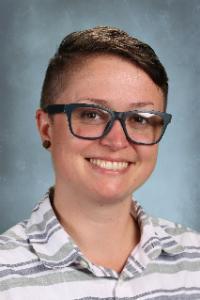 English teacher Julia Callander is the latest addition from North Carolina
Julia Callander is one of many new teachers in the Upper School this year. She joins Saint Paul Academy as an English teacher.
Callander has had an aptitude for teaching since her teen years.
"I have been teaching in some form since I was in high school when I started giving private flute and trumpet lessons to middle schoolers," she noted, "My mom was a piano teacher in the Twin Cities, and I was able to start building a student base from her studio. Since then, I've been a French camp counselor, a college writing center specialist, an aural skills TA, an adult ELL classroom assistant, a GED tutor, and more." Callander also recently worked as a faculty member at UNC in North Carolina, where she was able to work with students "in and out of the classroom." She taught first-year writing but also had an active role in student life, planning outings and organizing other community events.
Callander spoke on what she really loves about teaching, noting the ways teaching is a rewarding job. "I love connecting with students as they unlock those 'aha' moments where they feel empowered," she said, "I love that teaching keeps me intellectually honest–I have to be able to question, break down, and communicate my own assumptions about literature, writing, education." She also spoke on watching students develop, saying, "And I love seeing people grow and change."
Outside of the classroom, Callander has a plethora of hobbies. Specifically, she shared her love for making hot sauces, the craft of pickling and singing. "I'm a classically trained singer (double majored in college)," she said, "and I love to sing early music (Renaissance to baroque)." Although she is an English teacher, Callander also enjoys math and puzzles, adding that, "it irks me when people assume that because I teach English I'm bad at STEM."
Callander shares her unique view on teaching, touching on the idea of teaching and learning as your true self. "While I came to teaching via a route that often disregards social-emotional learning," she said, "my most satisfying teaching experiences have been when I show up as an entire human being, warts and all."