End of a tradition: Julian Duffy reflects on service in Nicaragua
October 15, 2019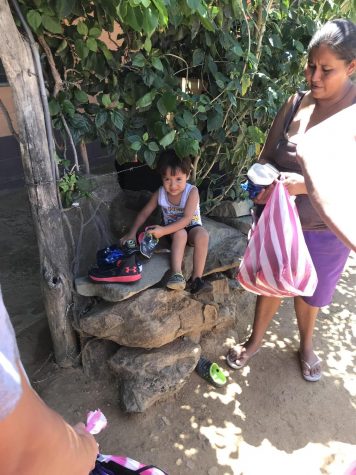 During the last 2018-2019 school year, now sophomore Julian Duffy collaborated with CAS to collect shoes from the SPA Upper, Middle, and Lower School and brought them to Nicaragua over winter break. Duffy's grandpa lived in Nicaragua and owned a farm where many locals work and live with their families there. Duffy and his family have been visiting his grandparents in Nicaragua for a decade now. After visiting for the first time, they began giving things to the locals. Duffy said, "[It] started with toys, and then the people were telling us that they wanted shoes because a lot of them were either wearing very old shoes or not even wearing shoes."
Sadly after a decade of connection with the people in Nicaragua through his grandpa's farm, the tradition ended after Duffy's grandpa sold his farm. Although Duffy's service for the people in Nicaragua ended, the impact that Duffy and his family have created for many locals has changed their lives forever. Duffy also believes that this experience has changed and expanded his greater view of the world in regard to poverty and things different people struggle with around the world.
"
[It] started with toys, and then the people were telling us that they wanted shoes because a lot of them were either wearing very old shoes or not even wearing shoes. "
— Julian Duffy
Every time Duffy and his family traveled to Nicaragua, they filled huge suitcases with shoes. Duffy said, "It's hard to tell [if] people [are] being grateful because it's a different culture." For Duffy, it has been a rewarding experience and he says that it's been interesting for him because in the United States you don't see people struggling as much as they are in less developed countries like Nicaragua. Going forward, although the tradition won't be continuing, Duffy will remember the memories and the way that service in Nicaragua has allowed him to gain a greater understanding of the world as a whole.