Business Club swells to SPA's largest, lacks gender and grade diversity
After experiencing rapid growth, the club's community is tight but narrow.
November 26, 2018
Last year, Business Club at St. Paul Academy and Summit School had 6 members. This year, the club has nearly sixty. There are few explanations for a tenfold increase in participation, but the club's new composition begs questions about gender and grade representation.
"We're the business club, and we focus on the stock market and what's happening generally in the business world," said sophomore co-president Alek Radsan. Sophomore vice-president Isaac Carlson said, "During business club meetings, we typically just discuss investments, and occasionally we watch Shark Tank,"—a television show in which entrepreneurs pitch their businesses to a panel of venture capitalists in search of funding.
"
I enjoy the idea that we can educate ourselves about something that the school doesn't really take the time to do."
— Sophomore co-president Alek Radsan
One of the club's focal points is its stock market simulation game, Investopedia, wherein every club member starts with $1 million to invest in stocks. Everyone in the simulation group is ranked on a leaderboard against all of the other members. The stocks, trading fees, gains and losses are real—the money isn't. Nevertheless, the game itself is difficult: only eight members of the club have profited off the stock market. The rest have either stayed at $1 million or gone down. This demonstrates that, despite the market's upward trend over the past year, it takes knowledge to trade successfully.
9th grader Leonard Larson had the strongest investment portfolio out of everyone present at the club's meeting, ranked fifth place Noah Raaum
overall. Since the start of the year, he has made $16,000. He explained his strategy:
"I'm just buying everything I can find. You know the dentist supply stocks—they're really good. So I bought about 500 thousand in the dentist industry and it's just booming," Larson said.
---
Dentsply Sirona (XRAY) stock over the past three months, a popular dentist supply company.
The stock simulation game is not a new feature of the Business Club, however, the game has gotten more competitive with so many new members. "It was kind of a tradition where every year we would do this game, and it's really helpful because it allows people to trade stocks, and the best way to learn about something is to actually do it. So we decided to continue and it's been going really well so far," Radsan explained. "For the top three finishers, we're going to have big money prizes," he added.
Radsan noted that the cash prizes might explain why so many students joined in the beginning of the year, with a first place finisher earning up to $100. Currently, their stock simulator group has 57 registered members from St. Paul Academy and Summit School, from which they derive their club size. This figure would make Business Club the largest student group at SPA.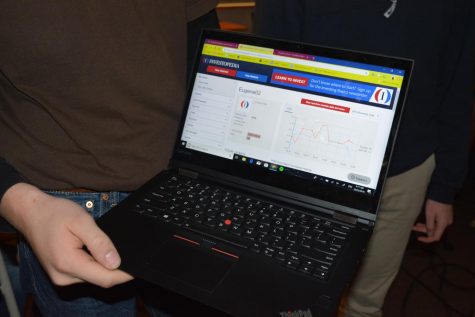 As for grade balance, "it's all sophomores or freshmen, and two juniors, too," Radsan said. "It may also be kind of a male-heavy club," he noted, in regards to gender diversity. Currently, the club has zero female-identifying members. "We want any girls to come. We want diversity," sophomore co-president Eugene Tunney said.
While their club has a narrow range of participants, its homogeneity could foster a sense of closeness among its members. Carlson appreciates the club for its tight-knit social dynamic, in addition to its ability to explore and teach topics that SPA's classes don't:
"My favorite aspect of business club is undoubtedly the community. I think we have a very strong sense of community. I [also] enjoy the idea that we can educate ourselves about something that the school doesn't really take the time to do. I did a presentation on the principles of investment which exceeded all expectations," Carlson said.
Despite the evident diversity concerns, the co-presidents are contented by the club's rapid growth. "It's our first year as co-presidents and this is the club's third year overall. So we're going strong," Radsan said. "Last year, we had three seniors and three freshmen, so it was a very small club. We brought it up to nearly sixty."
In the spirit of business endeavors, Tunney concluded, "It's a rags to riches story for business club."