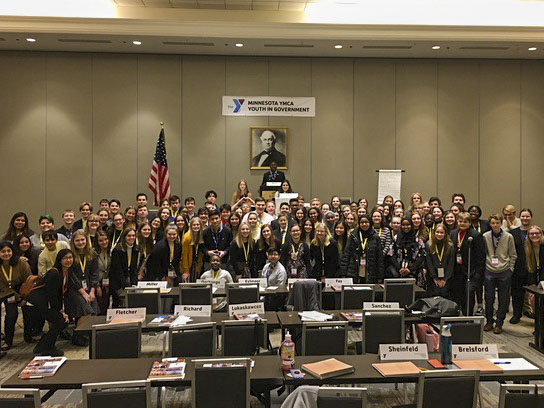 Clara Garner
Beginning Jan. 9, several Saint Paul Academy and Summit School students involved in Youth in Government (YIG) traveled to downtown Minneapolis for an annual three-day-long conference with 1400 other students. Youth in Government is a national program run through the YMCA designed to educate high school students on the inner workings of the US government. A core part of the program is that instead of learning about this topic in a classroom, students get to build their knowledge through experiential learning.
Junior Micheal Moran describes the layout of the conference. "People are broken down into different committees and 'organs'," he said, "I was in the national issues forum. I had a really interesting experience. We actually got to work and talk at the Capitol in the Senate committee rooms. It was very interesting."
This was Moran's first year participating in YIG and his first year at the conference. Moran formerly participated in Model UN (a separate but similar program), and by word of mouth heard about the size and scope of YIG. "The program sounded very interesting to me," Moran commented, "it's much bigger than Model UN, so I decided to give it a shot."
Sophomore Eleanor Smith, who is entering her second year in YIG, also heard about YIG through friends. She recounted a story, similar to Moran's, about giving it a shot in a "spur-of-the-moment" decision on the first day of her 9th-Grade year. Smith has stuck with the program ever since and believes it has much to teach students.
"It definitely teaches you how to do well in public speaking situations, because you get up there and you're debating a bill and people are asking you questions that a lot of the time, you didn't prepare for." Smith also commented on how it helped shape her leadership skills. "In terms of the leadership aspect, me and another student were in charge of a group of 20 to 30 people." she said, "So that was really useful because it gave me the opportunity to have leadership responsibility on a small scale so that I can apply it to bigger groups of people."
While Smith clarified, "I don't want to be a lawyer and I don't think I am gonna go into government," she still believes the skills from YIG will be applicable later in life. She commented, "the skills that I get from youth and government are really useful for many real-world scenarios."
Moran shared a similar view. "I don't know if any of the procedures or the actual facts and knowledge that I have learned will be applicable later in life and I don't know if I'll pursue a career in government policymaking, but I think certainly some of the skills that I get from it are going to serve me well."
"Well to start with it's a lot of fun. Yeah. And that's the biggest thing," Moran said. While educational, Smith and Moran both agree YIG is simply fun.