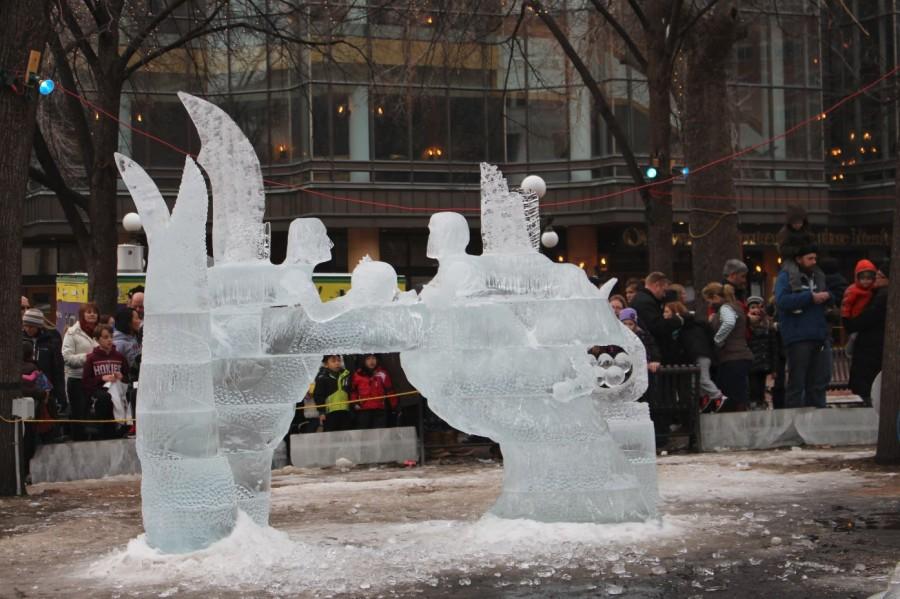 Mari Knudson
In the midst of historic downtown St. Paul lies Rice Park, with views of edifices such as the Landmark Center, Ordway Theater, and St. Paul Hotel. It makes sense that a park surrounded by such essential St. Paul sights would also be the site for many of the events that the annual St. Paul Winter Carnival has to offer.
During the carnival, the park is decorated with impressive ice sculptures, accompanied by food trucks, live music, and even an ice bar. At night the sculptures are lit, filling the park with sparkling, glimmering lights.
"I went at night a year or so ago, when the lights were lit. It give the whole park a really pretty glow, and the lights in the trees were cool," sophomore Genevieve Zanaska said.
Ice carving contests took place from Jan. 22-25, with both individuals and teams competing to see who could carve the best sculpture. Contestants were judged on how original, creative, technically advanced, detailed, three dimensional, and completed their sculptures were, as well as how well they took advantage of the ice medium.
The Winter Carnival, founded in 1886, is the oldest winter carnival in the United States. It began in response to several Eastern newspaper correspondents who, upon visiting Minnesota, proclaimed it to be similar to Siberia and generally unfit for human habitation. Citizens created the Winter Carnival to celebrate Minnesota in all of its winter glory.
"When my family and I first moved to Minnesota we went to Rice Park during the Winter Carnival because we thought it would give us a good idea of what Minnesota is like," Zanaska said. While the winters in recent years have been unusually harsh, Minnesotans have carried on the tradition of seeing the beauty in what others might call uninhabitable conditions.
Turnout for spectators of the ice sculptures was high, especially on the day of the parades, Jan. 24. Although the sculpture melted quickly due to the warm temperatures, those who were able to see them were not disappointed.
The winner of the multi-block competition was " Snow Steam," "Sunflower" won the single artisan competition, and first place in the single professional competition went to "Girl Playing."
The sculptures were arranged in a line, with spectators gathering in a line to walk by and view the sculptures. There was a small ice palace containing information about the history of the event, a bonfire, and ice thrones from which spectators could pose for pictures.
Food vendors gathered around the park, serving fried food and hot chocolate, and there was even an alcoholic bar made of ice for adults.
While the general attractions at Rice Park may not change much from year to year, the event continues to draw in those looking to enjoy winter's appeal in Minnesota and revel in the traditions of the Winter Carnival.