Why I Play
Sports play a major role in physical fitness and mental well-being. Research has found that sports help with youth development, academic success, better mental health, and a more confidence and discipline.
Sports can be a fun outlet to build relationships, get away from schoolwork, and feel part of a smaller, more inclusive community.


Junior Brody Rindelaub started playing football in third grade. "I like the brotherhood that it builds and the friendships. I like the physicality of it."
Rindelaub doesn't just like to play: "I watch football with my family sometimes so there's like sort of a family connection too."
Freshman Ezra Straub enjoys soccer because of the bonds formed with teammates. "I love the teamwork and the bonding that comes with it. You all have one goal – to win — but when we lose we still…stand by each other," he said.

Freshman Mariam Malik said volleyball helps her develop skills and grow as a person: "I enjoy playing volleyball because of the trust and teamwork involved. I can invest my time and energy and learn new things every time I play."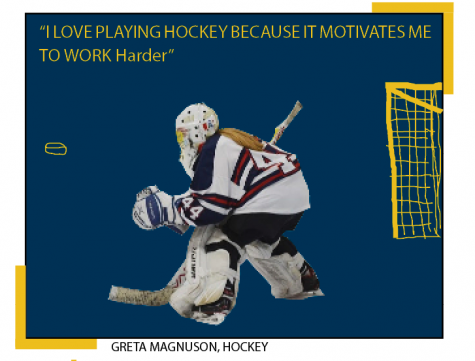 Junior Greta Magnuson plays in goal for co-op team United. "I love playing hockey because…I get to connect with new people that I might not have gotten the chance to. It's also very entertaining and just a fun way to exercise, " she said.
Junior Julia Colbert also loves how lacrosse pushes her to be a better athlete and work with people she might not otherwise know.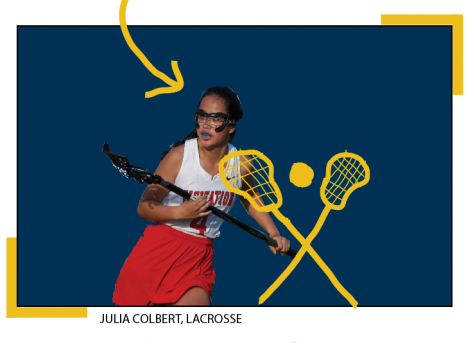 "I started playing lacrosse for a club team in 6th grade after previously only playing for school. Now, I play year-round, Colbert said. "I like how fast-paced and competitive the game is. My favorite part of the sport is being able to meet new people through my club team and through the school co-ops."
"I also enjoy game days because it is nice to be able to just play, especially after a lot of practices," she said.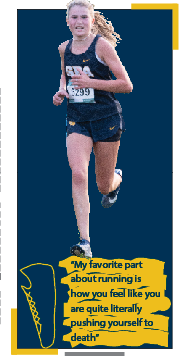 Freshman Taylor Barkwell loves the difficulty of cross country. "I love running, especially long distances. I think my favorite part about running is how you feel like you are quite literally pushing yourself to death. A point where you feel so dead that you go numb. A cheesy way of saying that is runners high."
But even with the individual nature of races, it comes back to team: "The highlight of my season was running alongside my teammates at sections. It was a really hard race but we all did really well and I am so proud of my team," she said.
Sports participation continues to rise, with 57.4% of students playing at least one sport according to EdWeek.
Leave a Comment
About the Contributor
Hazel Waltenbaugh, News Editor
Hi!! I joined The Rubicon as a sports editor during my sophomore year, junior year I was the news editor for our print section, and for my senior year...