[WHAT'S THAT CLUB?] Ep. 3: Exploring People for Environmental Protection
Catherine Hooley: Hi and welcome back to What's That Club Podcast. I'm Catherine Hooley and today we will be focusing on PEP or People for Environmental Protection.

Climate change, climate change, climate change, climate change, climate change, climate change. When you think of PEP, this might be the first thing that comes to your mind, but there's so much more to this club than this basic concept. To figure out a bit more about PEP, I interviewed Sidney Therien, who's one of the three co-presidents of

"

Whatever I can do as a person is something that I feel absolutely obligated to do."

— Sydney Therien

PEP. 

Sydney Therien: I am one of our three co-presidents. The other two are Kathleen and Sonja. And so that basically means we plan meetings we kind of direct the initiatives. We work together as a team to kind of figure out what issues are most pressing and how we can do our best to solve them. My favorite part of the club is definitely the people, it's a lot of my really close friends, we've done this for a while and it's also a really good group to be at activism rallies with. Everybody's just so passionate about the earth and saving it and not only are they my good friends, but it's also really rewarding to see how we all care about the environment together. 

I think that PEP's crowning achievement is the pollinator garden. Basically, we were able to design that; we got all the funding for it from bake sales, we didn't ask for any money from the school. That was just kind of an effort to get some pollinators back on campus.

I think that I'm not alone when I say that a lot of people would be impacted if earth was not taken care of in the way it should be and whatever I can do as a person is something that I feel absolutely obligated to do. A lot of our clubs actually doing things is outside of school, so that's like predominantly activism.

Catherine Hooley: I also interviewed Kristin Collier, who is the adviser of the club.

Kristin Collier: I am passionate about helping to organize students and to make changes in our would that will help to make our planet more sustainable. I'm interested in a lot of the different initiatives PEP has kind of put forward, but I'm most interested in fighting against the climate catastrophe. And I think we have a lot of opportunities as a club to make changes in the school or to help students become inspired to help fight within their own communities. I try to let students take leadership and sort of follow the interests that they have and to support them in those interests. So a couple of years ago, when I was co-leading with Ms. Lincoln, a group of students was really interested in protected and supporting pollinators species.

So they fundraised and met with kind of experts outside of school and people within the school and put in a pollinator garden to help protect existing pollinators species and support new ones. So that was a really exciting thing where I helped students fundraise and help do some research on plants and I came in and weeded during the summer and helped to organize students doing that on their own time. That's one initiative and then when I am kind of helping to push things that I'm excited about that often have to do with helping students kind of organize around climate justice issues and like I said earlier the climate catastrophe. So I help students bring in someone from the youth Minnesota climate strike who spoke to students who spoke to students about things that they can do and that was really exciting. I know some students have organized just in the last couple weeks other students attend climate protests. There was just a protest after school that SCIU26 put on in the Nicollet Mall and I know some students reached out to the club and I kind of helped them organize so that they could pursue that together. 

I think definitely the most excited was the pollinator garden because it took quite a bit of time to organize. There were multiple steps to first planning the project and fundraising for it and preparing the grass. And working with the grounds crew to make that happen and then ordering all the plants and putting them in and then kind of figuring out a watering schedule with the grounds crew was really supporting of and then a weeding schedule. So there were so many pieces to it and it was really cool to see students sustain an interest in that over the course of last year. This year I think we've been figuring out what we're most passionate about and doing a lot of little things. So we'll be picking up the pollinator garden again in the spring. I know students crafted an emissions statement to use to help decide what things to pursue. I know right now a group of students is working with the food staff to figure out how food waste is managed at this school and if therés a way that we can support the staff so that there's no food waste. 

I think something really cool about this club is that the focus isn't inward it's outward I think students enjoy being a part of it. We listen to music and have snacks and have kind of get to know each other and have conversation, but the goal of the club isn't necessarily to have fun; it's to make the world better. So it's a cool opportunity to make an impact within our community but also outside of our community and to have kind of a more expansive aim for what a high school club can do. 

Catherine Hooley: All in all, PEP is a super important club to our community and it was really interesting to learn more about it. Thanks for listening to today's podcast and if you haven't already go listen to our other episodes.
Leave a Comment
About the Writer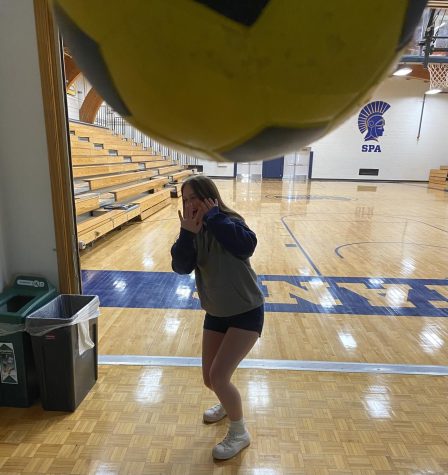 Catherine Hooley, Managing Editor
Hi, I'm Catherine Hooley, the Rubicon Print managing editor. I've been on the Rubicon staff for four years, and I've acted as a staff writer, the News...