Warmer fall for ninth year in a row
Autumn has been getting warmer, and this year fall tied for the warmest in the Metro area.
Julia Colbert said. "The leaves didn't really change [colors] until a lot later than usual, so that was part of the drought."
"There's been fires in the Boundary Waters over the summer, and it's just been continuing for a while now," Sila Liljedahl added. "There are droughts and the overall weather keeps getting warmer. Climate patterns are changing."
The summery weather followed a heat wave that began in June, with parts of the state reaching the highest level of drought, D4 or exceptional drought. The official heat wave lasted for an unexpected amount of time, from June 3-11, with temperatures consistently reaching above 90 degrees and sometimes getting up to 104 degrees.
This warmth in the fall was likely contributed to by climate change and the effects of La Nina, an event which cools the eastern equatorial Pacific Ocean and creates mild temperatures across the American Midwest.
Colbert said, "I think even just talking about [climate] in school and raising awareness about climate change would be helpful, especially for younger kids."
Regardless of cause, the mean fall temperature for Minnesota in 2021 was 64.7 degrees, up from an average 57.5 degrees. Even those average temperatures are historical highs since 2012.
Leave a Comment
About the Contributors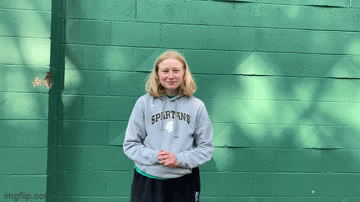 Eve Sampsell-Jones, Chief Visual Editor
Evelyn Sampsell-Jones is the Chief Visual Editor for The Rubicon. They've been working with SPA publications since their freshman year and they're now...
Hazel Waltenbaugh, News Editor
Hi!! I joined The Rubicon as a sports editor during my sophomore year, junior year I was the news editor for our print section, and for my senior year...