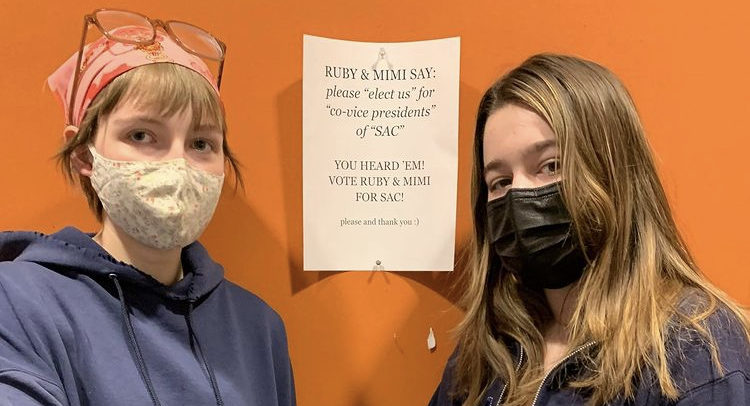 Instagram @rubyandmimiforsac
As the upper school officer elections are approaching, candidates are using social media to campaign. COVID-19 has provided in-person campaigning restrictions as candidates cannot engage face-to-face with the student body in the ways that they could in previous elections. Since at-school campaigning is limited to socially distant conversations and hanging up posters, social media platforms such as Instagram have provided an effective and engaging way to share information about campaigns.
Ellie Murphy, a SAC co-president candidate said, "Although me and Maggie are running unopposed, we still have a lot of jokes that we felt Instagram would be the best tool to share with the community." Humor is a major benefit to using social media since you can share personalized images. Using social media allows candidates to create their desired aesthetic for the campaign, whether they design and post infographics about their ideas or choose to go in a more lighthearted and comical direction.
"I really enjoy seeing the funny and interactive posts because they really inform me about the candidates' goals" said junior Jake Therien. The Instagram platform reaches more students across grade levels as almost everyone has a social media account.
A benefit of using social media is you can use visual elements to make your campaigning more interesting. Many candidates have been using meme templates to persuade voters to support them in their campaign. Social media has allowed candidates to have the best of both worlds for campaigning, because they can use humor to advocate for their policy change ideas.