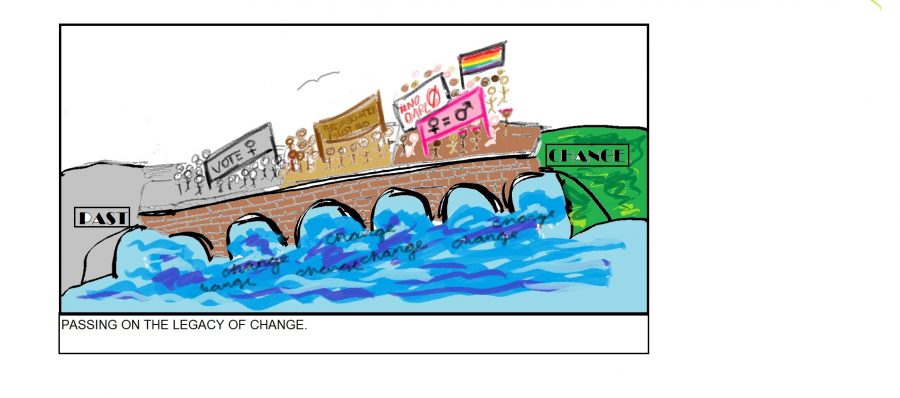 Lucy Sandeen
Millions of people have taken to the streets in protest of current events in an attempt to influence policy, inspire social change, and to take an active role in local and national government. A significant demographic of these protesters: students. These marches are an effective and practical way for students to become involved in local and national politics and to take charge of their own future by inspiring social change.
St. Paul Academy and Summit School's motto is, "Shaping the minds and hearts of the people who will change the world." While perhaps cliché, students are acting on its premise even before graduation. As minors who are unable to vote, some SPA students have attended protests in a statement of political and social protest. The HerSpace affinity group gathered a group of students to attend the Saint Paul Women's March, and many others went with friends and family. Students have marched at protests in support of Planned Parenthood, against the Dakota Access Pipeline, and other rallies across the Twin Cities. These protests are a powerful and effective way for minors to express dissent and work as activists, and the voices of our youth are essential in shaping the future of our country.
While surges of protests have erupted across the globe in light of of Donald Trump's new presidency and his succession of executive orders, the protesting tradition is not a novel one. Protests have always been a powerful vehicle for social change, igniting revolutions and progress in human rights. According to Swarthmore , the first ever recorded labor strike by graveyard workers in imperial Egypt in the 12th century B.C. fought against corruption within the administration and withheld rations. More recently, the Women's Suffrage  and the Civil Rights movements have brought about immense social change, ensuring women the right to vote and more equal policies in regards to race.
Protests are an essential characteristic of a functional democracy. The very system of democracy relies on citizen participation and dissent. Besides its crucial role in government, protest is an active way for minors to take action and express their voice in their future. It inspires a sense of unity and community throughout the country and asserts that we stand with each other in our fight for change. Moreover, it creates a powerful image of solidarity and increases visibility for the most pressing subjects in today's society.
So, get out there and protest. Search the Protests, Marches, Demonstrations, and Rallies Facebook group posts for frequent updates on protesting opportunities. Become involved in activist groups such as the Women's March, Black Lives Matter, or any other organizations that fight for your beliefs. Or take things into your own hands: gather your friends, family, and peers and visit Hollaback's guidelines on how to organize your own protest.
Dissent is essential, no matter your beliefs, and there is no better way to raise awareness about the issues you deem important than to stand hand in hand with fellow supporters and march for your rights.