[TV REVIEW] Season two of "End of the F***ing World" offers a thrilling but repetitive watch
What happens if you combine murder, doomed love, vintage country music, and emotionless psychopaths all into one story? Enter End of the F***ing World season two, the widely anticipated follow-up to the Netflix original, released to acclaim in 2018. Though it is unclear why exactly the world did not end in season one, season two provides an engrossing, if repetitive, story of tragedy and dark comedy. 
In the first episode, a new character, Bonnie (Naomi Ackie), is introduced. As a librarian working in a university, she becomes infatuated with an overly-charismatic philosophy professor, Clive Koch (Jonathan Aris), without realizing she is being sexually manipulated. When Clive is killed (in the previous season), she makes a mission to murder both Alyssa (Jessica Barden) and James (Alex Lawther), a mismatched couple whose runaway adventure in an English countryside ultimately resulted in Clive's death. 
Bonnie, who has an intriguing, traumatic backstory, speaks mainly in monotone. In one childhood scene, her mother, finding a contraband stick of lipstick, forces Bonnie to eat it as twisted punishment, saying "make sure you chew." Though this backstory provides dramatic tension, Bonnie's emotionless presence prevents one from grasping the mysterious depth in her character. 
A unique blend of humor and pathos, like the first season, leads to the act of gleeful binge-watching. However, in the new season, the mood of melancholia eventually prevails over the dark humor that gained its entertainment appeal. Despite this change, glints of this darkness offer a comic counterpoint to an otherwise morbid plot. In a diner, a familiar setting in the show, Alyssa and James' painful past are comically reckoned with: James narrates that "When I realized she might not have got it [a letter in which he brutally cuts off their relationship], it felt like a weight had been lifted from my chest [Alyssa responds she had read it] … which seemed much heavier when it was put back." 
"
Could such a thrilling season one be improved upon? In the words of the character James: 'It was a perfect tragedy [season one] … and then I didn't die.' "
Additionally, brief instances of thrill (e.g. committing heinous crimes) pull the characters out of their emotive fog. A memorable instance occurs when Alyssa and James ram their car out of a padlocked impound lot to avoid paying a 400 dollar fee. Though, the excitement of the moment fades soon after, only to return to a baseline of numbness and monotone conversation. As Alyssa and James are unable to communicate effectively, the show's soundtrack—sentimental folk 60s music—serves as a necessary filler to what the characters are actually feeling, or so we guess. 
Like any popular one-off TV show, its follow-up is usually received with disappointment at its lack of originality or meaningful development. Could such a thrilling season one be improved upon? In the words of the character James: "It was a perfect tragedy [season one] … and then I didn't die." This revival of the plot, like a medical miracle, is ill-fitting to a story in which so many of its characters die jarringly or immediately drop out of the story. Though perhaps our expectations may be skewed, season two seems to fall short in developing its darkly comic characters. The seemingly emotionless character can be intriguing, but this persona proves counterproductive in the long run: instead of portraying how the characters cope with their personal traumas, they seem to skate any consequences of fight-or-flight decisions, only to repeat the same tropes of the previous season. 
Final Rating: ⭐⭐⭐
About the Contributor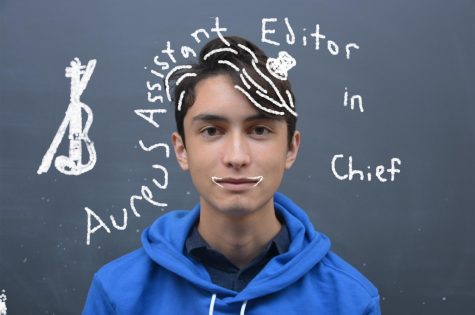 Sam Hanson, Aureus AEIC
Sam Hanson is the Assistant Editor-in-Chief of Aureus magazine and a writer on RubicOnline. This is his third year on staff. Sam enjoys using multimedia...