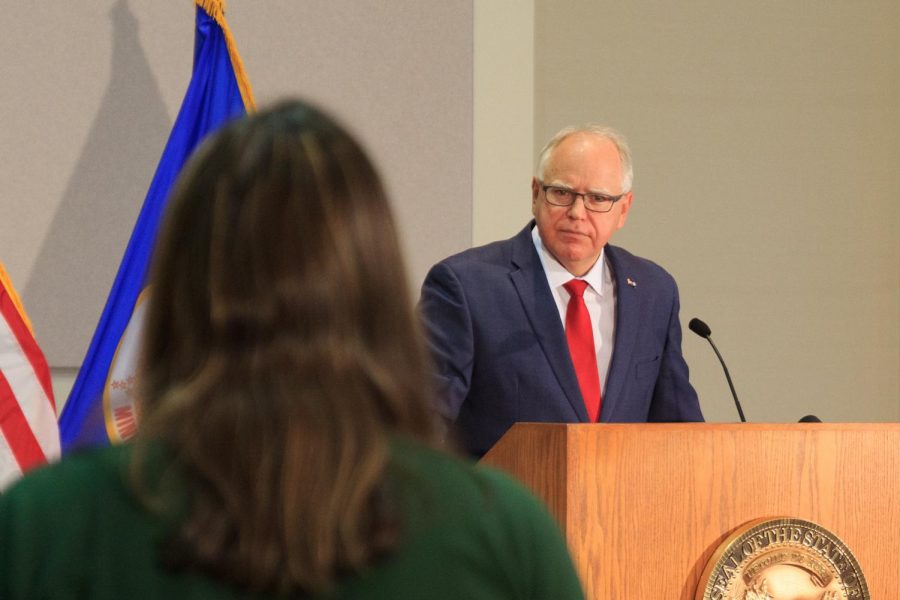 Nikolas Liepins
ST. PAUL, MN — On Oct. 2, eleven high school journalists from five of Minnesota's congressional districts joined Governor Tim Walz, Deputy Commissioner Heather Mueller of the Department of Education, and Infectious Disease Director Kris Ehresmann of the Department of Health on the State Capitol complex for a press conference. During the briefing, the Governor and his team fielded questions only from the student journalists, though professional media were also there to cover the event. Topics ranged from COVID-19 to homelessness and mental health. The conference was made possible by the Journalism Educators of Minnesota and the Office of Governor Tim Walz. A transcript of the discussion is below.
###
Governor Tim Walz
Good morning, everyone. Thank you for joining us. Before we get started today I'd like to make sure that on behalf of, of Gwen, my wife and the Lieutenant Governor that we express our thoughts and prayers to the President and First Lady that they get the best care and a speedy recovery on on their news on on COVID-19. We certainly stand with them, and I think here in Minnesota with over 2000 of our neighbors who have died because of COVID-19 and 100,000 confirmed positive cases we understand how serious this can be and that getting a test and getting diagnosed and getting the proper treatment is is absolute key. So thank you for that. I'll be joined today by Deputy Commissioner of the Minnesota Department of Education, Dr. Heather Mueller, will be with us today to help answer any questions we may have. And then Director of the Minnesota Department of Health Infectious Disease Director, Kris Ehresmann, will be here to answer any specifics. I would like to start we've got a we've got a few new journalists with us today, I'd like to welcome folks who have gathered in the press corps today, and make note once again, that the foundational piece of our democracy is a free and vibrant press, that the press is the defenders of democracy, and that by being here and making sure that that questions are asked and answered, and that transparency in government is the rule, not the exception. We get better answers, better results, and our democracy thrives. And so with that, I would open it up for questions to start with.
Nikolas Liepins (The Rubicon/RubicOnline — St. Paul Academy and Summit School)
Sir, with the deadline quickly approaching for Minnesota's COVID-19 vaccination plan, would you tell us a little bit about what that looks like? And where students and teachers might fit into that picture?
Governor Tim Walz
Yeah, thank you for this, I'm gonna have Kris Ehresmann come up, but I do want to note and Kris won't do it herself, so I will do it. The work that's gone into this and the thought we spent about an hour yesterday afternoon, as this plan has been many months in the making. I think most of us recognize that having the vaccine is well certainly isn't the only thing, we'll still keep the protocols in place, like we do with any infectious disease, but a vaccine makes a big difference. The complexity of distribution of a vaccine, who gets the vaccine, how, what is the supply chain look like? Some of these vaccines are ultra cold storage, which requires them to be stored at 90 below zero, and how do you move that is super complex. I'm really thankful and grateful and hopeful to be very honest, Minnesota was one of the five states chosen to try and run through these protocols to help the Center for Disease Control, put together the national strategy and how this will be done. And a lot of that was because of the work of Kris Ehresmann and her team. So Kris,
Kris Ehresmann (Infectious Disease Director, Minnesota Department of Health)
Thank you Governor Walz. And so I'm Kris Ehresmann, and I'm the Director for Infectious Disease at the Minnesota Department of Health. And we have been working, states have had actually mass vaccination plans for a pandemic. We have those kind of on the books. And then when something happens, obviously, we have to retool those, and to your question about, well, how would students and teachers fit in? The way that this structure works is that obviously when vaccine first becomes available, it will most likely be in limited supply. And so that vaccine will be directed toward critical infrastructure, individuals who are potentially at highest risk because of their jobs, so very likely health care workers. So when vaccine first becomes available, we will be very, very targeted in our approach to providing that vaccine. But shortly after that, we'll be moving then from that very targeted group to a broader group that would be, you know, individuals who are at highest risk for complications of flu, or excuse me, flu, that's what I usually talk about this time of year, COVID or also individuals who are in those critical sector essential service jobs. And we'll be looking to the federal government to provide sort of the overarching framework for that. And then we have the opportunity to take what the guidance that they provide to us, because they will be letting us know what groups will be in the highest risk and as our highest priority, and as I said, we think that health care is going to be in that first group. And then once that's provided to us, we will take that and really make it appropriate for Minnesota. We think that students and teachers are obviously a really important group, both because of the role that schools play in our society, and the importance of education, so we'll be looking to see what the federal government tells us about that. But certainly, we recognize that important role. And I think that will be part of the conversations when they're talking about prioritizing, but in Minnesota, we will look to that federal guidance, and then look at how we can make it practical for Minnesota. I hope that answers your question. Thank you.
Governor Tim Walz
Anyone else?
Kinsley Wilcox-McBride (The Southerner — South High School)
Should students have be expecting to go back to school this year? Or is the vaccine kind of a better starting point for when schools can return to in person?
Governor Tim Walz
Yeah, I'll have Dr. Mueller talk a little bit on this, but but in Minnesota, and again, I think Director Ehresmann is right, schools are foundational, they're foundational, they're future, it's not just lip service, we need to do it. It's also critically important we figured out how to do it safely, both in terms of students and the staff that were there. A lot of work went into our our safe learning plan, which gave a lot of flexibility in terms of local buildings, because of their physical infrastructure, what the makeup of their student body and their teaching staff look like, but predicating it on some of those metrics of what we're going to use. So I'll let the the Deputy Commissioner take it in a little more detail. And again, I think for all of us, seeing that vaccine as a as a really important piece in the long term plan of this, but all of these other things fit together in that. And I again, want to continue to stress a little disturbing, I think there's a lot of a lot of unclear information around the vaccine that has made a large number of people a little nervous about that. We're going to make sure here in Minnesota, and it will be part of my job to communicate the safety of this of what FDA and CDC and of course, the Minnesota Department of Health and how our healthcare agencies roll this out so that when the time comes to get that vaccine out, not only are we going to be able to do it in the proper manner, the ethical manner targeting those high risk populations, but also making sure people feel comfortable with that. But a little bit on school.
Heather Mueller (Deputy Commissioner — Minnesota Department of Education)
Thank you, Governor. Good morning, everybody. I'm Heather Mueller. I'm Deputy Commissioner at the Department of Education, and I really appreciate that question. It's near and dear. I've been in education for over 20 years, and before I came into this role, I was a high school history teacher in ninth grade, 10th grade and 12th grade and then worked in in administration. My husband's a seventh grade math teacher, I have a senior in high school and a sophomore. And so that question is incredibly important because they'd like to be back in school. And I think that when we develop that our safe learning plan, that was really one of the cornerstones, the first thing that the Governor, Lieutenant Governor, articulated is that we really want to ensure that our students, our staff, and our families are safe, healthy, and well. That is the very first foundational thing that we had to think about. The very next thing was then how do we maintain that base, and bring every student back into school? And so that's what we really have been striving to. I know the vaccine is maybe one option, and that may not be our predictor. But we do have to think about is what are all of the other mitigating factors that we can control that will allow us to have our students back in schools? How are we going to drive down our county numbers? How are we going to drive down the our community numbers that are in each of our communities, as well as in our schools, the things like around face masks and the wearing of those. Not going to parties, not having activities, not clumping and doing all of these pieces are things that we actually have to be thinking about, right? it is not going to continue to be as it always has been. And I think that that's one of the things that as, as educators and as students, I think we have to be able to articulate that and to be really crystal clear around that it is not going to be normal, the 2020 school year, 2021 school year is not the same as every other school year. Each of you are experiencing it vastly differently, and quite frankly, as adults, we've never experienced it the way that you're experiencing it now. And so we know that your voice is incredibly important, and we also know that your role and your responsibilities are incredibly important. What we don't want is to have our students impacted negatively because of the behavior of adults, and because of the behavior of what we've always been able to do. And so when we're thinking about how we get students back into buildings, it's also being thoughtful not only about that vaccine as a pre-emptive approach, but it's thinking about what we have this unmitigated opportunity. How do we take control ourselves, make sure that we have our responsibilities in place and are doing what we need to do? That's our end goal, and so that's why some of these pieces have been put back into places to really be able to help to support you all in that way. And that's what we'd like to have, quite honestly.
Governor Tim Walz
Yes, sir.
Aric Randolph (NOISE News — Spectrum High School)
How, in the face of the pandemic, and while you faced immense political pressure, were able to step up to the plate and be the leader that Minnesota needed? What past experiences or traits are helping you lead through this crisis?
Governor Tim Walz
Oh, no, thank you for the question. I I think and people often come up to me, they said you'd never probably anticipated when you asked the people of Minnesota to give you the privilege of being governor that we would be in a pandemic, or that would, we would see a generational push on systemic racism. And, and and some of the changes Minnesota needed to make on that. I think, for me, most personally, philosophically around this, that I see leadership as servant leadership. If you're given the privilege to be in a position where people are asking you to lead, that every decision needs to be made through that lens of what is best for the people that you are representing. And I think, again, as Dr. Mueller said, my background is in teaching: I spent 20 years, not too far down the hall from Dr. Mueller teaching social studies, and geography, athletics, and a big piece of that, my I coached football and my wife did speech in debate and things like that. It's part of that community, and I think understanding and I, when you lead, especially with younger people, one of the things you find I often say that the first day I was a teacher, and I went in the classroom, I knew everything. The second day, I knew nothing. And then I spent about 20 years trying to learn it back because I learned very quickly that first day, as the teacher, you're certainly not the smartest person in the room, you might have more experiences and life experiences, but there's so much you can add. And then I think for me, I spent a career with in the military and and watched how smart organizational planning is helpful, how building contingency plans on every possible scenario you can think about, and then being able to execute those. And then I think anybody who's in this position, and especially as Governor, is being surrounded by incredibly talented people on so many fronts, who are not only subject matter experts, but are leaders in their own mind. And I think about I did work around this idea of leadership. I think one of the really interesting things is never gets written about, you never go to find a book, if you go to find books on leadership, there's thousands of them. There's very few or any books on followership, and I think one of the things is, is being part of a organization and following. And what I'm seeing during like COVID-19, the ability to be able to empower people to make some of their own decisions, and how our own decisions impact others has been something that I'm still trying to learn on. So I think that that we're all products of our past experiences, but I think the idea that I would make the case for is if we can find common goals and share them and surround ourselves with people who share in that that goal that it is about servant leadership, you get better outcomes. But I will be very candid, I would have never anticipated 100 year pandemic. But I think leadership is it's incumbent upon leaders to be prepared and you, you deal with the situation you're given. You don't get to wish things would be different. You don't get to hope things would be different. Those things are powerful, and we can we can look to another day, we often say hope is the most powerful word in the universe, but it's not a plan. So I think planning is the biggest piece. Yes, ma'am.
Talia Lissauer (Echo — St. Louis Park High School)
As schools return to hybrid and in person models without a vaccine, what's something that you want students to understand?
Governor Tim Walz
Wow, that's a great question. I think Dr. Mueller brought a good point is is that all too often, and I don't think if you teach you do this for very long, is I hope that people in Minnesota are not seeing that our young people are not preparing to live their lives, you're living your lives right now. You are part of this response. You are part of and this is this will shape your life experience, you will be the generation that went to school during this time. And I think what I would hope is is that always we are focused on your health, your safety, and your wellbeing. And that well being peace means we would all be much better if we didn't have to do this. If this virus wasn't putting us at risk. And we could be doing things like we used to do. The thing I would say is some of the things we used to do, they were not working, and we did them just because that's the way we did it. So I think the message I would say as you as we move through these, live in the moment of this experience. Understand that that question that got asked earlier each of you are leading, somebody there, one of you will be standing here, you will be sitting in these seats, you will be asked to lead across the state and country, is take what you're learning from this moment, and and see that as the positive that you're getting. I I It breaks my heart, and I'd say I did it for 20 years, Friday nights in the fall were the greatest times of my life. I loved going out there and coaching football and being out there on a cool fall night. And it really mattered. Well, as the Deputy Commissioner said, it can't be that way right now, but that doesn't mean there aren't things that we're taking away from this, or learning that we're taking away from it, or ways that we can go forward. So I just want to be very clear, and I know how hard this is, you're being denied some of the things that every class came before you was able to do. It's changing your life in ways that are, at times inconvenient, at other times, absolutely horrific, and for some of you may have already been touched by this thing, you may have lost a loved one or someone else might be or someone who's had this. So my hope is, and I guess the lesson that I would wish you would take away from this is, you are going to come out of your high school experience and this year with experiences that no one else has ever had. And I think taking those and turning it into a strength is something that that makes me look to the future. I, the thing that keeps me positive all the time is that I I feel very comfortable about your generation. We see it that the incidents of bullying of one another is down to a time that we've never seen it like that, the incidence of Public Engagement is higher than it's ever been. Your volunteer rates are higher than any other generation. When your parents or your grandparents say in the old days, we did this, they're not telling you the way it is. Your generation is performing on levels that are that are higher on all those measures. And so I hope that in the midst of this, you're seeing this, that is going to be it's going to form who you are. But there's going to be the positives that come out of this too.
Kinsley Wilcox-McBride (The Southerner — South High School)
As somebody representing the South Minneapolis community, there's a large movement around how Minneapolis and Minnesota should be handling people experiencing houselessness right now, and I'm curious how kind of the intersection of COVID hitting impacts Minnesota's ability to give those types of resources to our homeless population.
Governor Tim Walz
Yeah, well, what we've seen in early on, and this is Lieutenant Governor Flanagan in the first few days of COVID and recognized this, I think, as an indigenous woman, people were saying, boy, COVID is the great equalizer. And she said it is absolutely not. It is going to expose these deep divides, whether they be educational achievement amongst our communities of color, or if they're going to be social and economic differences. And Minnesota was always dealing with this unsheltered homelessness issue. We were already dealing with a large number of people displaced, and there is a numerous issues, and when I first became Governor in the Spring of 2019, there's an advocate, Monica, who is who has been working around homelessness and these issues unshelteredness for a long time, and and she said you have to understand deeply what this is. She said, I think you you understand somebody's homeless. She said you know how they get there. So we went and spent several nights under underpasses, we pulled up chairs. And we sat and listened to people and talk to them. And the path to people getting there was so varied, the need, you could see, was ever increasing. And so for Minnesota of prioritizing this pre-COVID, we were very focused on it, it is a resource issue, that it needs to take money to be able to do this. But it's also a coordination issue, to make sure the services that keeps someone, putting someone in housing without the support, whether it is a chemical dependency issue, whether it's a work training issue, whether it's an abuse issue, whatever it might be that force someone to be in that position, if you don't deal with that alls you're doing is prolonging when they will be unsheltered again. And so I think in Minnesota and what COVID has done for us, every morning at nine o'clock, I get a briefing from all the different places. First, the Department of Health comes on, Department of Economic Development, these folks all talk about it. But there's a group on there of folks in need and homeless that work together, high risk populations. And what I don't think has been done, probably both governmental-wise and private-sector wise is COVID has forced us to work across the interagency lines that we never have done before. So I think having the Infectious Disease expert in the room with the Department of Education expert, in the room with the Housing Authority folks, in the room with the mental health counselors, those are things that we think about how can we be more effective? So I think what you'll see is partnership. These are hard, some of the hardest conversations I have. For example, the Wall of Forgotten Natives when we when we move folks. These encampments that some people might drive by and wonder why they're there and all of that, or why would people want to do this? One is they don't want to have to do this, but the other thing is, many people are finding a sense of community in these that they don't have anywhere else. They're not part of a broader community, that sense of belonging, the sense that what you can be, I was at a St. Anne's homeless shelter, where the private sector and the state partnered together, there's children that are homeless, trying to go to second grade. In a distant learning environment. How do you distant learn when you have no home? How do you distant learn when you have no access to a computer? How do you learn when even if you have those things, you don't have access to a safe place where you can be there. So those are things that we're focusing on and partnering on to make sure and again, I would, I would tell everyone, there's the moral aspect of providing safe housing. But there's an economic aspect that we cannot afford to let any of our students drop through the cracks, because they are the ones that are going to be the drivers in the next economy. So we're prioritizing it. We're working across lines inside government, we're doing public-private partnerships. We're putting resources and asking the legislature to partner with us on resources. And then we're working back upstream to the to those issues that cause homelessness. And it is, and there are some incredible success stories when you get out there and see folks who are given an opportunity, but there's also a lot of heartbreak on how people end up unsheltered. Yes ma'am.
Julia Baron (The Rubicon — St. Paul Academy and Summit School)
I'm wondering what concrete steps your administration is taking to combat voter suppression and protect the integrity of the vote coming up on the November election.
Governor Tim Walz
Yeah, thank you for asking. The question is about the integrity of the vote and voter suppression. One, if I just talked about the first amendment rights there a freedom of speech, assembly, and and the press, the way we reflect our democracy and the most precious right that we have, it's not a privilege, it's a right, that everyone gets the opportunity to cast a vote, to know that that vote matters, that vote is secure. What we do know is in the State of Minnesota, we do this as well as any state in the nation, we vote at a higher rate than any other state. And, and our voter integrity is as strong as anywhere else. This idea that somehow voting by mail is some type of new or nefarious strategy is absolutely false. We've been voting by mail, been voting by mail for George Washington for goodness sakes, and move them on there. That's how these things work. I myself voted as a member of the military when I could not be in the United States to vote, and I voted last month because of COVID-19 via mail-in ballot. And so the State of Minnesota under the leadership of Secretary of State Simon, under the guidelines that are put in place, will ensure that everyone who wants to cast a ballot will be able to whether that is via mail, via dropbox, or in person at polling stations. And we need to be very clear. And absolutely, I think articulating this to the public, your vote will be safe, there is not massive fraud, we encourage you to get out there, we do not want you to be depressed about that. And I can tell you, one of the things is the psychology of this is is does your vote matter? Is it hard to vote? I've been saying for a long time, we need to think about how we do this, you know, why that Tuesday in November? Why that first Tuesday in November? Why not on Saturday when people aren't working and make it easier? Why does it have to be just that time, and that's the idea that we've gotten better at extending this time, because the goal of this is to express your right to pick the people who are going to speak and make decisions that impact your life, and we want as many people to vote as possible. So here in Minnesota, I can assure you we're doing that. I signed on with 11 other governors to ensure folks that the integrity and the protections of those ballots is unwavering. We will make sure that in our states, at least those 11 other governors and the State of Minnesota, that everyone who can vote will be allowed to cast that vote, we'll encourage you to do so. I would just say to everyone make a plan on how you're going to do it. Get it done. You can track that ballot and and have a voice. That's the only way the changes you want to see can be made. Yes, ma'am?
Sofia Hernandez (The Flash — Eastview High School)
What needs to happen in order for school to go back normal, full-time, and no mask?
Governor Tim Walz
Do you want to talk on this one? Alright.
Heather Mueller (Deputy Commissioner — Minnesota Department of Education)
Thank you very much for that question. I think that what we need to be able to see is we need to see a decrease in the numbers I think we need to see consistently in our partnership with the Department of Health is to really look at those case counts and recognize that over two incubation periods which is two weeks each, so over a four week period, that we are seeing no increases in cases or no cases. And so I think that's one piece. And I'm gonna be honest, I don't know that this year is going to be coming back without masks. Right. And I think that we have to continue to be able to say that. It, it goes back to I think the notion that we talked about a little bit earlier, is being thoughtful about the mitigation strategies, not only do we want it to be eradicate, right, in our schools, so that you can come back, we also have to keep it eradicated, right? It's not, it's not necessarily, it's all over in one fell swoop. And I think that that's something that we have to be able to recognize and and acknowledge. And so our goal is to be in those mitigation strategies to work with our Department of Health and recognize that in that there are no increases in cases that the Department of Health recognizes. And I know that Kris can probably speak to this as well, that really gives us the opportunity to be thoughtful about what does that mean for us? Obviously, we want you back in school, like that's where we know that we feel like we can serve you the best, we feel like it provides the best environments to not only support your academics, your social emotional learning, your mental health, your nutrition, and your physical health, right, in a number of instances, we really wrap our services around and ensure that we are meeting not only the needs of our students, but also the needs of our families. And so I don't know if Kris, you'd like anything to add for that, but I think those are some of the pieces.
Kris Ehresmann (Infectious Disease Director — Minnesota Department of Health)
I'll just add one thing, and that is that you have a lot of control, in terms of when you can get back in school. As an Assistant Commissioner Mueller mentioned, we talk about these mitigation strategies, you know, making sure that you're masking and that you're keeping that physical distance when you're getting together with your friends and avoiding large crowds. And unfortunately, we have heard of, you know, parties that are being held and and different things that really kind of undermine that. So my encouragement to you is, if you want to be back in school, make those choices that help us help you get there, because we're all we're all eager for that to happen. So that that'd be my only admonition is you can make a difference in that happen.
Governor Tim Walz
Oh, thank goodness for the good people. Thank you, Kris. That's, they, they sometimes I tell them about being a walking public service announcement, Kris is dead on right, that I think some of this is especially where it's a virus, you can't see it, and there's no spots on you or anything like that, that this whole idea of what we can control that we know the masking, the social distancing, the washing of the hands, the not gathering in close, confined spaces, boy, again, we do a lot and you know, God forbid, we have to use ventilators and extra hospital space and all these things. Those are things we need to prepare for, but the thing that does the most impact is exactly what Kris is saying. So I do like that idea that you control your own destiny, and I really like this idea that as Deputy Commissioner said, adults need to keep you in school, they don't need to be gathering in large numbers in bars. They don't need to be doing the things where they say I don't want to wear a mask. I get it you personally might not, but your personal rights of freedom end where they endanger others. And at that point in time, that's the compact we make in society to work together, so it's a great question. And I, Kris, and Heather, I want to thank you both for always remembering and staying grounded in that spot. Yes.
Amelia Qualey (The Lantern — Cannon Falls High School)
If you could go back in time to the start of the pandemic, what if anything would you do differently?
Governor Tim Walz
Wow, the question about if we could go back in time, and I think that is a I think that is a valid point. I think you make decisions with the best information you have at the time. But I think it is irresponsible if you're not learning as time goes on to make some changes. As I've said, I wished I would have known that if we would've a mast up in March, I think it would have made a difference. And I think one thing to know is we had a shortage of masks, we didn't understand that cloth masks could actually spread could stop spread some of the aerosols and that you would get a diminished infection rate. I think that's one of the things. I think I would have worked, and I would have encouraged folks for us to be able to have more of a national strategy early on, this idea that I you know, we it was what was called upon it in the President said, states are going to be responsible, states are going to run testing, and so we jumped into that, and we have a robust testing program. Today, we tested over 32,000 tests run, that's the highest at any time since we started this, but I wish we would have pushed more for that. In the absence of that, I wish we would have formed strong regional partnerships. Because you find that where you're in an island in this, we're still today, while our numbers our third highest total number of cases, our test positivity rate is still around 4%. It's 22% in Wisconsin, and higher and those are types of things that and again, I don't say that as a pejorative to Wisconsin, I say it is that we cannot be an island in and of ourselves. So I think building a stronger real adjure regional coalition. I wished we would have know more and and erred on the side of wearing the masks more. And then I wished we would have been able to keep any of the political divisions out of this. And I I think back to what I could have done better to to not allow this to be split and to, to have public health and public health guidance be seen at times as as a political badge to wear one way or another. And I think, trying now to do that going forward, because we're not out of this, and while thinking about a vaccine is important, planning for a vaccine is critical, we're not going to wish our way out of it with that alone. And I think as the Deputy Commissioner said, the vaccine alone won't get us back in school, it's a lot of the other things. So I think those are just some of the things that I wished we had done.
Alexander Steil (The Pony Express — Stillwater Area High School)
The students are growing up in perhaps the most divided time in American history, save for the American Civil War or the American Revolution. They are emulating behavior that breeds divisiveness, toxicity, and close-mindedness towards other points of view, what advice would you give students to bridge the gap between the divide?
Governor Tim Walz
Hurry up and assume positions of authority, so your generation can help fix this. I do think there's a lot of that, I think you have to model this. I feel a sense of responsibility on this. I'm the Governor of the State of Minnesota. If I choose to partake in, you know, divisive, politics or divisive language, it's going to add to that. So I think that's one of the things that we can do, I think we can continue to understand that differences are not a value judgment, they're a strength that we have. I talked a lot about, and people, you know, there's some that disdained it, some said it was a political slogan, but a lot of people bought into this idea that we can be one Minnesota. That means a lot of different ways of life, and it doesn't mean one is better than another, but we're stronger together. And, and I certainly I think in full disclosure, I have to say I'm a cultural geography teacher, I have taught everywhere from the Pine Ridge Reservation to folks on in Guangdong, in in southern China, as well as Mankato. And I think seeing the world of differences of trying to bring that in and talk about that, that this diversity is a strength, this diversity is a beauty, and that there is a healthy place to debate policy and debate ideology, things like tax policy, vary debate, things like, what is transportation going to look like. But trying to ground those around a set of facts that we can agree on, and then decide how we're going to tackle that. But I think the most important thing that I would say is, each of us has to be a model in that, you know, I tend to I used to say that prior to the last, you know, 10 years or so that everybody would say this is, you know, it's never been this bad before. And I always say oh, I think it was pretty bad 1861. But I think your assessment is probably right, I think from a politically diversive perspective. But the other thing I do keep in mind is we have seen this during the Civil Rights Movement, we saw a lot of our fellow Americans denied the right to vote. And and so progress has been made. But we know more needs to be done. So I think that that sense of forge a more perfect union, and that each generation, this took me till I was older, I think you're probably much brighter and figured out earlier, a lot of these debates and fights that we thought were settled, have to be relitigated by each generation. And I think again, this is where my hopefulness goes, you're seeing this, and I just can't believe you think this is the best way to live. I can't believe you think this is the best way to govern. I can't believe you think that divisiveness and chaos is is a model that society should be founded on. And I'm not asking you in any way to compromise on one bit of your ideology from conservative to liberal, whatever it might be, but how we go about conducting it, I do think matters, and, and I take my responsibility in that and accept responsibility that I have to be part of the solution, not part of the problem. And it's it is the question of the age right now. And so, again, I would ask each of you stay in the moment, for for a young journalist, stay in the moment and understand your you are, you know, it's it's a Chinese, you know, curse and proverb in that may you live in interesting times. You are certainly living in interesting times. And I keep saying this, whether it was after the death of George Floyd, or whether it's how we're responding to COVID, we're not going to be judged by those two things. We're going to be judged how we respond to those two things. And what's the state that we shape afterwards? And so I would just say each of you be be the be the future you want to be be that role model you want to be and then hold people accountable to doing that because I do think that you can forcefully make a position. And I think our politics, you know, I'm not pollyannish, it can get a little rough, but I don't think it has to veer into territory that that people lose faith in it or we all say, you know, we should never be describing a an important event like a presidential debate as a dumpster fire. That is probably not, you could say it was lopsided, they were wrong, it was passionate, it was whatever, but we should probably move out of that space. Yes, maám. Let me make sure it's ones I haven't got. I'll come back. Yes.
Annika Rock (RubicOnline — St. Paul Academy and Summit School)
As younger children aren't as affected severely with the COVID-19, will elementary students' plans, learning, distance learning, and in person plan be different or the same as high school students?
Governor Tim Walz
Kris I might, or Heather, both of you. I think this is one for my experts. They have spent a lot of time thinking that very question.
Kris Ehresmann (Infectious Disease Director — Minnesota Department of Health)
Thank you for that. One of the you're you're right in that when we look at our data in terms of hospitalizations and intensive care and deaths that we thankfully have not seen as much in our younger populations. But I think there are a couple things to keep in mind when we think about when it's appropriate to bring people together. One is that we have to think about the staff that are serving those students and educating them. And when we look at the staff that are in both in the school setting, as well as just the adults living with kids, we see that almost 40% of them have underlying health conditions that could put them at greater risk for COVID, so we do keep we do think about how the individual, the student, might be affected, but we have to look at the whole environment. And so that's why the guidance that we put together with the Department of Education is looking at disease in general, not that we don't, aren't grateful that kids don't seem to have as severe disease, but we have to recognize the role they play in the whole community and things like that. And perhaps.
Heather Mueller (Deputy Commissioner — Minnesota Department of Education)
And I think to to build off of that piece, I think the other thing that we're thoughtful about is that is one of the things in the safe learning plan, I articulate that the first two was really being thoughtful about the safety, health, and wellness of our students and staff. And then thinking about wanting all students back in. But then the third, right, that third scaffolded piece and really building that is if we can't do that, then we really need to be thoughtful about how do we get our youngest learners into back into the buildings, right, if at all possible. And and so we're really thinking about how is it that we're able to, because teaching reading is rocket science. Not everybody can do that. And so it gives us the opportunity to be really thinking about how we're going to be able to support that. And we know that a number of our school districts and charter schools have really thought about how is it that we can ensure that we have the staff that are able to be able to be in the building? How is it that we're able to socially distance our students? Are they wearing masks? Do we have the cleaning supplies? And are we able to clean at the level that we need to be doing? Are we limiting or having no visitors come into the building so that we can ensure that safety and continue to mitigate those risks? And so really being thoughtful about how is it that you have the opportunity to spread out students and spread out staff, it's possible that they are eating their lunch in their in their classrooms and having those pieces, but some of those are the things that we need to do in order to have our students back into the building. And so that is kind of how we have worked in prioritizing that is if we're not ready to have everyone back in, then we certainly want to strive to have our youngest learners back in.
Governor Tim Walz
Make sure we get all of our our newest additions to the press pool, get a chance? Yeah, make sure we get them.
Caleb Stipkovits (The Southerner — South High School)
Minnesota is bordered by North Dakota, South Dakota, and Wisconsin. These three states ranked one, two, and three in new code cases per 100,000 people last week. My question is, should Minnesotans be worried about this? And what is Minnesota doing to make sure this doesn't affect our cases?
Governor Tim Walz
Yes, I do think we should be concerned by it. It goes back to my point again, and this is not about crying over spilt milk, we should have had a national strategy, and in an absence of that we should have had a regional strategy. We've tried in certain places. And I mean, it's the nature of our our federal style of governance that states do have a lot of their ability, yes, because, you know, as a geography teacher, you know, when I would teach younger kids, there's no line on the ground that says you can't cross here between our states, and we have a lot of folks working back and forth. We have governors that took different approaches, and I far be it for me to be criticizing, I simply think I try and follow the guidance and try and put in policies that make a difference. And it is true that these states have high positivity rates. Now one of the things in especially in the case of North Dakota and South Dakota, the blessing is they have low population densities. Minnesota, of course, at 5.7 million people and the Metro area being about three plus million of that, that even differs in Wisconsin because the Milwaukee area is about 1.7 million. So we should be a little bit concerned about that. We're starting to see, obviously, some of the spread along the borders. And I recognize this too, that this was one of the things that was hard when I issued a order of closing bars or stay at home order. You live in Moorehead, and they don't do that in Fargo. Well, what do you think people are going to do? They go back and forth. What I did see last time I was in Morehead, though is is people saying people coming from North Dakota to shop in Moorehead because they felt that it was safer. So I, yes, I think we should be concerned about it. Yes, I think we've seen how COVID hit the Northeast, move to the south, people came back after summer, now we're seeing hotspots in the, in the Great Lakes, in the Midwest area. Kris and her team were concerned. While our case positivity rate is one thing, we're also creeping up on the cases per 100,000. And something that's, again, I have been taught by the infectious disease experts, the community spread where we don't know where people get it. And I mean, you just think about you walk up to one person, who did they talk to who did they talk to, and it's kind of exponential. So I'm afraid we're in that. And here's the real challenge about this. The concerns are, of course, the spread to more folks. But what takes us back to March, and while we're much better prepared than we were in March, is still a concern. Once that starts to happen, people are going to have higher numbers, a percentage of those people we started out saying it would be about 15% of people who got it would need hospitalizations, and out of that probably about 5% would need ICU, we've gotten a little better at how we care for people. But it still is a fact they're gonna end up in the hospital. And what our biggest fear is, we saw this in New York, we saw it in Italy. We saw it to a certain degree in Arizona in July, that the fear is how quickly this moves, that you overwhelm the healthcare system, and people can't get the care that they need. That will not happen in Minnesota. But it is a concern. And we also have redundancies built in now. We have more capacity to expand out. We have the equipment that we need, but it will challenge the system if it happens. And so this is a concern, it'll start to come back up. It'll be hard from Minnesota. But again, I want to thank Minnesotans for doing the things we continue to say. Our case positivity rates are an island in the midst of that, they are lower and including Iowa. And we should keep it that way. Because what that does is it keeps you in school, it keeps the chance of playing volleyball or having the speech tournament happen, it keeps our businesses open, and it keeps things going. We knew early on, we couldn't shelter in place for a year. The economy wouldn't take it, and quite honestly, it was so socially damaging to all of us that it would be very difficult for people to maintain that. So we had to find that sweet spot in the middle, where public health was meeting the capacity to do some of the activities in life that that we need to get done or that we want to do. So yes, sir.
Zachary Knapp (NOISE News — Spectrum High School)
Minnesotans of all backgrounds have come to you with their questions seeking guidance and support, and I'm just wondering how you deal with the stress that comes with this, and how do you maintain good mental health during this pandemic?
Governor Tim Walz
Yeah. Well, I tell people, I was well prepared for this. Some of you will appreciate this, when, my first year in the high school lunchroom, a freshman was choking on a Polish dog, and I gave him the Heimlich and popped it across the thing. For the next 19 years, I got lunchroom duty, so I'm used to just kind of calm them and things happen, so I was the lunchroom supervisor. But in all reality, I think the biggest thing I do is, I like so many had to refocus. I know you would not know this by looking at me, but I run five days a week, about five miles at a time. You find that hard to believe. They believed everything else I said up till this point and that you can't believe that, so, and and then I think for me, it's getting with the experts and digging down into the details, and formulating plans. Because what I think for most people, I maybe you included for me, the hardest thing in a situation like this is feeling that things are out of your control, not knowing where it's going to end, not having any predictability in your life or your activities. No, we're not going to play football, we are going to play football, I can't go in the store, I can go in the store, don't wear a mask wear a mask. So I think for me is it's trying to be as well versed with these experts of teaching me to stay focused on on what we can control, stay in our lane. I will say this that the one blessing for many of this is I have I have eaten more meals with my 14 year old son than I have in a long time. He may disagree and be embarrassed for me to say that, but we've spent a lot more time together. I am now becoming well versed in anime. Who would have ever known I would need that, but I know the difference between Naruto and Attack on Titan, and so it's that part of it, so I think it's reconnecting. The thing that I have to tell you that I I do miss, and I know you're in this, too, the social aspects of what make life so enjoyable, and that makes us so truly human. Having that taken from us is just maddening, of being out, and, and I love the idea of being at crowds, like I said on a Friday night or somewhere. So I think it's trying to focus on physical health, trying to focus on on family, and then trying to control what what we can control. And that seems to be the best. Yes, ma'am. Another one? Yup.
Talia Lissauer (Echo — St. Louis Park High School)
And then is there any misconceptions that you believe that students may believe that you would like to clear up?
Governor Tim Walz
Misconceptions, like on COVID? Not that I am a runner, you weren't going back to that? Okay. Well, I I hope it is, is that everything we're doing is in the best interest of you, and I think every society focuses on their children, because it's not a cliche, you are the future. And I hope that it is, that it is not felt like that decisions are being made that are depriving you of the opportunity to to do those high school rites of passage that every other group got to do and then you got denied. I I hope that's not, I don't I don't believe so, but it's important for me to get out. I'm listening, I got a freshman at the univer- or sophomore at University of Minnesota, and of course, an eighth grader, listening to what they're saying and what they're hearing. And so I I hope that's not out there. But I worry about that. I worry that that we're not doing enough, that we sometimes keep and it was good to hear Deputy Commissioner reminded me as she talked about her family and her time in that classroom. This isn't just about numbers. This isn't just about infectious disease. Kris talks about her family, talks about what it means for families. And I hope we start to see everybody as an individual, and I you know, going back to this question about the the division and some of that, I would hope people come with a compassionate and kind heart for everybody. And that includes elected officials, that they have families, they have kids out, there they're trying to get this right. And for the young people, I hope you know that's true, and whether that is not out or there not I hope you feel that.