Track competes in first meet of the season, outlines room for improvement
On April 6, the US Track and Field team had their first meet at Macalester College in St. Paul. Competition was tough, and SPA finished 6th overall for women and 4th overall for men. Several personal highlights included Rashmi Raveenran finishing 11th in the 200 meter dash, Lucie Bond finishing 7th in the 400 meter dash, Mia Schubert finishing 6th in the 800 meter run, Koji Gutzmann finishing 9th in the 200 meter dash, Tommy Allen finishing 1st in the 800 meter run, and the men's 4×400 relay finishing 1st.
"I'm really proud of how the team did on Saturday," said track co-captain Koji Gutzmann.
"In the boys 4×400, we were expecting a loss because we were running as a new team, but we ended up pulling ahead and winning the race, which was really nice."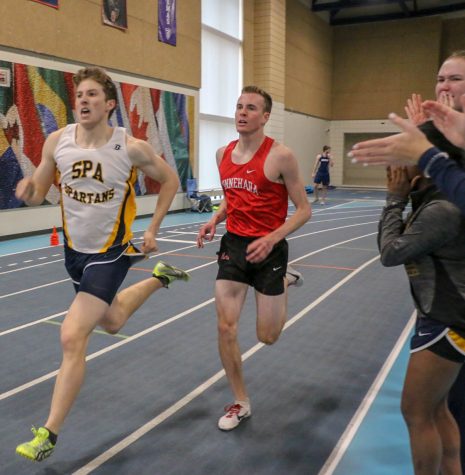 While SPA didn't come out on top, they are certainly motivated to keep pushing as the season continues
"To do better at races in the future we need to keep working hard and push the team. We're a small team this year, but even so we aren't doing too bad. It's just about improving on the good foundation we already have," said Gutzmann.