To mask or not to mask? That's a personal question.
SPA students, faculty, and visitors will be allowed to do something today that they haven't done for nearly two years: show the bottom half of their face. But not everyone will, and that's perfectly ok.
With omicron on the downtrend, when to lift mask mandates has been a popular question, with the discussion mainly centered around schools. The SPA community got their answer on Feb. 18, when Head of School Bryn Roberts announced that masks would become optional on SPA's Randolph Campus. This decision also applies to athletics, extracurriculars, and school-sponsored events, with some exceptions. Such a drastic change comes after weeks of considerable decline in cases, both in and out of SPA. New coronavirus cases have dropped more than 80% nationwide since their peak in mid-January. As of Feb. 23, the daily average of new cases has fallen 77% in Minnesota over the last 14 days. There were no new cases across either campus the week before Roberts sent the email. These numbers, along with the school's high vaccination rate, provide significant and logical incentives to lift the mandate and for any individual to take off their mask.
"
Different lives come with various factors and priorities."
However, not everyone will be ready to make such a drastic change, and don't expect them to. Different lives come with various factors and priorities. Some students and faculty may put themselves or their loved ones at risk if they don't wear masks. Some may follow the CDC guidelines, which recommend consistent mask-wearing by students and faculty indoors and regardless of vaccination status. They also urge mask-wearing in areas of "substantial" or "high transmission," which currently applies to most US counties, including Ramsey County. SPA is a small, highly vaccinated community that saw a significant spike in cases in January. But there's still reason to be apprehensive at this point in the pandemic, and continuing to wear a mask remains a sensible decision for many.
Though the guidelines have eased, wearing a mask is still valid. Individuals, whether they choose to mask or not, need to remain conscious of the numbers. Being finally allowed to take off one's mask is not an invitation to forget about COVID-19 completely. Having the responsibility to choose does not give one the right to judge others' decisions. Hold back from making assumptions about why someone is wearing a mask, and recognize that everyone has their decision.
Leave a Comment
About the Writer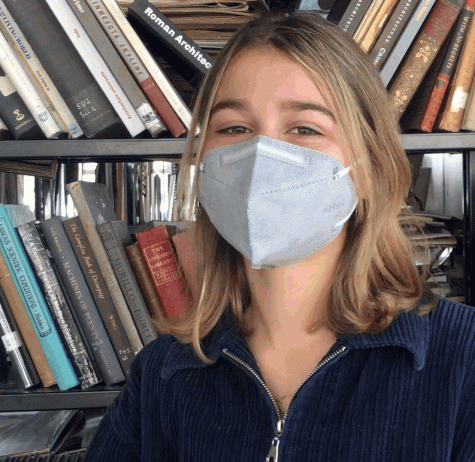 Johanna Pierach, Staff Writer
Johanna Pierach (she/her) is a first-year Staff Writer for The Rubicon. She loves early morning coffee, listening to vinyl records, and skiing after dark....