'Tis the season: looking ahead to video game releases
With the holiday season fast approaching, many video game publishers are rushing to release their latest and greatest games for people to buy. Big companies like Nintendo are putting out new installments in their franchises with the new Super Smash Bros., Pokemon, and Bayonetta games out or soon to be released this fall. Other, more mature games include new installments in the Assassin's Creed and Call of Duty franchises, as well as new Civilization games set for release.
Students at St. Paul Academy and Summit School are no exception to the hordes of buyers scrambling for the latest games. sophomore Cole Staples, an avid PC gamer and enthusiast, said he is excited about new video games. "I'm planning on getting Witcher 3. I'm planning on getting Evolve, if it's any good," he said. "With video games with me, it's more of a 'Is it going to be any good?' thing because with a lot of stuff it's hard to find out if it's any good or not."
Super Smash Bros.
Nintendo's new addition to this much-beloved franchise comes in the form of two new games. Super Smash Bros. for 3DS is the video game company's first foray into a mobile Smash Bros. game. Super Smash Bros. for Wii U is the sequel to the highly-praised Super Smash Bros. Brawl and comes with new characters, new ways to play, and HD graphics. Super Smash Bros. is typically a big seller for Nintendo, so the company is counting on it doing well.
Pokemon Omega Ruby and Alpha Sapphire
These games, remakes of Pokemon Ruby and Sapphire for the Game Boy Advance, bring the new engine and features from Pokemon X and Y to the much-loved story and region from Ruby and Sapphire. The games take place in the Hoenn region, a region of water and trumpets, like Ruby and Sapphire, and feature the same characters, Brendan and May, but bring an all-3D environment and battles over from X and Y. The game will also feature the 719 Pokemon from X and Y and bring back features removed, like diving and secret bases, fan favorites from Ruby and Sapphire. Look out for these games in late November.
Civilization: Beyond Earth
The newest addition to the turn-based strategy game Civilization takes players to a distant planet. After a so-called "Great Mistake" that sends humanity back before modern technology, different factions colonize a planet in hopes of restoring humanity to its former glory. Players can choose 8 different factions to play as, which each represent distinct regions of Earth-That-Was. One new change from other versions of Civilization is the affiliation system, which changes a faction dramatically depending on which technologies or buildings they build. Civilization: Beyond Earth is out now.
Call of Duty: Advanced Warfare
The newest addition in the long-running Call of Duty franchise takes place 50 years in the future. Unlike other installments in the Call of Duty franchise, this game isn't available on Nintendo's consoles, a first for the franchise. "After this, a lot of gamers will probably buy a new console in order to play the game and stick with that because they have more variety. And big game companies will stop developing for Wii U. It'll start a big switch," sophomore and avid gamer Nina Perleberg said. The game will also feature female characters, only the second game in the franchise to do so; however this character will not be available in single-player mode. Since its release on November 3rd, it has garnered mainly positive reviews among critics with a Metacritic score of 83. Call of Duty: Advanced Warfare is available for PS4 and Xbox One.
Leave a Comment
About the Contributors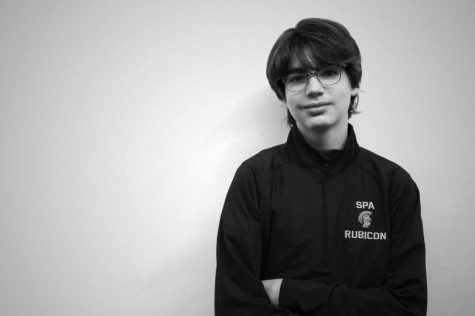 Paul Watkins, Science & Technology Editor
Paul Watkins is a second year staff writer, newly appointed Science and Technology editor on the Rubicon staff. Paul has a passion for classical music,...
Meghan Joyce, Chief Visual Editor
Meghan Joyce serves as the Chief Visual Editor for The Rubicon. Meghan is a senior at St. Paul Academy and Summit School, and this is her third year...