Threepeat: Volleyball wins Dockin Invitational tournament for the third year in a row
Today, Girls Varsity Volleyball had a tournament at Henry Sibley High School from 9 a.m to 3 p.m; playing volleyball for six hours. The tournament, Dockin Invitational, held every third Saturday in September, was started in memory of a teacher who coached volleyball and taught at Henry Sibley, and passed away in 2003.
The tournament encouraged players to work hard by keeping the memory of the teacher in the back of their minds while they played.
The first three games were in terms of points; the team would be ranked in the tournament according to how many points they scored. The team won every set (25 points) during these games except for one set, which was still a very close game. They ended placing first in their bracket (against four other teams; Fridley, White Bear Lake, and St. Cloud Tech), and played St. Agnes, winning that; which meant they advanced to the championship game against White Bear Lake.
Many of the girls felt pressure to win today because they had won this tournament two years in the past. "It was a really fun but stressful day," 9th grader Solvej Eversoll said.
"
I don't know if this is going to be something we do again in the future because I don't know if we're going to come back to this tournament because we just keep on winning it."
— senior Sydney Therien
Fortunately, the girls won the tournament; calling it a "threepeat."
For Head Coach Jill Bachmann, it is her first championship win as a varsity coach. "Hell yeah," Bachmann said. She has just started coaching volleyball at St. Paul Academy and Summit School this year. Hopefully, there will be more first places to come for Bachmann.
Despite winning, the girls were proud to be at the tournament, no matter the outcome. "This is an important tournament because its honoring one of the coaches from Henry Sibley from 2003.  We won for the third year in a row so it's really special, not only as a tournament, but its really special for our team to win for the third time and come back to honor this coach who was evidently so important to this school," senior co-captain Audrey Egly said.
The Volleyball Team's next game is on Sept. 24 against Mounds Park Academy at 6 p.m.
About the Contributor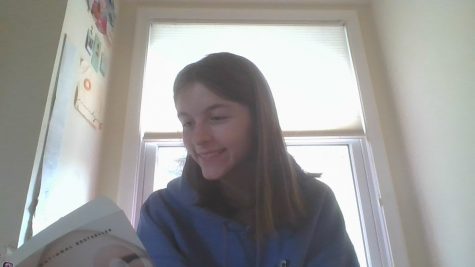 Lynn Reynolds, Opinion Editor
Lynn is the Opinion Editor on RubicOnline. This is her third on staff. Lynn has kept herself busy during the pandemic by reading and biking a lot. "Live....