Three students awarded at Honors Exhibition
The purpose of the High School Honors Exhibition at Concordia University is to recognize the best students in the best programs. In their 15th annual showcase, which took place at the Concordia Art Center on Jan 11, Upper School Fine Arts teachers from St. Paul Academy and Summit School were invited to choose outstanding work from their students. It is the first time SPA has been invited, and three students were honored with awards. Junior Ethan Dincer earned 3rd place for his photograph entitled "Barber Shop, Istanbul." Junior Iris Shaker-Check placed 2nd for her teapot entitled "Brain Drenched Mind." Junior Koji Gutzmann won 1st place for his drone photograph entitled "Mississippi River."
Chair of Art and Design at Concordia University Keith J. Williams served as the main host at the exhibition who spoke in depth about the students who earned awards. He has been at Concordia since 1992 teaching ceramics, drawing, art history and art education. Williams affirms that giving young artists a place to exhibit their work gives purpose for students.
"Why is it important to show student work out there? Because out there is where we live. The myth is, for young people, is that they feel that even if they like art they feel they can only be an art teacher or graphic designer. The fact is, there are many jobs that are in the arts field. If you love this field you can follow your passion and make a living and do what you enjoy. Coming to a larger venue is a way of saying, 'I do have a place out in the world and this is not just my hobby here at school,'" Williams said.
US Photography and Video Arts teacher Stefanie Motta selected photographs that she felt exemplified the full extent of SPA student expertise. Motta hand-picked senior Stephanie Frisch's photography and both Dincer and Gutzmann's pieces as well. She wished to give diversity in her curation.
"The pieces I chose show the breadth of what we do here at SPA. Some of them are experimental, some of them are using new technologies, some of them are just capturing an authentic moment during travel. They all have different energy," Motta said.
"
The work that was chosen was work that was made by students that have shown strong interest and commitment to this studio"
— US Fine Arts Chair Daryn Lowman
In choosing Dincer's photograph, Motta admits his piece does an excellent job in captivating viewers with its composition.
"When Ethan was in Beginning Photography, we worked with landscape and portraiture and learned about some of the early masters of street photography as well. His images are so strong because they really capture the essence of street photography. To me, street photography captures the energy of a place and the mood. I think his Turkey photographs do that really well. He is great at composition and has an excellent photographic eye. The composition sets it [his photographs] apart," Motta said.
For Gutzmann's photograph, Motta explains she chose it as she believes it reflects new technology in photography and gives her curation variety.
"He [Gutzmann] was working on a series of aerial photographs with a drone. I think it's a really interesting evolving technology and now that more and more people have access to those kinds of cameras it's incredible what you can do. The thing I really love about Koji's images is that they're not random. I think you could take a drone and fly it over anything and it would be kind of cool because there would be a wow factor, but Koji also has a great eye for composing images," Motta said.
Daryn Lowman, US/MS Ceramics and Sculpture teacher and Fine Arts Chair, was initially contacted by Concordia for SPA to be featured with three other high schools. In Lowman's eyes, the SPA Art Department is well respected and this exhibition serves as a delightful opportunity for students to take their work and display it outside the realm of SPA.
"I wanted to have a broadness of pieces for the students that were representing the ceramics department. The context of making work in a school environment and exhibiting work in the same environment isn't necessarily as liberating as seeing your work out there in a different context. The work that was chosen was work that was made by students that have shown strong interest and commitment to this studio," Lowman said.
Allowing students to put their artwork out in the real world can be daunting. For Dincer, Shaker-Check, and Gutzmann, however, the process brought reward and appreciation.
About the Contributor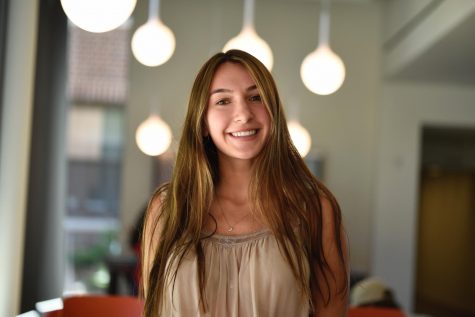 Mimi Geller, Director of RubicOnline
Mimi Geller is the Director of RubicOnline. This is her fourth year on staff. Mimi believes that high school journalism connects people by sharing their...