Theater plans coming to fruition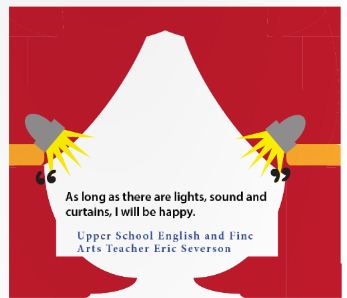 "Chaotic, cramped, complicated:" these are words that St. Paul Academy and Summit School sophomores Claire Walsh and Alice Tibbetts used to describe the current setup for drama and music rehearsals and performances. For years, fine arts performances and rehearsals have taken place in the Lower School's Sarah Converse auditorium. "It's about time we had a theater for the Upper School, and I think all the theater people would agree," Tibbetts said.
Previously, using the Sarah Converse auditorium added inconvenience and took away precious rehearsal time for the fine arts students and teachers. "Because there aren't as many seniors this year, getting to the Lower School is going to be a problem, because we do rely on [upperclassmen] who have cars to drive everybody," Walsh said. "During the plays and tech week, we would think, 'oh, it would be so easy if we had our own auditorium," Tibbetts said. Tibbetts is especially looking forward to "the excitement of performing in a new theater.
The Middle School play rehearsals currently take place in the Sarah Converse Auditorium. Taking a bus is no longer a sensible option because every bus ride costs $100.00. The students have to carry their backpacks, equipment, and musical instruments back and forth each day, because they do not return to the Upper School after rehearsals.
"The music and drama programs have long outgrown our current spaces and we are in desperate need for a more appropriate venue," Upper and Middle School Music instructor Almut Engelhardt explained.
Similarly, Upper School Drama Teacher Eric Severson said, "Over the years, the SPA Theater Program has grown and we are outgrowing our current space." As a temporary solution, the Upper and Middle School orchestras, band, and choir have been performing in different locations, but soon the group became too big.
The groups have been performing at the O'Shaughnessy Auditorium at St. Catherine University for three years now. For Upper and Middle school Choir Instructor Anne Klus, moving between the Randolph Campus and St. Kate's requires "more time for planning rehearsals and moving a lot of equipment."
Students and teachers alike have been wishing for a Randolph Campus performing arts center for a while. "It's probably been active conversation for 20 years and it really picked up speed the last six or so," Head of School Bryn Roberts said.
"As long as there are lights, sound and curtains I'll be happy," Severson said.
Sophomore Ingrid Topp-Johnson has a more specific desire, stating "It would be really nice to have there be good dressing rooms for the actors. Actually, we have to go down to the cafeteria of the Lower School for plays, and that was kind of a hassle."
It looks like it will finally become a reality.The new theater will feature 650 seats, a balcony, practice rooms, a set design shop, a new lighting and sound system, and more.
With such a large space, Roberts hopes to be able to hold plays, senior speeches, community meetings, and concerts there in the future. " It won't just be a place for the performing arts, but in addition will be serving as a community gathering space," Roberts said.
The design is still in a developmental stage. It will be built in the parking lot area in front of Drake Ice arena and behind Briggs Gymansium.
This first phase plan isn't only about a new performing arts facility. According to Roberts, it will consist of a dramatic new entryway to the school. There will be a driveway that will come up to Fairview Avenue, So parents can drop students off in front of the performing arts center.
"It is a big project that will transform how we think of the school, what we can do, it'll be bold and exciting, we're really looking forward to it," Roberts said.
SPA made a commitment to building the new theater in 2009-2010, according to Roberts. The reason for the delay was because of the state of the economy. "We really had to, we thought, get through the recession before we launched the capital campaign," Roberts said.
The fundraising began about two and a half years ago. Roberts hopes to begin construction before the end of 2014. "We would love to put a shovel in the ground and get going a year from now," he said.
The fine arts center, he estimated, would take around a year to build, once started. Now that this dream is becoming a reality, there's room for more than just physical expansion in the fine arts program at SPA.
There will be a lot of opportunity in terms of experimentation with what the SPA community is capable of.
"We'll be able to try new things, and experiment more with our space," Walsh said.
"This will make it a lot easier to put on great performances and may provide us with more creative opportunities that we didn't have before," Klus said.
"You really want to feel part of a community when you go to a performance as it heightens your experience of the art – this new space can really embody the strong sense of community at SPA," Carl said.
"I see this as a special space for our entire SPA community," Orman said.
"We are going to have opportunities to put on performances, to perfect our craft," Roberts said. "So we really think this'll be transformative in so many ways."
About the Contributor
Boraan Abdulkarim, Editor-in-Chief
Boraan Abdulkarim, a senior at St. Paul Academy and Summit School, is looking forward to her fourth year on The Rubicon staff.  Boraan enjoys calligraphy,...