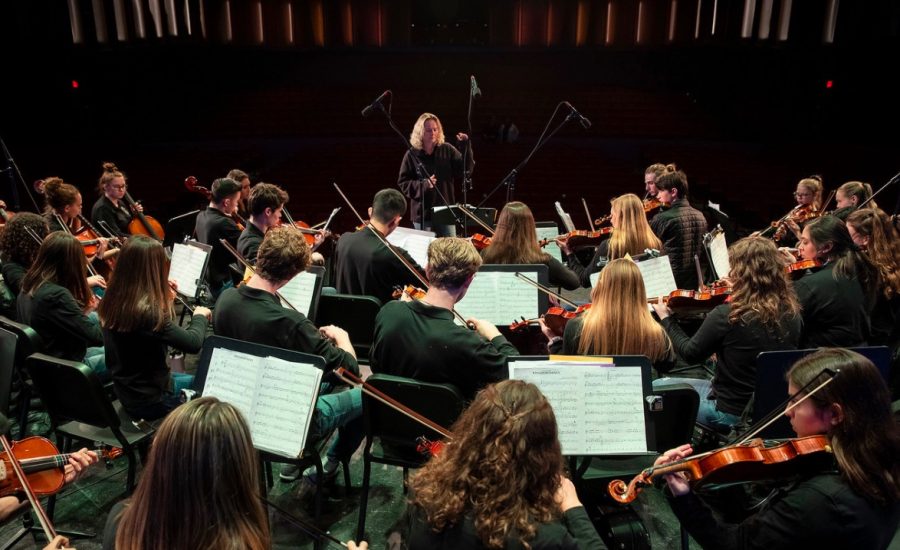 Screenshot from SPA Photo Hub
Stripped of one of the few chances a year that they get to perform and showcase their hard work, one could say the students and teachers participating in the Music Department had one of the biggest losses after transitioning to the Distance Learning Plan. Especially for students in the orchestra program who had been rehearsing since late December for the Spring Concert, the news of cancellation although not shocking, was nevertheless a painful loss. Lucky for them, Upper School Orchestra Director Almut Engelhardt, who has worked at SPA as the Orchestra Director for almost three decades, has dealt with all kinds of patches and holes. She was not going to sit at home and let COVID-19 and distance learning maul over her program and students' hard work. After considering many solutions she finally settled down on one high-risk high-reward plan: virtual recording.
At first glance, the process might look and sound simple. Just from browsing the web, hundreds if not thousands of orchestral virtual recordings can be found. But as Engelhardt wrote out in an email to her students and their parents," If you look closely, these videos feature almost exclusively professionals – and for good reason. The process might look effortless and fun, but in fact it is tedious, frustrating, and often comes with a high price tag for the sound and editing equipment necessary to make it all sound as good as it does."
Very well aware that this virtual recording project could end up as a failure, Engelhardt still continued to promote and push out the plan. With the help of SPA Director of Communications Ami Berger, Marketing and Communications Coordinator Alex Loveland, a hired sound engineer, and support and funding from Head of School Bryn Roberts, US Principal Max Delgado, and Fine Arts Department Chair Daryn Lowman, Engelhardt was able to get the project on a strong start- the rest was up to her and her students.
The piece that Engelhardt settled on recording for this project was Nessun Dorma. Originally part of the Spring Concert setlist, Engelhardt said, "I wanted to pick a piece that we had prepared for the Spring Concert. US Band Director Randy Reid adapted Nessun Dorma for our orchestra and also worked with the orchestra's wind section. Nessun Dorma is about a dark and scary moment in the opera's story [Turandot]. And yet the final words of the aria emphasize optimism- that all will be well eventually: 'I will win'. I thought that to be a good message in such chaotic times. And on a practical note, the instrumentation lends itself best to a project like this."
After the piece selection, came the next leg of the project: recording music. As one of the most crucial steps in the lengthy project, Engelhardt reached out to students and handed over their tasks along with some kind words of encouragement.
"Each student worked on the piece individually with feedback from me. They all then had to turn in a 'rough draft' recording first and then a capstone recording in place of their Final Exam. I listened to all of the recordings- believe me, I know Nessun Dorma really, really well by now- and eventually submitted them to a sound engineer I hired and who provided the click track that everyone had to follow as they were recording. He will edit the recordings and put them all together in a final audio," Engelhardt said.
Orchestra member Mukeil Rizvi also shared the challenges of recording. He said, "Recording with a click track was really demanding. Recording a perfect recording in one shot was also impossible. I think overall, I spent over an hour and a half on each, not including my practice time, on just each recording session I did."
On May 4, after receiving, reviewing, and turning in all of her students' recordings to the sound engineer, the project was halfway done. The rest was up to the sound engineer. During the long wait, both Engelhardt and her students were restless. Hoping for the best, they planned for the next step of the project: a music video. To keep it simple, every student submitted a photo of them and their instruments. The video was then put together by Berger and Loveland. Two weeks later, news finally came back from the sound engineer: the final project was finished, complete, and successful.
Ecstatic, Engelhardt premiered the virtual recording of Nessun Dorma to the SPA faculty through a new letter earlier today. No longer holding in her breath, Engelhardt shared, "Well, I am not going to lie, this was a ton of work for everyone involved. Following a click track is really very different from playing in an ensemble. I hope that everyone gained some insight into what it takes to make a decent recording or video. It's definitely not as easy as it looks to put something together that is even remotely pleasant to listen to."
Additionally, several conductors have contacted Engelhardt for advice on how to start their own projects.
As much as Engelhardt wanted a successful outcome, she also emphasized that the most important part of this project was for her students and herself to learn something new and challenge themselves. She said, "I hope that everyone gained some insight into what it takes to make a decent recording or video. It's definitely not as easy as it looks to put something together that is even remotely pleasant to listen to."
Music within itself is nothing special. But the power and beauty of it comes from the musicians. Like in the case of this piece, Nessun Dorma, recorded by the SPA orchestra: whether heard live or through the speaker of an electronic device, the emotions, message, and hard work put behind it can't and won't ever be taken away. That is what makes it good music.