"The Section of Disapproved Books" exhibit tells a strong tale of censorship
"What do books like The Autobiography of Malcolm X, Ulysses, The Best Sex You'll Ever Have, Breslov Haggadah, and Windows 8 Application Development have in common? They are all found on lists of publications banned in correctional facilities in the United States," reads the sign in the entrance of the exhibit titled "The Section of Disapproved Books" at the University of Minnesota Weisman Art Museum. The exhibit, which opened back in September and will run until mid December, was put together by Artist Daniel McCarthy Clifford. The installation consists of hundreds of books that are banned in prisons all over the country for various reasons. Clifford spoke at his own exhibit on the night of Nov. 14th in order to better educate the community on what he hoped to accomplish with his work.
"Being a formerly incarcerated person myself, I've been through the song and dance of having works rejected and anybody that's done time or anyone that has a loved one that's done time understands how hard it is to send or receive books," Clifford said.
"Sometimes it would be for technical reasons that I couldn't receive a book. Maybe it was because it was a hardcover, which wasn't allowed, or it was more for the content itself, which was deemed a security threat," Clifford added.
Through the collection of books that he's assembled, Clifford hopes to shed light on the "generally opaque, unregulated, and inconsistent [rules] between institutions and states". Subjects like law and racial justice movements are only some of the subjects of books that are commonly banned from prisons across the United States.
Visitors to the exhibit are encouraged to thumb through the racks of banned books in order to figure out why they were banned. Books that are purely factual like "Genetic Skin Disorders" and "Grant Writing for Dummies" are among some of the banned books, which leaves the visitors questioning why they were prohibited in the first place.    
"This is much more involved than just searching for a list of banned books on the internet," said Clifford.
"All of these books are titles that incarcerated people have requested to read. 90% of them tend to contain sexual materiel, which is why they're banned, but this is a highlight of the most interesting ones that aren't 'smut'," Clifford said, laughing.
"Some of this stuff, like [books on] political histories, just blows your mind," he said.
Admission to the Weisman Art Museum is free and all members of the public are welcome to view the exhibit.
_________
"The Section of Disapproved Books" runs until December 16th at the Weisman Art Museum at the University of Minnesota
Leave a Comment
About the Contributor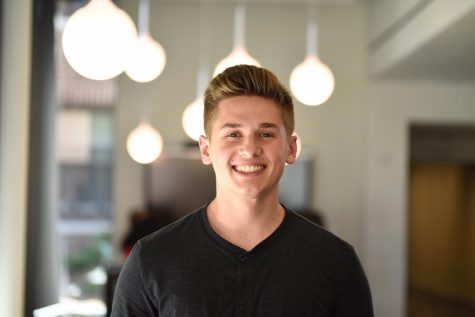 Kelby Wittenberg, News Editor
Kelby Wittenberg is the Rubicon News co-editor at RubicOnline. This is his fourth year on staff. He enjoys RubicOnline because he believes news is the...