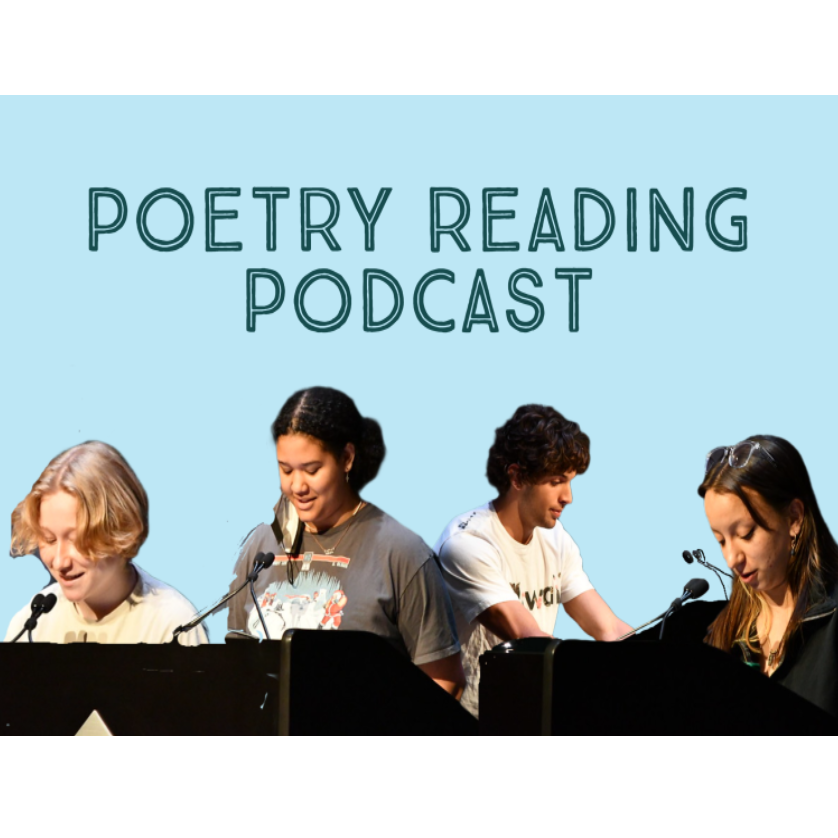 Alexandra Cardwell: Welcome to the first poetry reading of the 2021-2022 school year in the Upper School. Students from across Dr. Klavon's four poetry classes recited original poems in the Huss Center.
Dr. Klavon: We'll have eleven readers in total. Uh, they are Solvej Graff, Rachel Swenson, Alison Mitchell, George Peltier, Ruby Fields, Tuco Dixon, Cayenne Ramirez, Hannah Brass, Leo Sampsell-Jones, Addy Eby, and Quenby Wilson.
Cardwell: This is Solvej Graff reading a poem that she presented alongside a visual poem. The visual poem featured Graff's face in front of a neutral gray background with flashing lights reminiscent of a thunderstorm.
Graff: *reads poem*
Cardwell: Following Graff, junior Rachel Swenson recited a poem she wrote about her cats.
Swenson: *reads poem*
Cardwell: After Swenson's playful poem, junior Alison Mitchell read a powerful poem about love, family, and loss.
Mitchell: *reads poem*
Cardwell: Junior George Peltier was up next, performing a poem about memorable childhood summers.
Peltier: *reads poem*
Cardwell: Taking her poem in a dystopian direction, junior Ruby Fields performed a poem reminiscent of sci-fi movies.
Fields: *reads poem*
Cardwell: With a witty, rhyming poem, Junior Tuco Dixon read his original work next.
Dixon: *reads poem*
Cardwell: Similarly to Peltier, junior Cayenne Ramirez recited a poem about summer memories. Ramirez used beautiful imagery that appealed to the senses.
Ramirez: *reads poem*
Cardwell: Following Ramirez, junior Hannah Brass performed a poem she wrote this semester using space as a metaphor.
Brass: *reads poem*
Cardwell: Next up was junior Leo Sampsell-Jones. [Sampsell-] Jones recited a poem that was both impactful and witty, entitled "God Found Me At the DMV".
Sampsell-Jones: *reads poem*
Cardwell: Similar to Mitchell's poem early on in the program, junior Addy Eby read a powerful poem about family, love, and loss.
Eby: *reads poem*
Cardwell: To close the program, junior Quenby Wilson read a poem about individuality.
Wilson: *reads poem*
*audience applauds*
Mitchell: Hi. I'm Alison Mitchell, the Podcast Editor for the Rubiconline. Thanks so much for listening to this episode. If you're looking for more great stories or event recaps, make sure to check out the Podcast section on the Rubiconline.