The birth of the Metro-South Phoenix
From "St. Paul United" to co-opping with Minnehaha to this year's "Metro-South Phoenix", the girl's hockey team has changed three different co-ops in the past four years in order to accommodate the small team.
SPA and Visitation were initially unified under "St. Paul United." After four years, Visitation wanted to become autonomous and skate at a nearer rink, so the co-op ended in 2020.
"I thought [the name] was a great neutral concept, but Visitation wanted to do their own thing and SPA didn't want to lose our identity," MS Athletic Director Taylor Tvedt explained.
In 2020, a new alliance under the same name was created between Minnehaha, St. Agnes, DeLaSalle, Providence and SPA. Similarly, Providence announced in July 2022 to become independent as well. "There's always a lot of moving and people decide to leave for one reason or another. The last minute departure from Providence left us with some really small numbers (13 returners combined)… There weren't going to be enough skaters just to continue St. Paul United, so we started looking for a new partner," Tvedt said.
"
I think for constant low number and changes to co-op just show resilience from all the SPA girls who have continued to play"
— Aurelia Meza
Burnsville was a great choice because there were sufficient player spaces for the rest of the St.Paul United schools to join. In addition, they already had the game schedule and ice time arranged, prompting an easy transition to coordinate the season.
While these shifts in co-op teams help build a large enough team, developing team chemistry from scratch every time is challenging.
"It's been a struggle to have to adapt so fast to new teams and have to try and build up new relationships. The best teams in hockey usually have played together for many years so that has always been a setback for the SPA program," captain Heidi Deuel said.
Although everyone is unfamiliar with each other, positive team cultures build over time as the season progresses.
"At first with the new Burnsville co-op there were mixed emotions just because no one knew what to expect but those have dissolved. I think for constant low number and changes to co-op just show resilience from all the SPA girls who have continued to play," junior Aurelia Meza said.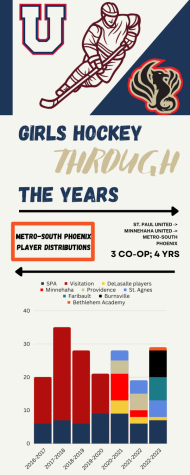 Finding an alternative co-op team last minute was difficult because new athletic directors, Randy Comfort and Rick Johns, were just transitioning over during the summer.
"It was the first thing we did together as a team. We did our best to make sure that the families were involved in the process. So they were actually the ones that approached us concerned about the numbers," Tvedt said.
With background research and Google form polls, the Athletic Department tried to accommodate families while trying to make this new co-op last.
"I think for many people the addition of new coaching staff has been huge," Meza said. "Definitely getting coaches with new perspectives and insights has been amazing influence. Already this year I enjoy playing more than in my previous years."
Players and the office looks into the season with high hopes. "My goal is to make it to state this year, it's always a big goal to have but it keeps us pushing forward and working hard," Deuel said.
The team currently holds a 4-3 record. The Phoenix play their next game Tuesday at Minnetonka Ice Arena vs. Hopkins. The puck drops at 7 p.m.
Leave a Comment
About the Contributor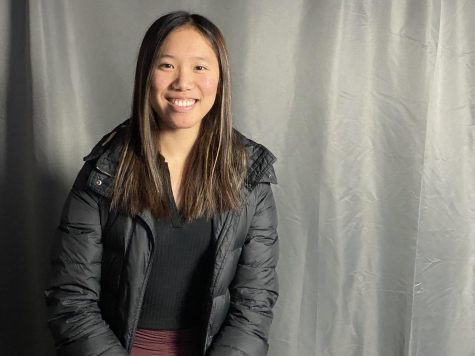 Rita Li, Feature Editor
Hey! I'm Rita Li (she/her) and this is my second year on staff. I was a Podcast Editor (2021-2023) and am currently a co-editor for the Feature section...