[The 5] Hennepin courthouse planned to be locked down, Parent equity groups forming in elementary schools, Gray wolf hunt kills 200 wolves and more
LOCAL
The Hennepin County Courthouse is going to be lockdown for the Derek Chauvin trial set to begin on March 8. After the violence that occurred at the U.S. Capitol on Jan. 6, many are looking at new ways to protect buildings and the people in them during the trial. For the trial, the building is set to be closed to almost everyone including the 2,500 employees who work there. Employees, including many judges, have been sent to work from home as the trial commences. The trial itself is planned to be live-streamed, however, only around 30 people are allowed in the courtroom
(Source: The Star Tribune)
Parent-led equity groups in Minneapolis are forming and becoming popular as they aim to address racism in Minneapolis elementary schools. The Welcoming Equity Committee was one of the first groups to form six years ago by Gbemisola Saunders. Recently, more elementary schools in the Minneapolis area have begun to form their own groups to address racial disparities in their schools. Many schools have taken more urgency with their work after the recent events of last summer.
(Source: The Star Tribune)
NATIONAL
After Georgia had flipped blue for the first time in decades, Republicans who control the State Legislature are moving two bills that could place restrictions on voting access and rights. The two bills, one passed on Monday and the other soon to pass, make it so many people have less voting access in Georgia. The bills pose actions to end automatic voter registration, ban drop boxes for mail ballots and get rid of access to absentee ballots. These bills would restrict early voting practices and eliminate traditions such as "Souls to the Polls" that many Black voters perform after church services. These new bills could impact Black voters who make up one-third of the state's population and vote mainly Democratic.
(Source: The New York Times)
The gray wolf species was taken off of the list of species protected by the Endangered Species Act last year which encouraged a hunt that killed over 200 wolves that exceeds the state wildlife official's quota. Last week, Wisconsin hunters killed over 200 wolves to take advantage of Trump-era hunting rules in fear that the Biden administration would tighten them. Approximately 216 wolves were killed in 60 hours exceeding the state quota of 119. Environmentalists have stated that this hunt was conducted during the wolves' breeding season when the species is at its most vulnerable.
(Source: The New York Times)
INTERNATIONAL
On Tuesday, the head of a group examining sexual abuse in France's Catholic Church has stated that the number of child victims is around 10,000. The Independent Commission on Sexual Abuse in the Church was set up two years ago and they have already received around 6,500 testimonies from victims and witnesses on incidents in the past 70 years. An assembly of Church leaders is planned to be set later this month in which they are expected to announce ways to prevent more crimes and support past victims.
(Source: The Washington Post)
Leave a Comment
About the Writer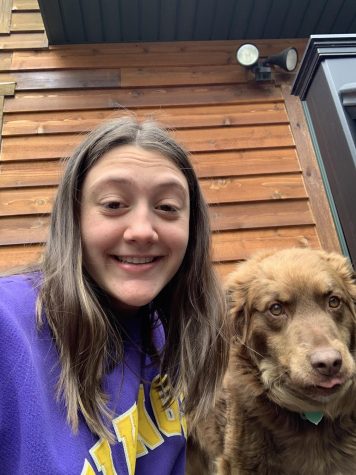 Annika Rock, News Editor
Annika Rock is a News Editor at RubicOnline. This is her second year on staff. During quarantine, she has been taken daily walks around her neighborhood...