Henry Burkhardt, Annika Rock, and Will Schavee

February 26, 2020
In the second episode of Q-Oreos (questions and Oreos) Will Schavee interviews sophomore Ellie Murphy on everything from meeting George Bush to 21 Pilots.
Henry Burkhardt, Annika Rock, and Will Schavee

January 16, 2020
In the pilot of Q-Oreos, Will Schavee interviews Thomas Bagnoli on everything from classes to blow-drying hair while enjoying many Oreos.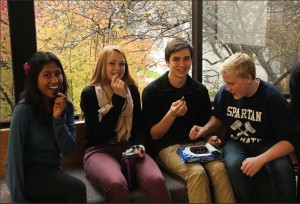 Boraan Abdulkarim, Cover Story Editor

November 27, 2013
"Milk's Favorite Cookie" is, apparently, St. Paul Academy and Summit School's, too. The wildly popular Oreo sandwich cookie is an SPA tradition. It's easy accessibility, relatively cheap price, and the large variety of flavors all make it the ideal snack to bring in for advisory or student...