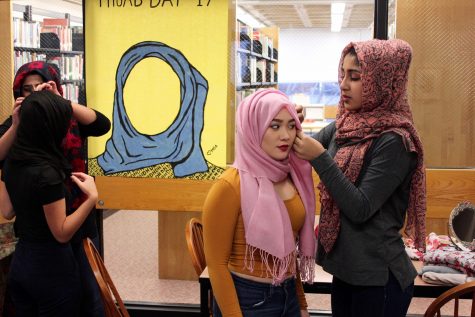 Amodhya Samarakoon, RubicOnline Creative Design Manager

January 31, 2017
With Hijab Day coming up, it's important to understand this aspect of Islam that's important to a lot of women in the school community and across the globe.
Isabel Saavedra-Weis, RubicOnline Editor

September 26, 2016
"No Trump, no KKK, no racist USA!" Anyone between May Day Books and the Republican Headquarters on Saturday the 17th would have most likely heard coming from the streets. Muslim Students Alliance, or MSA, a school club made last year took part in the march this year, and opened the opportunity to...
Nina Zietlow, Feature Editor

March 13, 2015
When news of the three students shot near UNC Chapel Hill broke, students were asked to take a moment of silence in assembly on Feb. 10 to recognize the loss. Students encouraged the community to deepen discussion of the news and of Islamophobia.