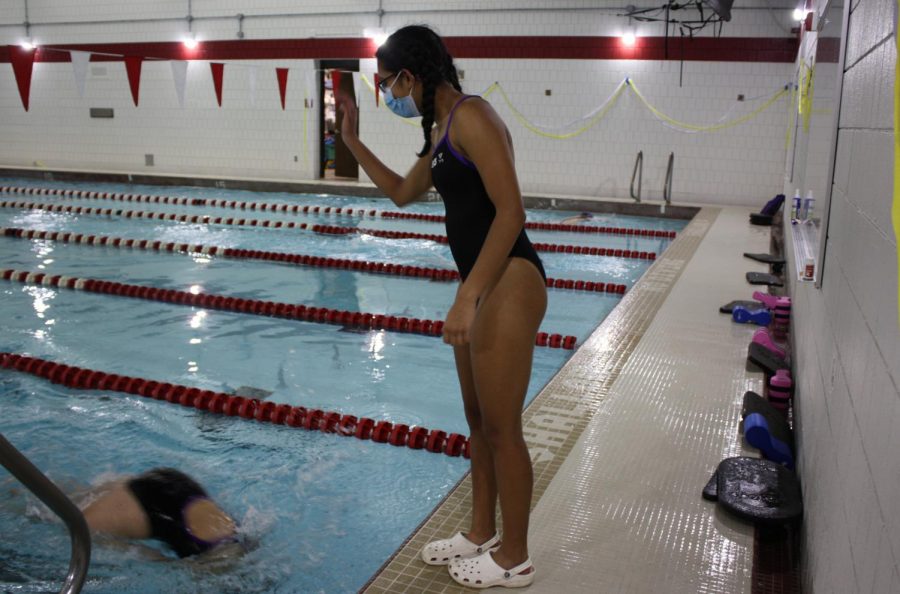 Noor Christava
The SPARKS girls Swim and Dive team meet from last season compared to this season. Juxtapose made by Elle Chen.
Screaming the words to "Party in the USA" on the way home from meets, eating bagels paved with cream cheese, watching cheesy movies, playing aggressive games of water polo, eating large helpings of pasta, cheering during races until our throats hurt, group huddles before relays, and many more memories filled with pure happiness: this is just a glimpse into what the SPARKS girls swim team does during a season…at least before this season.
Instead of having meets filled with several swimmers, parents, and fans, we had meets at our home pool at Highland Park Senior High with no parents or fans present. Instead of singing on bus rides, we sang at practice behind masks. Instead of having group huddles or cheering in packs at the end of the pool, we practiced social distancing spread apart and cheering around the edges of the deck.
We spent time outside conditioning, working out, and even doing yoga. Our team of about 50 people was divided into three groups: two junior varsity groups and one varsity group. We practiced and had meets at different times in order to limit the amount of people in the pool area at once. Instead of meets with all the competitors lined up behind the blocks, we weren't able to see our competitor swimming against us. In fact, we wouldn't even know the overall results of a meet until the next day.
This season was unexpected; different from any other season we've had, but we still managed to have a hard-working, fun, happy, and safe season. Despite the difficult times, it was definitely a season to remember.