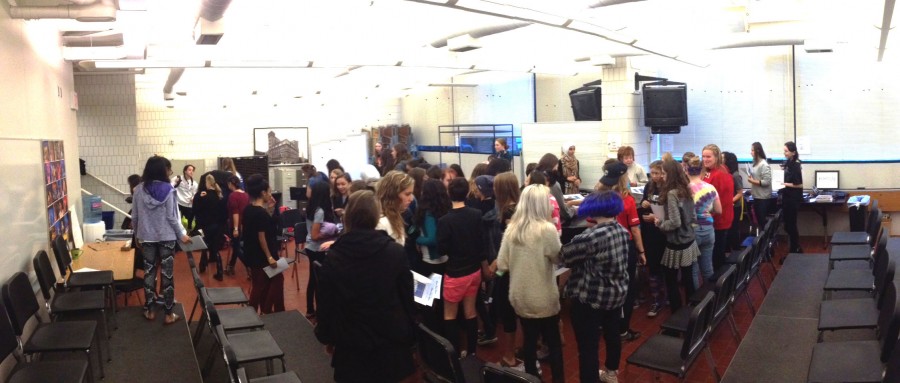 Nina Zietlow
When the Summit Singers file into class before school, a buzz of chatter fills the space as students take their places in the choir room. They have been meeting like this for years, but this fall something is different. There is a bit of a scramble to find enough chairs; the room feels a little more cramped than it did last year. Why? Because with over 70 students, this is the largest Summit Singers in St. Paul Academy and Summit School's history.
"It's quite a bit bigger than it was last year, and we lost a lot of seniors from last year too," choir director Anne Klus said.
Summit Singers is an all girls choir that meets twice a week before school. Though this year is the largest class yet, it has consistently been big, the before school aspect of it appealing to students. "A lot of ninth graders do Summit Singers because they're so worried about packing [choir] into their day but they still want to sing," Klus said. Additionally, Summit Singers is a good option for girls who are involved in orchestra during the day but also want to be in choir.
Another factor that has lead to having such a large choir is the size of some of the recent incoming classes. The sophomore class has more than 112 students and the freshman class has 97.
Larger classes mean more people want to get involved in choir, and Summit Singers isn't the only choir that has been effected. "A lot of students want to continue on from middle school choir," Klus said. As a result, the Academy Choral has grown in numbers too, bringing the number of students in the Upper School choir program to more than 110.
Klus is not at all worried about the choir being too big. "Its an exciting problem to have, and its not really a problem. It really just becomes a management issue to make sure there are enough risers, and you're not squashed like sardines and there is enough music," she said.
Senior Sonja Mischke agrees. "The more the merrier! It's fun to see all the new faces and the number of people we have will create such a full sound," she said.
According to Klus, the way she runs rehearsals has not at all been affected by the large size. Students still file into the choir room and go through the process of warming up, practicing the music and occasionally breaking off into sectionals.
This year's song selections include popular hits such as an arrangement of "Shake it Out" by Florence and the Machine and the opening number to Disney's acclaimed movie Frozen.
And though there is still a bit of a transition period, enthusiasm is high. "I think some of the [new] girls are still a little timid singing loudly but that will change fast. You aren't supposed to get a song right the first time around. I certainly don't," Mischke said.
With the expanding of Summit Singers, some have expressed an interest in a similar program for male singers. Unfortunately, Klus thinks logistics make this idea unlikely. "Even if we wanted to have a special boys choir, I don't know how we'd be able to get it before the day as well," Klus said.
Additionally, there are simply fewer male students interested in singing. "There are always so many girls, so many that want to sing, not so many boys and sometimes that's a perception thing, they think it's not cool," Klus said.
That being said, Summit Singers is not just comprised of one type of person. It is quite a diverse group. "One of the coolest things I like to see is when you've got really great athletes who also want to sing, male and female," Klus said.
"I think it's going to be a really great year and choir is going to have a really great sound," she said. "It seems like there is this new energy coming in and new people, and that is going to be a really good thing for the program."
This article was originally published in the September 2014 Print issue of The Rubicon.  The story can be seen in its original form by clicking on the "In Print" tab or at ISSUU.com.