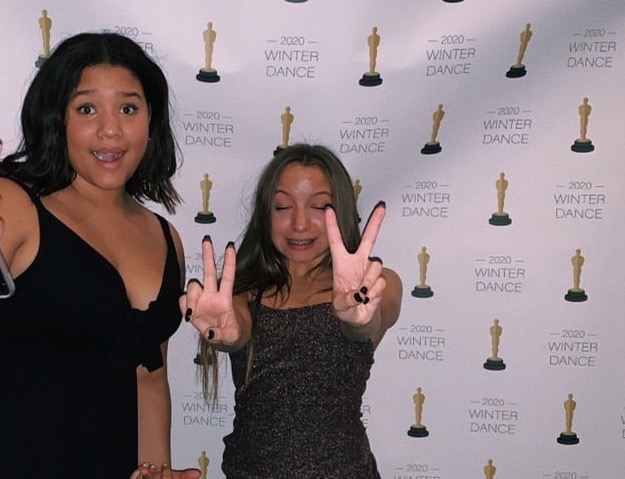 Submitted by Cayenne Ramirez
Walking the red carpet: it's all about fashion, fame, glitz, and glam. This year's red carpet themed winter dance was no exception. The dance was held at the Town and Country Club just a few miles away from school. During the summer, many students come to the T&C for tennis, swimming, and relaxing under the summer sun with friends and family.
This time around, the T&C was transformed into a beautiful yet sophisticated space for dancing, partying, and socializing. Of course the better the quality experience the more expensive, but the pricey $30 admission tickets were worth it for sure.
Inside the venue, there were rows of tables for sitting and dining, tons of appetizers to choose from, and an energetic dance floor with a special deejay. Like a red carpet, car after car lined up outside the T&C: some students arrived with dates, others with friends and some alone- but all dressed spectacularly. The dresses, suits, outfits, accessories, and makeup were all one of a kind, every choice displaying individuals' taste, personality, and time and effort put into the special occasion. 
A lot of thought goes into preparing for a semi-formal dance: making sure that an outfit doesn't overlap or repeat with someone else, and what shoes, makeup, and outfit express personality. 
Sophomore Katherine Bragg said, "To prepare for the dance I did some dress shopping online and I found a dress with sequins on it that matched the theme of red carpet pretty well. And for makeup, I asked my sister to do my makeup and she's really good at it and she put sequins around my eyes and I just thought the whole sequins, glitter was really pretty and went with the theme very well and I felt very pretty then and really confident and it was really fun." 
Below are some photos that showcase student transformations. From a typical school day outfit to feeling like the brightest star in the world, both versions of students are beautiful in different ways.
All Juxtaposes made by Elle Chen