Students share thoughts on school diversity
Diversity is a hard concept to grasp and an even harder one to quantify. The word often refers to any kind of variety, but when it comes to people and communities, agreeing on a definition and a system of measurement can bring together some conflicting ideas. For some students, diversity just means differences. When asked what the word diversity signifies to them on a recent survey, one senior wrote, "People from different social, racial, or religious backgrounds." A junior responded with just the phrase: "Differences among people."
However, others believe it reaches deeper than that. "The word diversity to me signifies people being different and people still accept them for that," freshman Macy Blanchard wrote. Another ninth grader wrote: "Having a diverse community, to me, means that there is at least one person in every one of your classes whose culture/religion you don't know everything about, but respect nonetheless."
The school as a whole boasts a 29% visible diversity rate, with the Upper School at 28%. Until the recent change, even the school's mission statement included the phrase "a diverse… group of young people," and there remains a Diversity Action Plan. But what is diversity really like at St. Paul Academy and Summit School? Moreover, what does diversity mean?
A strictly numerical approach indicates that SPA is ahead of the curve in terms of diversity. The school's 29% visible diversity rate is a full 2% above the national average for independent schools. A 2012 census estimate suggests that Minnesota's population is just under 20% people of color, making SPA significantly more diverse its state. But the city of St. Paul reported over 40% people of color in the 2012 census, putting SPA approximately 10% behind.
Looking through another lens, SPA is already diverse, as each student brings their own cultural background and experiences. "People should be who they are. Everybody brings diversity to this community… Diversity isn't just about race and about people of color in our community. Really, everybody adds to the diversity of this school," Diversity Dean Karen Dye said.
Sophomore Miriam Tibbetts describes diversity as "different kinds of cultures, personalities, ethnic backgrounds anything that would differentiate you from anyone else; a mashup of all those different things, different people, in a community."
That might describe the kind of diversity walking the halls of our school today, it wasn't always this way. It's only in more recent years that diversity has become a focal point in our community. Historically, the school put much less effort into uprooting the uniformity of the student body.
The first non-white students enrolled in St. Paul Academy in 1961. By 1967, there were children of color enrolled in almost every grade in the Summit School, according to an announcement by headmaster John Iversen. The merger of St. Paul Academy and Summit School in 1969 brought new obstacles concerning gender diversity. In 1996, the school board president organized the Diversity Committee, as well as gender focus groups. Since then, SPA has worked to create a more diverse community through recruitment as well as facilitating better understanding of the people in the community, according to Dye.
Many SPA students come from similar economic backgrounds, simply because of the cost of tuition. Despite financial assistance and various scholarships, student population is still tilted towards one part of the socioeconomic scale.
"When you have a community that's traditionally white, traditionally affluent, traditionally from a certain kind of background — a traditional background, traditional to private schools, the biggest challenge is getting people to understand and to accept and to embrace some of the diversity efforts," Dye said. "At this school, because of who and what SPA traditionally was, it served a very specific and a very narrow population in the past. I think both because of its history as well as what's going on outside of our community — in the city, in the country, in the world — we need to stay on top of it, because diversity is not just an issue at SPA. Diversity is an issue everywhere. It's something that you have to consciously think about everywhere," she added.
Leave a Comment
About the Contributor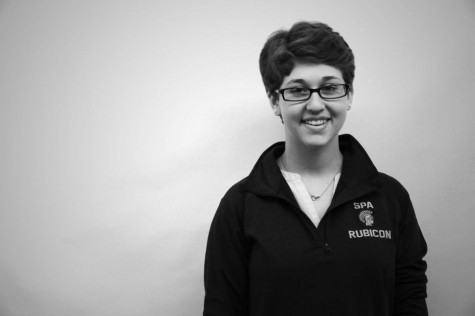 Netta Kaplan, Managing Editor
Netta Kaplan is a junior at St. Paul Academy and Summit School and the managing editor of The Rubicon. She has prior experience on staff as both a Copy...