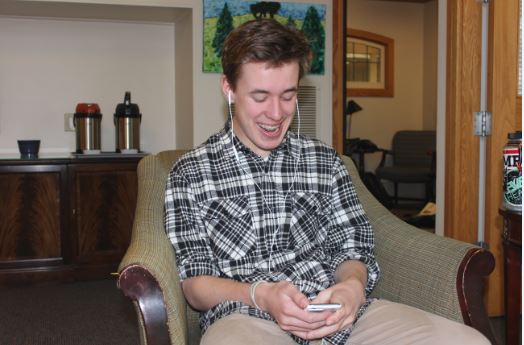 Gitanjali Raman
Most teens have probably been around a student who gets so into their music that they begin to drum along to the rhythm with objects at hand- frequently a pencil. However, it begs the question, "what song this the student listening to?"
Music is accessible through many platforms and has an incredible number of genres. With so many options available, students narrow their tastes as they choose some genres over others.
Music's effect on the brain
When listening to music, emotions and memories associated with the song come to mind for many St. Paul Academy and Summit School students. "[My music choice] depends on the mood I'm in," sophomore Riley Bowman said. Bowman listens to country during the summer months and rap/hip-hop during the hockey season.
Listening to music affects a set of complex processing systems in the brain, such as the limbic system. The limbic system is primarily responsible for emotions, and it includes structures in the brain such as the hypothalamus, the hippocampus, and the amygdala. These structures are primarily used to create memories, which is why when listening to certain songs and genres of music the listener experiences a nostalgic feeling.
A theory about why people listen to music has been postulated in a study by psychologists Thomas Schäfer, Peter Sedlmeier, Christine Städtler, and David Huron, in a paper titled "The Psychological Functions of Music Listening". Many students listen to certain genres of music to get into a mood. "For hockey, it will [get] me all ready and energized to play and it will also calm me down and put me in a better mood," Bowman said.
Many other students feel this same response. "I generally really get sad [when listening to Drake]. I don't like to get into my [feelings]," junior Solomon Johnson said.
Junior Matti Solomon summarized rap artist Drake's music as "able to take you away from reality and into your feelings, which can be dangerous and spooky but sometimes its just something that has to be done." Solomon currently has a love/hate relationship with Drake's music because of how sad it makes him. The saddest song by Drake, according to Solomon, is Marvin's Room.
"The music I listen to really emits my mood, like when I'm calm I won't listen to loud music because it doesn't feel right," sophomore John Connelly said.
Music influences the choices and helps regulate emotions of many students.
Music Habits
Music is all around students. In a poll conducted by The Rubicon 66% of students polled listen to music while doing homework and 50% of students polled listen to music while driving. 'I listen to music in the car on the way to school everyday. I like to listen to music by myself, just me and my vibes," senior Louie Bogolub said.
Senior Sandhya Ramachandran listens to music because she feels that it communicates in a way that words can't compare to.
Music services
The type of music services available on the internet ranges from free services like IHeartRadio to more costly services like Beats Music. Recently, rapper, record producer, and entrepreneur Jay-Z created a new streaming system called Tidal.
According to a poll conducted by The Rubicon, the most popular sources of music for students are YouTube and iTunes. Some students, however stray away from internet streaming services and listen to the radio, CDs and vinyls.
Sophomore John Connelly occasionally uses the radio program, The Current, to listen to new music. The Current is a subdivision of Minnesota Public Radio and broadcasts itself on 89.3 FM. One of the benefits of listening to The Current is that there are no ads, because it is a listener supported station. Connelly, however, listens to his music on Spotify more often because it is more accessible.
"I get [most of] my music from Spotify. I have a premium account so its pretty nice," Connelly said.
Music discovery 
With the rise of new and advanced streaming systems discovering music is easy.
Solomon recalled an experience when he first discovered Drake, "I was sad about a girl one day and [Drake] appeared in my dreams that night so the next morning I decided to listen to his music and I ended up liking it."
Connelly often just uses the discover option on his Spotify account to find music based on his tastes. Connelly likes "indie, pop, electronic and many other genres," he said.
Musical influences 
"He's [Drake] influential by making me relate to what he is saying so well that I believe that the problems he is singing about are my own problems," Solomon said.
"Gerard Way's [of My Chemical Romance] music has always inspired me to be better, to create something beautiful, and to stay true to myself. He himself has done all of those things through his music, and when I listen to it I'm reminded of all of that," Ramachandran said.
Music is the perfect escape for students and allows them to express their creativity and truly discover themselves.