Students and faculty prepare for graduation
Rain plan moves graduation to St. Catherine University as Huss Center construction closes Briggs Gymnasium
Printing diplomas, organizing for hundreds of folding chairs, contacting florists — preparing for commencement is a months-long process. This year, graduation will take place on Sunday, June 7.
The biggest preparation for graduation is on the day itself, setting up and taking down chairs, tables, and tents. "We start as early as 7:30 in the morning for the ceremony to start at 4 in the afternoon," Assistant to US Principal Annie Harness said. " It could not be done without our wonderful maintenance people; they are amazing," she continued.
The graduation ceremony is one of the most recognizable traditions at St. Paul Academy and Summit School, with the dress code of white and blue and the permanent elements of the ceremony, such as the two speakers from the senior class. This year, the speakers are seniors Afsar Sandozi and Asad Masood. The graduation speaker is the Honorable Michael Davis, the chief judge from the United States District Court for the District of Minnesota.
However, this year's ceremony also marks some changes in the traditional graduation setup. Among these are a change to the rain plan, which has been the Briggs Gymnasium in previous years. Due to construction on the Huss Center, the gym isn't available for graduation. As a result, the school has contracted with the O'Shaughnessy Auditorium in case bad weather prevents the ceremony from happening on the front lawn.
Another change is the form of the walking order when the seniors take their seats. The graduating class has previously walked in height order and paired by gender to symbolize the merger of Summit School and St. Paul Academy. The Class of 2015, however, will walk in alphabetical order. "They will walk in together but not arm in arm as they have in the past," Harness said. "I think students were looking for a little difference in their graduation and I think that's a nice place to start with a change," she added.
The work put into the graduation ceremony certainly pays off. "We have a very unique and lovely graduation," Harness said. "Though it's a lot of hard work, it's a joy to see it."
Leave a Comment
About the Contributor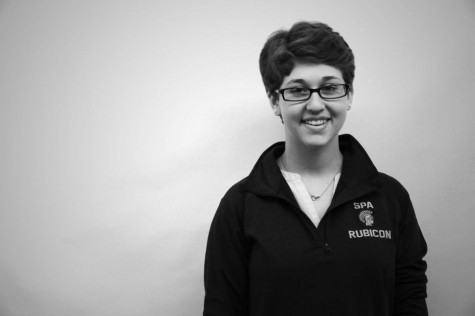 Netta Kaplan, Managing Editor
Netta Kaplan is a junior at St. Paul Academy and Summit School and the managing editor of The Rubicon. She has prior experience on staff as both a Copy...