Students absorb culture… minus the travel
Language experts say that one of the best ways to learn a new language is to visit the country of origin. While this may not be feasible for all St. Paul Academy and Summit School students, they can experience a similar immersion right here in Minnesota.
Attending Concordia Language Villages is a great way for many SPA students to spend their summers. They have locations spread throughout the state with 15 different languages offered.
Language villages function like regular summer camps; students sleep in cabins and participate in regular camp activities like swimming in a lake or doing arts and crafts.Unlike regular summer camps, however, students speak in a foreign language while participating in these activities. Campers also have at least two classes a day devoted to learning the language specific to the camp.
Concordia Language Villages cater to all different ages and levels of experience, including some month long camps that can count as credit towards a high school or college's language requirement. These language camps aim to immerse campers in the language of their choosing, providing many different activities to help campers learn a language in a fun way.
"I think it's a very beneficial experience for students to see if they can survive in another language for a few weeks," junior Evva Parsons said. Parsons has attended the German language camp, Waldsee Village, located in Bemidji, Minnesota, for the past seven summers.
"My dad wanted me to have an immersive experience without having to go to Germany," Parsons said.
Parsons feels that her time at Waldsee has always been busy. "There's a very packed schedule. We play soccer and go swimming a lot. I had class three times [a day] last year; it's very intensive German study" Parsons said.
Camp activities at Waldsee include soccer, swimming, fencing, and crafts, and it is home to its own Minnesota Environmental Prize winning BioHaus where campers can participate in environmental themed activities in German.
Along with Parsons, freshman Isabelle Bukovsan also plans to attend Waldsee Village this coming summer.
"This will be my fourth year attending the camp. I'm really excited to go," Bukovsan said. "To learn the language, you are put with other campers of your level and do activities based on that level. For advanced [levels], there's a soccer program and a theater program. We do normal camp stuff, along with the language learning" Bukovsan said.
Concordia Language Villages have been proven to be very effective in teaching students language, with special emphasis on fluency of speech. Speaking the language all day helps students to master the language.
"It's really helpful for learning how to speak a language, but not so much for writing" Bukovsan said.
Parsons agrees. "I think [attending Waldsee language camp] has improved my language a lot," she said.
Sophomore Ingrid Topp-Johnson attended the Chinese language camp Sen Lin Hu for the past couple of summers. "I really like learning Chinese, but the school I was going to at the time didn't have Chinese so I went [to Concordia Language Village]" she said.
Activities at Sen Lin Hu include learning martial arts, celebrating Chinese holidays, studying Chinese music and theater, and learning about the history of China. "The parts I really liked were cooking classes, art activities, and listening to Chinese pop music," Topp-Johnson said. "We would always eat Chinese food at lunch, which I loved."
Concordia Language Villages aim to not only to teach campers a language, but also a culture. They state on their website that they believe "the language makes more sense in the context of the culture and the cultural experiences are richer in the target language". The villages offer activities specific to the culture of the camp, and also serve food traditional to the culture. They help teach students to be culturally aware, and encourage them to be more accepting of diversity. Students experience an entirely different culture without ever having to leave the country.
The cultural immersion is so effective that, according to Parsons, "after a couple of weeks, I'm even dreaming [in] the language."
About the Contributor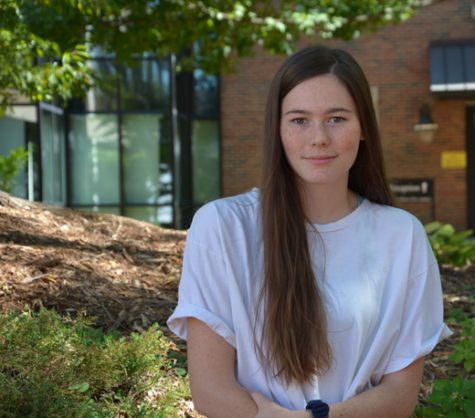 Mari Knudson, Graphics Editor / Aureus Asst. EIC
Mari Knudson is a senior member of the staff, a dedicated student athlete, and the Graphics Editor for The Rubicon this year. She is also Assistant EIC...