Student volunteers take on Bike Classic
Volunteering tradition continues to help out bikers
What drew approximately 6,000 people out of bed and onto 35 miles of St. Paul streets between the cool morning hours of 7 and 9 a.m.? The St. Paul Classic Bike Tour, which fell on a sunny September 7 this year, did for the twentieth year in a row.
The Classic, produced by the Bicycle Alliance of Minnesota, boasts a safe, family-friendly biking environment replete with rest stops, beverages, treats, live music, and ride support. On the organizational end, the Classic pulls from its one to two hundred volunteers annually to bring the event from paper to the paths.
St. Paul Academy and Summit School has been a part of the The St. Paul Classic Bike Tour with students traditionally biking, cheering, and volunteering along the tour's 35 miles of "traffic free glee," year after year. Not surprisingly, this year was no different.
"The St. Paul Classic is one of SPA's two most popular service events with Thanksgiving's Meals on Wheels being the other," Bike Classic volunteer coordinator at SPA Mollie Ward said.
This year SPA students participated in the event for a number of reasons, but the need to fulfill sophomore service hour requirements takes the cake.
"The Classic's about three and a half volunteer hours. I count the half hour of breakfast too," Ward noted. Breakfast is held at 10 a.m. volunteers can head over to Champs American Bar and Grill.
The student volunteers' time commitment has been, traditionally, minimal. Students arrive at their outposts at 7 a.m. and get home around 10:30 a.m. depending on where they live. "They're done by the time they'd usually be waking up!" Ward said.
In preparation for the Classic, Ward and her senior advisee Asad Masood formed groups of student volunteers and assigned them to various blocked-off junctures along Mississippi River Boulevard at the head of the tour. Each at their specific locations, volunteers directed traffic and cheered on bikers.
SPA's annual Bike Classic service opportunity appeals to students because, simply put, it's easy, fun, and a way to hang out with friends.
"We had the classic, pre-Bike Classic sleepover!" junior Blaire Bemel said, referring to the girls in her volunteer group. "Wanna pancake? We made them this morning!" she said, gesturing to a plate on the curb of the road.
Junior Alena Porter, part of Bemel's volunteer group, enjoys the experience of cheering and watching from the sidelines too, especially from a tent which she and her friends mounted before the start of the race. "We've got music going so it's chill. You just get to hang out with people," Porter said.
Junior George Stiffman's had an experience volunteering at the Classic this year which could be described as anything but "chill."
"About 30 minutes into the race, a guy wearing dark sunglasses obscuring his face came up to our group, pulled his bike onto the curb and without saying a word, pulled a stuffed animal out of his back pocket and threw it at me," he said."None of us had any idea who this guy was. We were so confused! But then the guy took off his glasses and I realized it was a friend's dad."
As a sophomore looking for ways to complete her volunteer hours, junior Minnie Arnold volunteered at the Classic, and ended up really enjoying herself. "It was fun because a bunch of people did it! My favorite part was waving to the bikers and cheering them on," she said.
Junior Sabrina Brown felt really good telling people to 'just keep going!' "It was nice to cheer bikers on, especially because there weren't a lot of people doing it already," she said.
"It sounds like an early morning," was junior Ryan Peacock's reflex reaction to the St.Paul Bike Classic when asked if he'd ever participate. "Plus I did my service hours in the summer on a mission trip, so I left it (the St. Paul Classic) to other people who needed it."
An "early morning" took on a different meaning for Brown when she participated in the event as a volunteer. "It's nice that it's early in the morning because then it doesn't take up your whole day!" she said.
Sophomore Sarah Wheaton prefers to bike the Classic, having done so three times already with her dad. "It's been something we've done together for awhile and I think he'd be bummed if I didn't want to do it with him," she noted.
From a biker's perspective, the Classic is very different. Baked goods and live music pop up seemingly everywhere along the Classic's route, as do some pretty treacherous hills. "I've done both the short route [15 miles] and the long route [30 miles]. Usually the long route though. In the short route, you've got to go up Ramsey Hill-which is awful," Wheaton said.
"But it's [the Classic] really for everybody and it's not as long as it sounds. You don't have to train for it," she added.
The St. Paul Classic Bike Tour has got something for just about everyone, stalwarts and newcomers alike. Good new is, it's not going anywhere, as some good things really are perpetual.
This article was originally published in the September 2014 Print issue of The Rubicon.  The story can be seen in its original form by clicking on the "In Print" tab or at ISSUU.com.
About the Contributor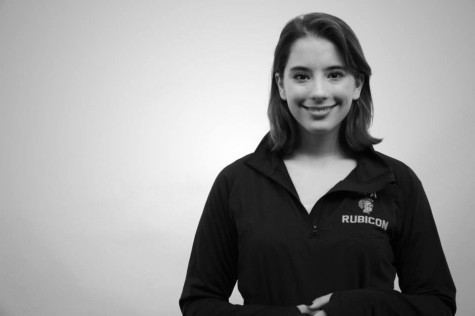 Eva Perez-Greene, Editor-In-Chief
Eva is a senior at St. Paul Academy and Summit School. She acts in Upper School theater productions, does sketch comedy at Stevie Ray's Comedy Club, and...