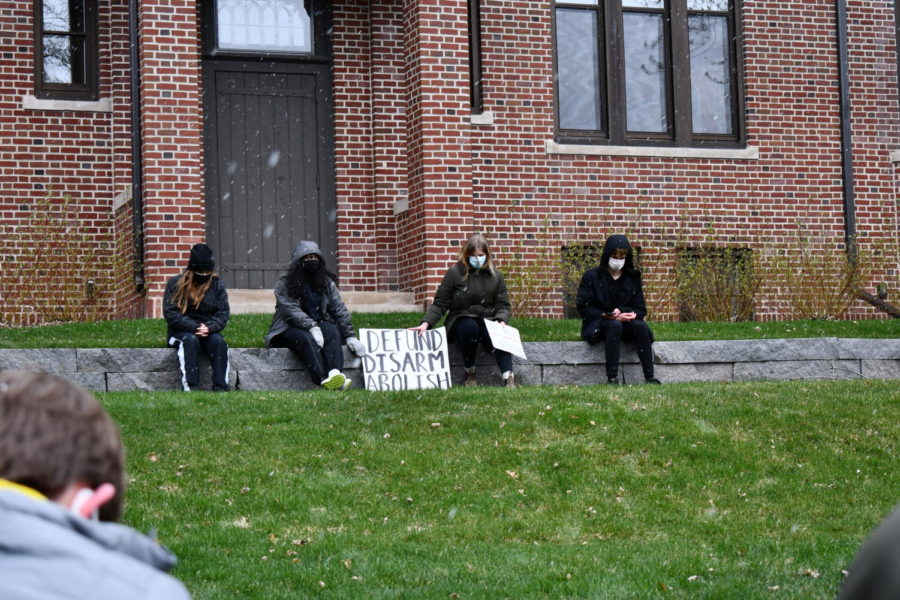 Elle Chen
The morning of SPA's walkout in honor of Daunte Wright and in solidarity with the Black Lives Matter movement, senior Aman Rahman was optimistic. Rahman is one of the four SPA students to organize the protest alongside fellow seniors Gavin Kimmel and Evelyn Lillemoe, as well as junior Ellie Murphy, and has spent the past couple of days hurriedly planning an event for the student body to make their voices, frustrations, and feelings heard.
"I think that it'll be a really meaningful event and a place for students to finally have time to heal and grieve," Rahman said. "I feel like we've, especially [at SPA], we've just been taking in information and just going on about our day. And I think a lot of students need that time just to process everything, and so I'm hoping that it can be a nice time for healing and a lot of reflection as well."
As one of the few students of color in the predominantly white community of SPA, Rahman, while still excited about the event ahead, had a couple concerns about the possible behavior of her peers.
"I'm hoping that the people that are coming are going to be respectful and hear speakers out, but also be mindful of the space that we're taking up, especially as most of the students are going to be white, no matter what, just because of how our environment is. But I'm also hoping that people aren't just coming to skip class. Which is, I mean, at the end of the day we'll still have more numbers, but it's just not the most ideal thing."
According to Rahman, Kimmel, and Murphy, conceptualizing the protest itself was not the most worrisome part, partially in thanks to the student organizers of MN Teen Activists (@mnteenactivists on Instagram) who announced last week a plan for schools to stage their own individual walkouts, but having to approach SPA's administration instead.
"The stressful part was the way that the administration handled it," said Murphy. "Because there are a bunch of rules that we didn't really know would be in place, just with the walkout being at school, that they shared one day before it happened."
In particular, none of the organizers were expecting admin to require a parental consent Google Form for students. Administration also put in place several other guidelines about participating, including policies about extracurricular activity participation. Dictated an email sent out by Dean Chantal Thornberry on Saturday:
"A student wishing to miss class and/or participate must be excused by a parent/guardian via the submission of the School Day Protest/Walkouts/Rallies Attendance Form if they want the absence to be considered excused. Please note that such absences will be considered acknowledged, and teachers cannot be expected to recreate the classroom experience or re-teach the content covered; furthermore, while the student would be allowed to return to class, they may not participate in after-school activities. The student is responsible for making up the work missed and should be able to prepare in advance."
In many students' eyes, including Murphy, the sentiments from administration felt hollow.
"Here's the thing, after Speaker Day when there are all these speakers that [SPA brings] in and [the speakers] tell students, 'You guys need to organize! You guys need to protest! You guys need to band together!' — and the school is paying for these people to teach us these things. And then when students want to organize something, whether it's big or small, like offering pronouns at the beginning of class or planning a rally, the school punishes students for doing so by not letting them attend after school activities," Murphy said, who lamented the feeling of conflict many students, especially student athletes, had to endure due to SPA policy. "And that's what I've noticed, at least with my brother and his friends is that, because they all play sports, they don't want to go because they can't miss their [games]. I think it's pretty hypocritical."
Another thing that has stuck out to students about the overall response from SPA's higher-ups is the lack of support in their messaging about student-organized movements.
"I just think it's super disheartening when our admin doesn't make clear that they support us and that they're behind what we're doing, especially when we're in the heart of all that's going on…" Rahman said. "I would have hoped that admin would have been a lot more appreciative and supportive and sent out some kind words along with the regulations and the guidelines that they sent out, too. It just shows that SPA really has a lot to work on."
Kimmel continued the evidence of irony by pointing out the responses of several other high schools who were also participating that day, many of whom are far larger and less close-knit than SPA.
"We saw examples from Central High School of their principal sending out an email saying, 'We support the students,'" Kimmel said. "We saw at Southwest that the principal or the administration literally even offered to take a group photo for [the protesters] if they wanted. I just felt like there could have been more support from the [SPA] administration."
While the protest itself was an overall success, the reaction from those in charge at SPA certainly leaves much to be desired.