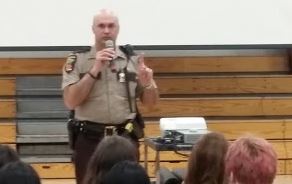 Gitanjali Raman
MN State Trooper Curt Thurmes spoke with students Monday morning to kick of a week of awareness sponsored by Students Against Destructive Decisions.  He shared the video "Gone too Soon" produced by the Minnesota Department of Public Safety which documents the lives of four teens and the results of the crash they were part of.
Briggs Gymnasium was silent and somber following the showing, and although Thurmes engaged the students with questions, he also acknowledged that "I don't see any smiles in this room.  I see some of you holding back tears." It was a response he expected.
SADD Presidents Sarah Romans and Julia Hansen opened and closed the assembly.  They announced that there will be a drunk goggles obstacle course on the lawn on Thursday.  Teams of four are encouraged to sign up.
Click here to read a column written by Romans and Hansen this week.  This piece is part of a series of elected and selected groups columns that are published each month.