State Fair provides work and competition experience
"The Great Minnesota Get Together," more commonly known as the Minnesota State Fair, offers a variety of foods, rides and activities for everyone. When on the search for food, any Minnesotan fair-goer will admit to their dietary attraction to Sweet Martha's Cookie Jar, one of the fairgrounds top-selling food providers.
Several St. Paul Academy and Summit School students are so devoted to Sweet Martha's that they have chosen to work there throughout the exciting twelve days of the fair. Junior Nik Elsaesser works at Sweet Martha's main booth. Elsaesser received the job after a former coach referred him.
He describes the experience as unique:  "I really enjoy the environment with nice managers and generally cool and fun people to be around," Elsaesser said.
Elsaesser would recommend the job to any SPA student willing to gain valuable work experience in a sometimes hectic environment.
"
It's a great opportunity for work experience in a busy place."
— Junior Nik Elsaesser
"It's a great opportunity for work experience in a busy place. Along with free entry to the fair, it also gives you a different perspective on the fair as a whole, which I think is different for everyone," he said.
Sophomore Lucie Hoeschen is another student that works at Sweet Martha's, and it is a job opportunity she would highly advocate for SPA students.
"I think it's a really great way to make some pre-school year cash if, like myself, you play three sports for school and are unable to work during the school year. I also would recommend it because it teaches you how to communicate and have conversations and work with people, which are really good life skills that I believe everyone needs. You also can meet some really cool people," Hoeschen said.
Aside from Sweet Martha's Cookie Jar, freshman Sonja Henze utilizes the Minnesota State Fair as a place to compete in 2'6 jumpers, an event in which the rider of a horse guides it through turns and jumps, and whoever to do so the fastest is declared the winner. Henze has had a passion for horses since she was seven, and being able to ride them brings her immense joy.
"Riding gives me a sense of freedom. I enjoy the challenge of being ready for anything. Both the horse and the rider have to learn to trust each other in the moment. It is an amazing feeling to be able to communicate with a thousand pound animal," Henze said.
This year was the first time Henze had even competed at the fair. However, she plans on competing there from now on.
"I hope to make it [riding] a tradition. For as long as I can remember, when I walked through the horse barn at the fair, I thought to myself, 'I am going to do this someday'," Henze said.  
From serving cookies to riding horses, the Minnesota State Fair is versatile in that it offers a wide variety of activities for most everyone and provides students a feeling of gratification once their work is complete.
"I feel that my work is rewarding in many ways because I'm learning how to physically work, work with people, communicate, figure out work schedules with my bosses and coworkers and I also make people happy. I feel that I get all these awards by working at the fair," Hoeschen said.
About the Contributor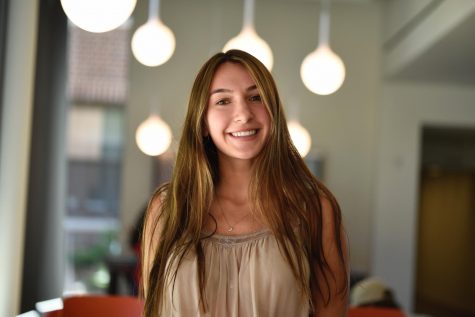 Mimi Geller, Director of RubicOnline
Mimi Geller is the Director of RubicOnline. This is her fourth year on staff. Mimi believes that high school journalism connects people by sharing their...